Four gymnasts qualified for the US Olympic gymnastics team heading to the Tokyo Games, along with two more athletes who will act as individuals and have a chance to contend for the all-around and event finals. Jade Carey, 21, mathematically clinched one of those individual spots last year through her performances at the World Cup series. This made her the first woman artistic gymnast from the US to secure a trip to Tokyo, and that berth became official on June 27 with an announcement following the Olympic Trials.
According to NBC Sports, if Carey had been selected for the team instead — the top two all-arounders at Trials were guaranteed spots, which ultimately went to Simone Biles and Sunisa Lee — someone else would not fill the place she previously scored. This means the US would have only sent five women to the Games instead of six. However, Carey announced via Instagram on June 15 that she planned to accept her earned individual spot when the selection committee officially offered it to her.
Carey is coached by her father, Brian, at Arizona Sunrays. She has earned two world silver medals on vault (2017, 2019) and another world silver medal on floor (2017). She also won team gold at the 2019 World Championships.
Carey spoke to POPSUGAR last fall and said of gymnastics, "I love everything about it, like flipping and flying through the air. I also love the challenge that it brings. Everything is so challenging, but nothing feels better than finally accomplishing a skill or a routine that you've never done before." Ahead, read up on some fun facts about the now-Olympian.
01
Jade Carey's Favorite Skill Is a Double-Double on Floor
When POPSUGAR spoke with Carey last year, we asked what her choice would be if she could do one skill for the rest of her life. Her answer? A double-twisting double backflip on floor. In the video shown here, she does a double-twisting double layout (a backflip in a stretched position).
02
Jade Carey Could Get a Triple-Double Layout Named After Her
03
Jade Carey Is Committed to Oregon State University
Carey has deferred Oregon State while she continues to compete on the elite national and international stage. According to the Oregon State University website, she'll be joining the OSU gymnastics team in time for the 2022 season.
04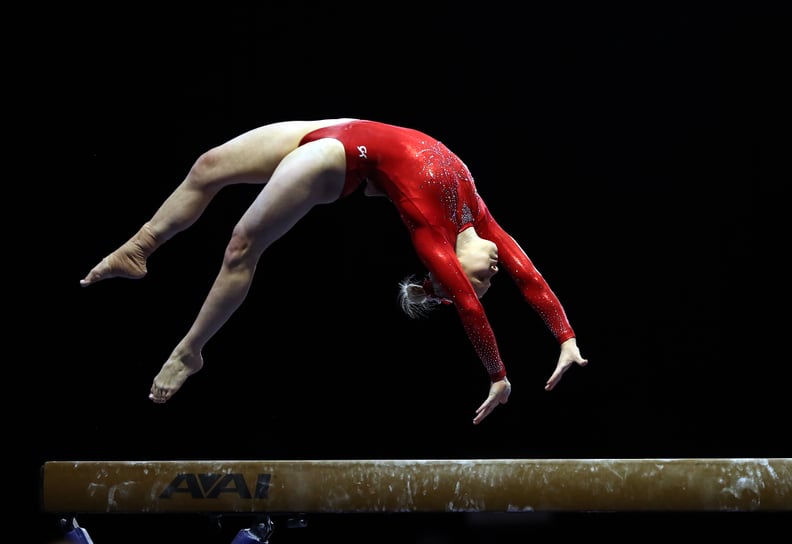 Jade Carey Visualizes Before Her Routines
Carey told POPSUGAR last year, "Before I compete on each event, I just picture in my mind the routine that I want to do and how well I want to do it, just to kind of mentally prepare for what I want to do and know I can do."
05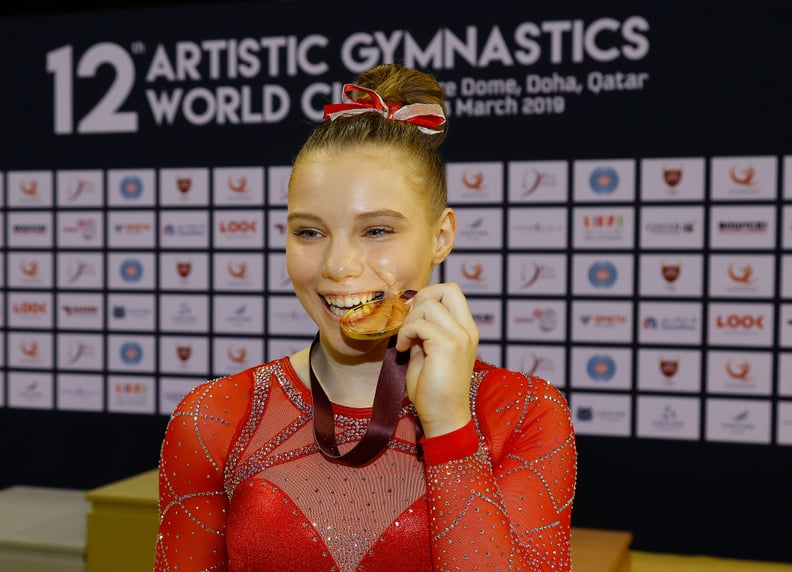 Jade Carey and Her Teammates Have an Impressive Ab Routine
Carey also told POPSUGAR that at least once a week, she and her teammates complete an ab circuit at gymnastics practice that features about 25 different exercises done lying on the floor. Some of the exercises are hollow holds, hollow body rocks, V-ups, single-leg V-ups, straddle V-ups, and arch ups. Read how to do those moves here.
06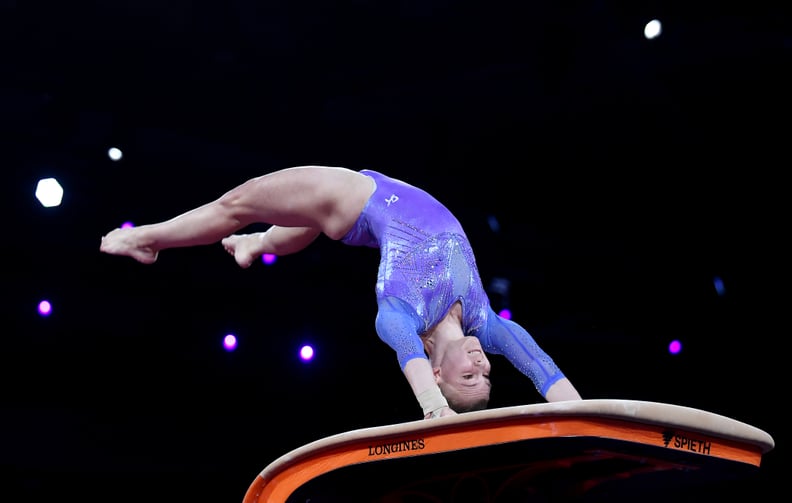 Vault Is Jade Carey's Favorite Event
Carey told POPSUGAR that vault is her favorite out of the four events in women's gymnastics. In fact, she has a skill named after her in the Junior Olympic Code of Points. Called, "The Carey," it is what's referred to as a "tucked Kasamatsu full," and it was entered in the Code of Points after she performed it at the 2016 Junior Olympic Championships. (For any gymnastics nerds looking to read about the difference between a Kasamatsu vault and a Tsuk vault, here you go.)