Agnolotti Recipe | Wolfgang Puck
A Ravioli-Like Pasta Recipe You've Got to Try
The Governors Ball is Hollywood's most glamorous dinner party, and Wolfgang Puck has written, produced, and directed the menu for 21 years in a row. The chef gave us an inside look at what the stars dined on right after the Academy Awards as well as the recipe for one of his signature dishes: agnolotti, a stuffed pasta similar to ravioli.
Notes
Some longtime regulars of Spago Beverly Hills, including many Hollywood stars who'll be at the Governors Ball following the Oscars, reach a point where they can almost tell what season it is simply by seeing what kind of filling we put in our agnolotti, a close cousin to ravioli and tortellini that we fill with all sorts of seasonal purees from Summer white corn to Autumn butternut squash to chestnut puree for the holiday season. This year, guests at the post-ceremony party will be enjoying agnolotti with a delicate filling of celery root puree, which gains just a little extra body from including a couple of small baking potatoes. We'll be garnishing it with shavings of fresh black truffle, which costs almost as much as some of the diamonds the stars will be wearing; but the agnolotti will also be delicious with butter and freshly grated parmesan alone.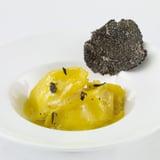 Ingredients
Pasta Dough:
3 cups all-purpose flour
8 large egg yolks
1 teaspoon kosher salt
1 teaspoon extra-virgin olive oil
2 to 3 tablespoons water
Seminola or all-purpose flour, for dusting
Celery Root Filling:
1 celery root (about 1 1/2 pounds), peeled, trimmed and cut into 1-inch cubes
1 or 2 small baking potatoes (about 4 ounces total), peeled and cut into 1-inch cubes
1 teaspoon kosher salt
1/2 cup heavy cream
2 tablespoons unsalted butter
White pepper, freshly ground
Agnolotti:
1 large egg, lightly beaten with a little water to make an egg wash
1/2 cup good-quality chicken broth or vegetable broth
Salt
Black pepper, freshly ground
6 ounces unsalted butter
Chopped fresh chives, for serving
Parmesan cheese, freshly grated, for serving
Fresh black truffle, for serving (optional)
Directions
For the pasta dough: Make at least a couple of hours ahead of time or up to a day ahead. In a food processor fitted with the stainless-steel blade, combine the flour, egg yolks, salt, olive oil, and 2 tablespoons of the water. Process until the dough begins to hold together, then stop the machine and pinch the dough to test it. If it feels too dry, pulse in up to 1 more tablespoon water, and process until a moist ball forms. Turn out the dough onto a lightly floured, smooth work surface and knead by hand until smooth. Loosely wrap in plastic, and let rest at room temperature for 30 minutes to 1 hour.
For the celery root filling: Put the celery root and potato in a medium saucepan and cover with cold water. Season with salt and cook until soft, 15 to 20 minutes. Drain well and return the celery root and potato to the pan. Pour in the cream and simmer over medium heat, stirring occasionally to prevent sticking, until most of the cream has been absorbed, about 10 minutes. Remove from the heat, stir in the butter, and season to taste with salt and white pepper. Puree the celery root and potato and any liquid in a food mill set over a medium bowl. Place the bowl over a larger bowl filled with ice and water and leave to chill, stirring occasionally, until thick. (You should have about 2 cups of filling, enough for about 100 agnolotti, or 10 servings.
For the agnolotti: Cut the rested pasta dough into 4 equal pieces. Keep the other pieces covered with plastic wrap while you roll out one piece at a time, by hand with a rolling pin or through the rollers of a pasta machine, stretching the dough to the desired thickness. If using a pasta machine, set the rollers to the widest opening. Flatten the first piece of dough into a thick strip no wider than the machine, to enable it to pass through the rollers. If necessary, dust the pasta very lightly with flour. Run the pasta through the machine. Fold in thirds, crosswise, and run through the machine again. Repeat this procedure two more times, until the dough is smooth and somewhat elastic. Set the machine to the next smaller opening and run the dough through the rollers. Continue rolling and stretching the dough, using the smaller opening each time, until the next-to-last or last opening is reached, dusting lightly with flour only as necessary. (The strip of dough will be long. If you don't have enough space on your worktable, halfway through the rolling process, cut the strip of dough in half and continue to work with each piece separately, keeping the unused dough covered).
Place a strip of rolled-out pasta dough on a lightly flour-dusted work surface. Brush the dough with egg wash. Mound little heaps of the chilled filling about 1 inch apart on top of the dough strip, centered along half of its length. Fold the other half of the strip over the filling and press down with your fingers squeeze dough in between the filling mounds to seal them in. With a serrated pasta cutter, cut out the agnolotti, and then trim away excess dough to leave no more than 1/4 inch around the edges of each filled pasta.
Bring a large pot of salted water to a boil. Meanwhile, in a heavy sauté pan over high heat, add the broth and butter. Boil until the mixture forms a thick emulsion. Season to taste with salt and pepper.
Slip the agnolotti into the boiling water and cook until al dente, tender but still slightly chewy, 2 to 3 minutes. Remove with a slotted spoon and toss gently in the butter. Spoon into large, shallow pasta or soup plates and garnish with chives. Serve immediately, passing parmesan at the table and, if you like, shaving black truffle over each portion.
Information
Category

Pasta, Main Dishes

Cuisine

Italian

Yield

10 servings