Baskin-Robbins New Products 2016
Baskin-Robbins Just Created the World's Greatest Ice Cream Sandwich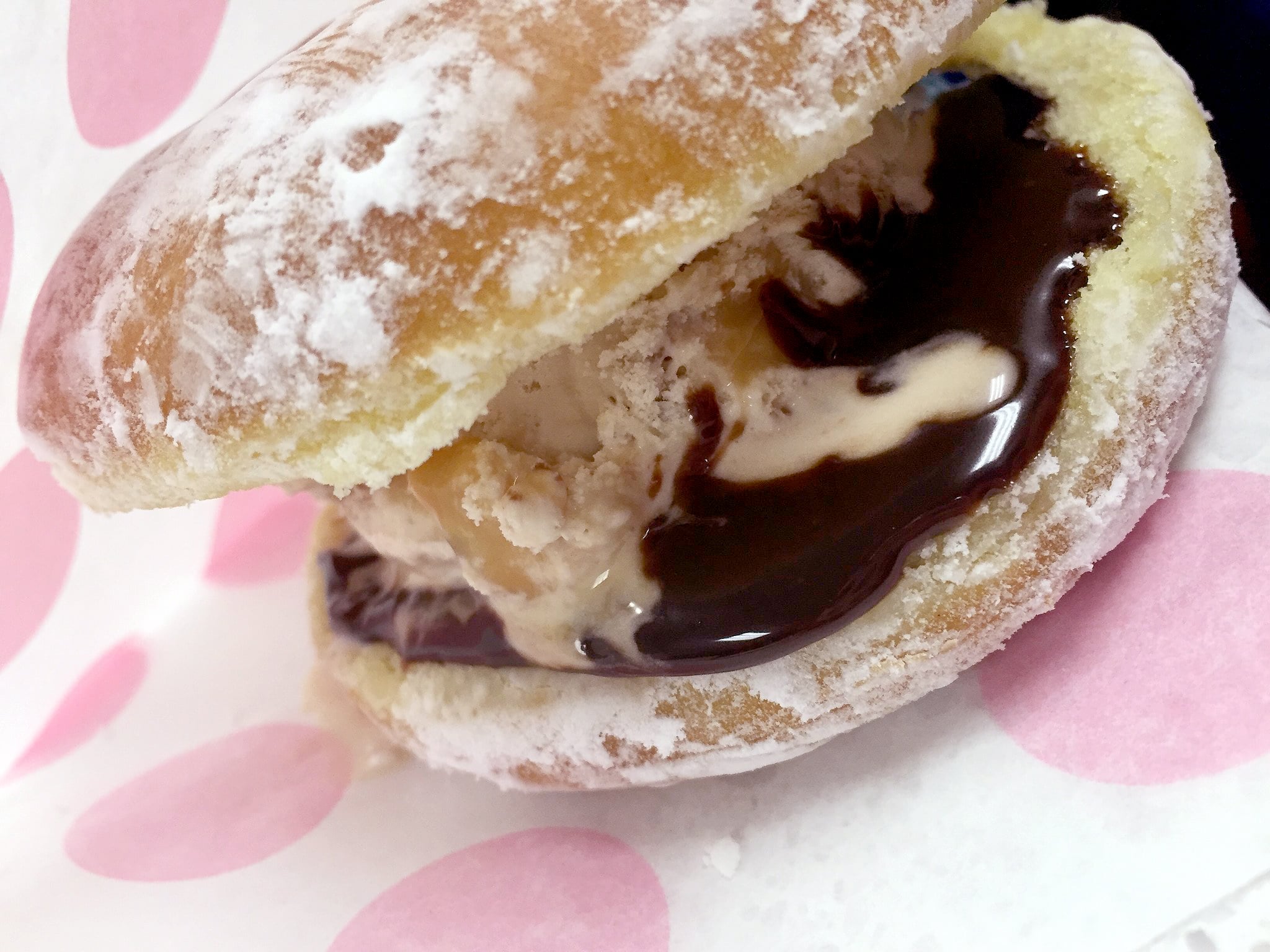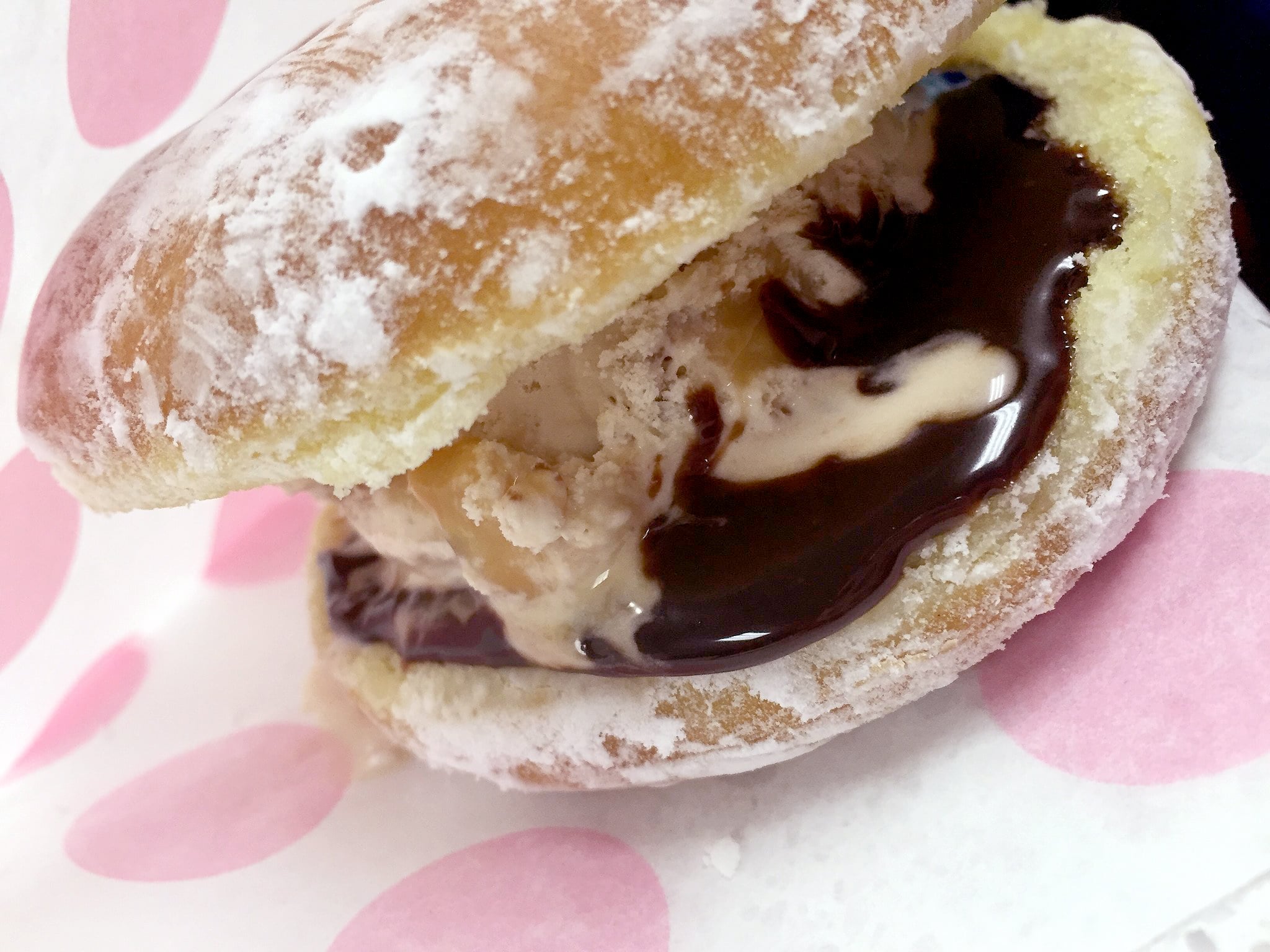 Brace yourselves, Baskin-Robbins fans, the ice cream brand has some new additions coming this year that we're super stoked about — including a doughnut ice cream sandwich and some new flavors of the month.
What you can expect to see from Baskin-Robbins soon includes:
Doughnut ice cream sandwiches: OK, full disclosure: I ate a lot of ice cream when I visited Baskin-Robbins headquarters this month, and truthfully everything was great. (It's ice cream, I literally don't know how you can go wrong.) My favorite thing I tried, however, was the doughnut ice cream sandwich. The new product, which the brand hopes to roll out this Fall, is a yeast doughnut coated in powdered sugar, sliced in half and served with a scoop of the ice cream of your choice and a layer of hot fudge. The one I tried had a scoop of the Made with MILKY WAY® Bars flavor, and I wanted to cry because it was so amazing. I take sweet treats very seriously, and this doughnut ice cream sandwich is beyond delicious. I can't wait until I can go to a Baskin-Robbins shop on the regular and buy it.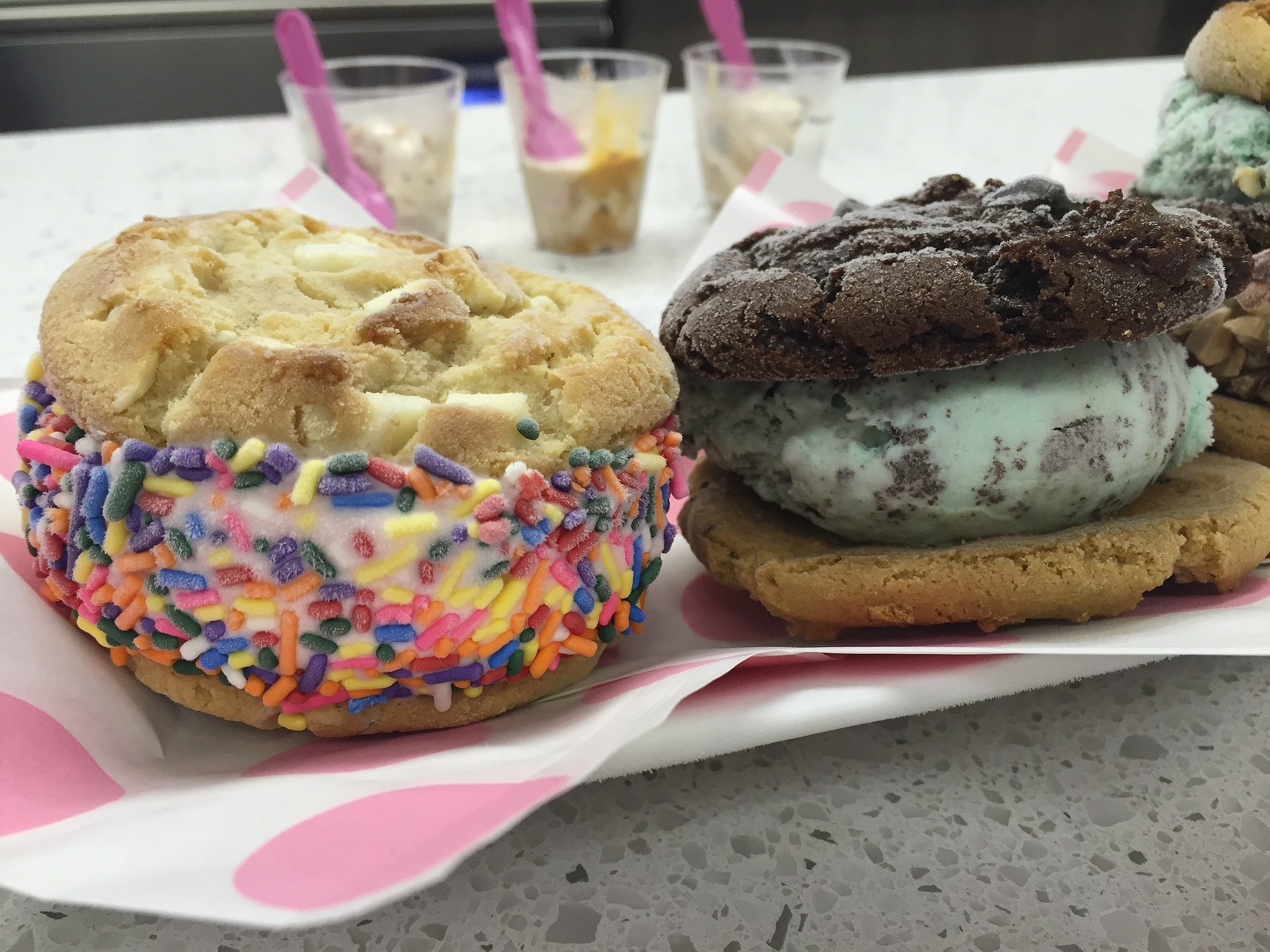 Warm cookie sandwiches: The brand just rolled out a warm cookie ice cream sandwich that will only be around for a limited time. The cookie options are dark chocolate chunk, double fudge, peanut butter chocolate, white chunk macadamia, and, the newest addition, candy. Obviously the cookies are warm and soft and served with a scoop of the ice cream of your choice and can be topped with sprinkles or nuts. I tried one of these too, and it was nearly as good as the doughnut sandwich, but just not quite.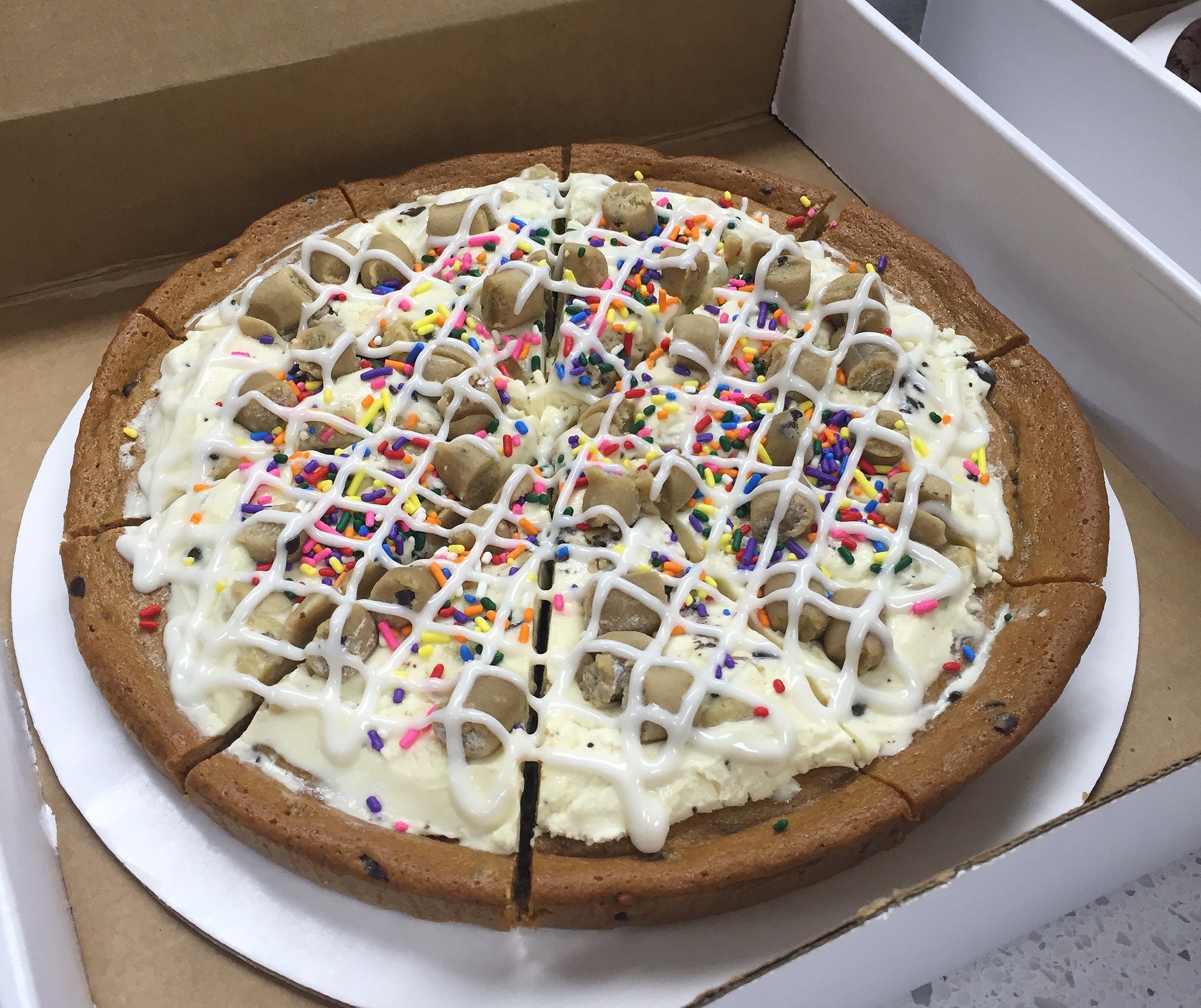 Polar Pizza: You may remember Polar Pizzas from many, many years ago and wonder where they went. The good news is, they're coming back. The brand plans to relaunch the products later this year, and varieties will include Oreo cookies 'n cream, chocolate chip cookie dough, Jamoca almond fudge and Heath, peanut butter 'n chocolate and Reese's peanut butter cup, and custom combinations of your choice. We tried the cookie dough and the Oreo ones, and they were so fun. They're a cookie or brownie base with a layer of ice cream and then a layer of toppings. Baskin-Robbins's vice president of marketing, Carol Austin, told us, "It's casual, it's fun, and like everything else, you'll really enjoy it." And let me just say, she's completely spot on.
New flavors of the month: We already knew about April's flavor of the month, Redberry Blast, which I tried and sincerely loved. The ice cream is very marshmallowy and the Sour Patch ribbon was so cool. It had a sugary texture, so it tasted like a gooey Sour Patch kid. And the sour with the ice cream worked better than I expected. I also got to also try June and July's flavors of the month. For June, expect to see Made with MILKY WAY® Bars and for July, expect Oreo Birthday Cake. The Milky Way flavor for June tastes exactly like a Milky Way candy bar, which is obviously what the geniuses in the test kitchen were going for. The Oreo flavor has birthday cake pieces and Oreo pieces in it, and actually tastes like someone made a birthday cake out of Oreos. So, ya know, good job to the chefs at Baskin-Robbins.
Home delivery: You guys, we might be able to get our ice cream and treats delivered right to our doors at some point. The brand plans to test third-party delivery later this year so that people can order ice cream, milkshakes, cakes, and whatever else from their local Baskin-Robbins and have it show up intact on their doorstep, just like ordering from any other restaurant. Fingers crossed the testing goes well.
Mobile app: The brand is testing a mobile app in three markets — Southern California, Atlanta, and Wellesley, MA — at 12 stores. The app ideally will include a store locator, menu, about the brand, nutrition information, allergy information, coupons, the ability to send e-gift cards, and even the ability to pay for your treats. If all goes well in the test markets, look for the app to make its way to everyone eventually.
Image Source: POPSUGAR Photography / Hedy Phillips