Beet and Red Cabbage Borscht Recipe
Become Best Friends With Borscht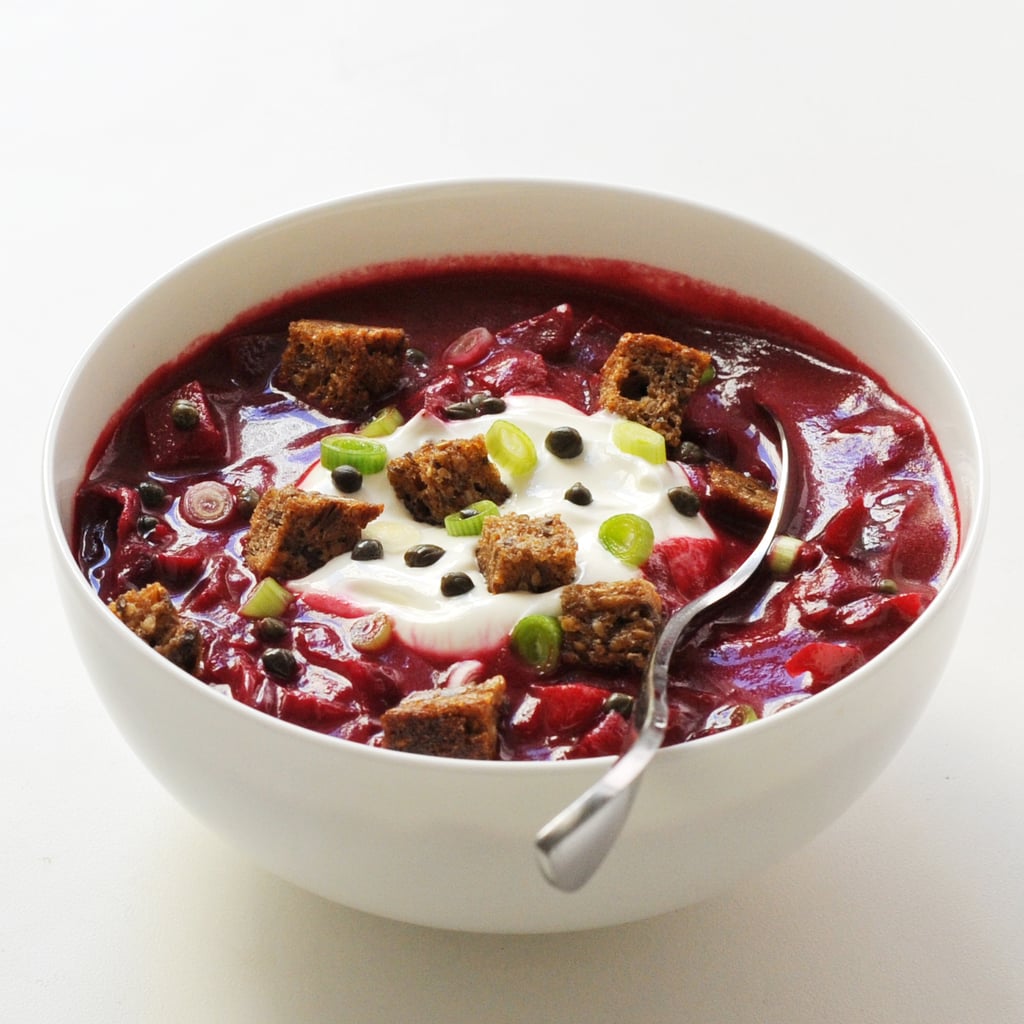 Want to eat like an Olympian? A good place to start would be a hearty bowl of borscht, as a jaw-dropping 70,000 gallons will be served at this year's Winter games. Varieties of this Eastern European soup abound: some are lent rich, meaty flavor from beef shin bones, others pork; some are served hot, others chilled; some are thick and substantial, while others are light and brothy. And to confuse things further, some skip the seemingly crucial addition of beets altogether and are instead made with sorrel.
Which is to say, this thick, chilled, vegetarian-friendly version may not be what you have in mind when you think of borscht, though we will say that it is very good. Here, beets mingle with shredded red cabbage and diced carrot for a substantial bite in each spoonful. To avoid overwhelming sweetness, the whole lot is brightened up by a variety of assertive characters — red wine vinegar, capers, scallions, and sour cream, to name a few — for a soup that's nothing if not well balanced. So go on and simmer up a batch; it's the first step to finding your borscht bliss.
Notes
For a brothier soup, strain the soup base through a mesh strainer, pushing the solids with the back of a ladle or spoon to ensure that the maximum liquid is extracted, instead of blending it. Simmer with the cabbage and diced vegetables for 20 minutes (not 40).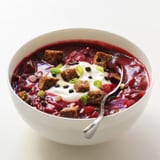 Ingredients
5 tablespoons olive oil
4 cups (about 2 pounds) peeled beets, cut into 1/2-inch dice
1 small yukon gold potato, peeled and chopped
1 shallot, chopped
1 garlic clove, chopped
1 teaspoon caraway seeds
4 cups vegetable stock or chicken stock, preferably homemade
1 cup water
1 bay leaf
1 1/2 tablespoons kosher salt, plus more to taste
1/8 teaspoon black pepper, freshly ground
3 cups red cabbage, thinly sliced
1 large carrot, cut into 1/2-inch dice (1 cup)
1/2 tablespoon honey
2 tablespoons red wine vinegar, plus more, to taste
1/2 cup sour cream
1 1/2 teaspoons capers, rinsed and drained
3 scallions, thinly sliced
Pumpernickel croutons, for serving
Directions
Make the soup base: Heat 3 tablespoons of the oil in a 4-quart saucepan over medium-low heat. Add 3 cups of the beets, potatoes, shallots, garlic, and caraway seeds. Cook for 5 minutes, stirring often with a wooden spoon. Stir in the stock, water, bay leaf, salt, and pepper; lower the heat to low, and simmer, covered, until the vegetables are tender — about 30 to 40 minutes. Discard the bay leaf, and transfer to a blender, and blend until smooth. Keep the liquid warm.
Complete the borscht: Place the remaining 2 tablespoons of oil in the saucepan used to cook the base; heat over medium-low heat. Add the cabbage, the remaining 1 cup of beets, and carrots, and cook for 3 minutes, stirring often. Add the honey and vinegar, and cook 3 minutes more to reduce the acidity of the vinegar. Pour the warm soup base into the pan, simmer until vegetables are tender — about 40 minutes, adding extra water to thin as necessary. Chill for 2 hours.
Serve the borscht: Season the borscht to taste with salt and red wine vinegar. Put the sour cream, capers, and scallions each into a small bowl or cup. Serve the borscht at the table, topping each bowl with a dollop of sour cream and a sprinkling of capers, scallions, and croutons.
Information
Category

Other, Soups/Stews

Cuisine

North American

Yield

About 6 cups (6 to 8 servings)