The Best 7-Layer Bar Recipe
Million-Layer Bars Satisfy So Many Cravings at Once
When your sweet tooth rears its head, it can be a struggle to pinpoint exactly what treat will satisfy the craving. The Kitchy Kitchen's million-layer bars are the answer to this very real struggle, packing a variety of flavors into each bite.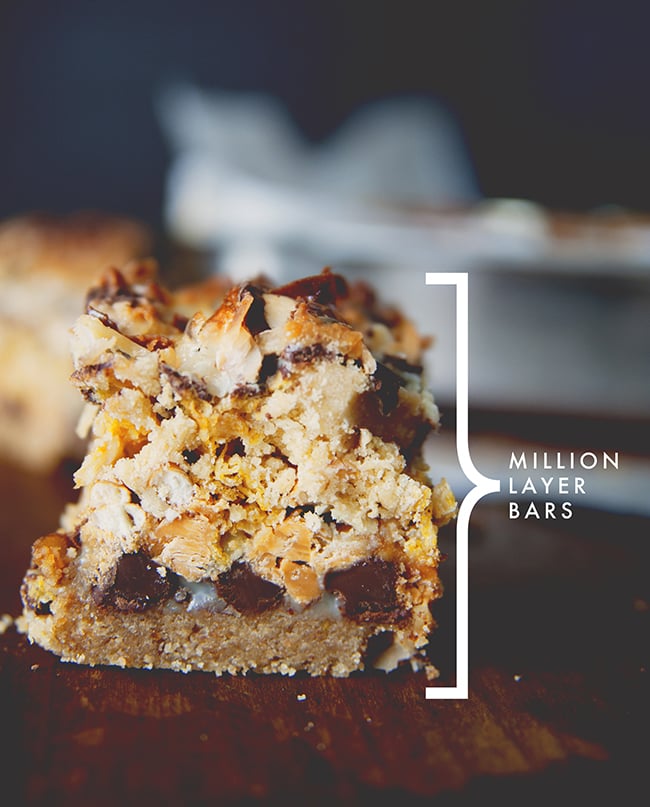 It was Loni's, my sister's boyfriend's mom, first Thanksgiving with us. I'm not sure if every family operates this way, but for us, every person has a dish. My mom does the turkey and stuffing, Erica does yams, Rachel does brussels sprouts, Pam does potatoes, Tina does her pies, and I sort of expedite, running around on the day and making the dishes that fall through the cracks (gravy, cranberry sauce, roasted vegetables, that kind of thing).
There is a strong sense of ownership over which dish is yours. No take backs, no switches. I don't know how Erica ended up with yams or Rachel with brussels sprouts. It's not like a vacancy opened that everyone filled. There wasn't a draft or a vote. It just sort of happened.
So when Loni brought her seven-layer bars, our family had a bit of a freak out. Two types of desserts! Wha—?? It was like someone bringing another yam dish, or there being two types of mashed potatoes. Rocking the boat, Loni! The bars were a hit, and so delicious. Everything was, actually. Tina's pies were amazing, as usual; my gravy turned out exactly as luxurious and flavorful as I wanted it; and our family battle of "left, right, center" was rousing but not too competitive. It was an amazing night, and Loni's bars were the perfect addition to our family's spread. Inspired by her recipe, here's my version, with the kitchen sink thrown in. Potato chips, pretzels, corn flakes, and all kinds of goodies are layered into the sweet and salty bars. Enjoy!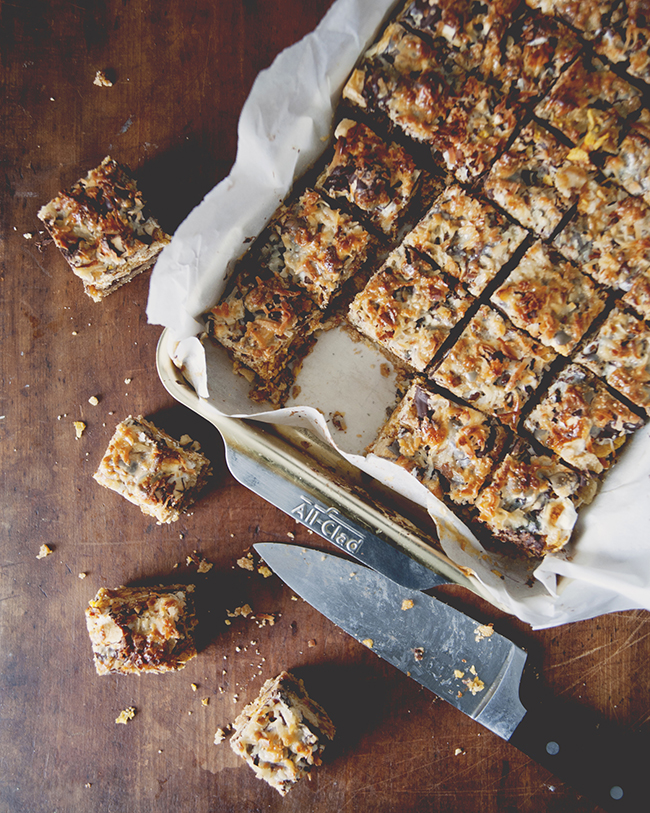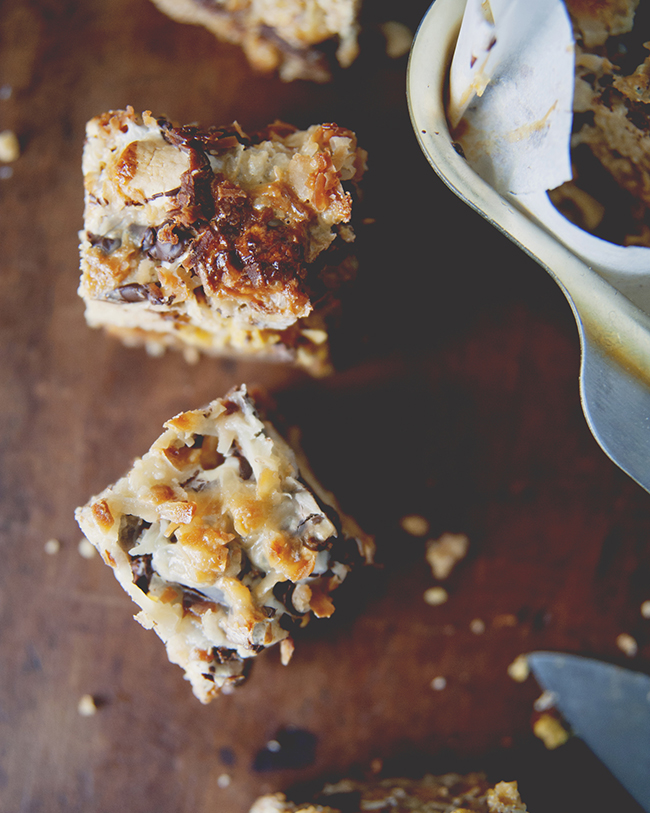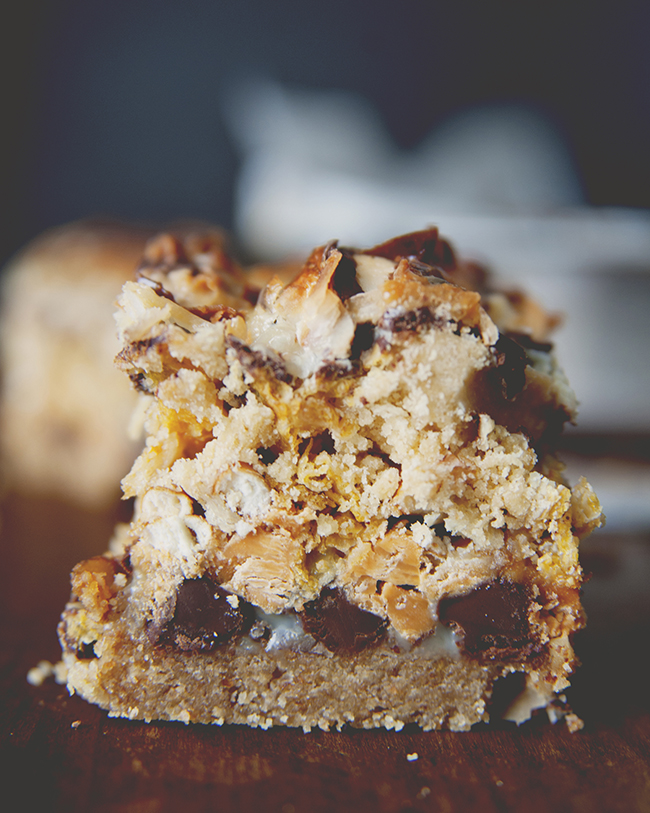 Notes
To make crumbs for the crust, pulse the pretzels and graham crackers in a food processor until fine.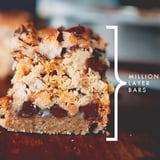 Ingredients
Salted caramel sauce (makes 2 cups):
1 cup granulated sugar
4 ounces unsalted butter
3/4 cup heavy cream
1 teaspoon vanilla extract
1/2 teaspoon kosher salt
For the crust:
1 1/2 cups pretzel crumbs
1 1/2 cups graham cracker crumbs
1/2 cup granulated sugar
9 ounces unsalted butter, softened
For the layers:
1 cup sweetened flaked coconut
1 cup finely chopped pecans
1 cups semi sweet chocolate chips
1 cups butterscotch chips
1 1/2 cups mini pretzels
1 1/2 cup roughly chopped salted potato chips
1 cup salted caramel sauce (recipe below)
1 1/2 cup crumbled shortbread
1 1/2 cup roughly chopped cornflakes
1 cup melted semi-sweet chocolate
1 14-ounce can sweetened condensed milk
Directions
Make the caramel sauce: Heat the sugar in a saucepan over medium heat, until the sugar turns golden. Stir until all of the sugar is dissolved and just starting to turn a lovely amber color. Turn heat to low, add the butter, and stir to combine. (Be careful, it'll foam up.) Then add the heavy cream, vanilla extract, and salt, stirring to combine. Cook the sauce for about 5-10 minutes, until it comes together. It'll take quite a bit of stirring!
Pour the caramel into a glass jar, let it come to room temperature, and store in the fridge for up to two weeks. Pour over everything and anything!
Make the bars: Adjust an oven rack to the lower-middle position and preheat to 350°F. Spray a 9-by-13-inch baking pan with non-stick spray. Line the pan parchment paper, leaving overhang to act as handles for lifting the bars out of the pan. Spray with non-stick spray.
Measure and combine crumbs, granulated sugar, and butter in the food processor until one even texture; press on bottom of the prepped baking dish.
Spread the coconut on a baking sheet and bake until the outer flakes just begin to brown, about 4 minutes. (Keep a close eye on it — coconut can go from slightly browned to burnt in a matter of seconds.)
In this order, sprinkle the pecans, chocolate chips, butterscotch chips, pretzels, potato chips, salted caramel sauce, shortbread, cornflakes, melted chocolate, and coconut over the graham crumbs. Pour the condensed milk evenly over the entire dish.
Bake until the top is golden brown, about 25 minutes. Cool in the pan on a wire rack to room temperature, about 2 hours.
Remove the bars from the pan using the foil or parchment handles and transfer to a cutting board. Using a sharp knife or bench cutter, cut into 2 by 3-inch bars.
Information
Category

Desserts, Cookies

Cuisine

North American