Black Tap Burgers and Milkshakes at Disneyland
Cue the Sugar Rush! Black Tap's Famous Milkshakes Are Coming to Disneyland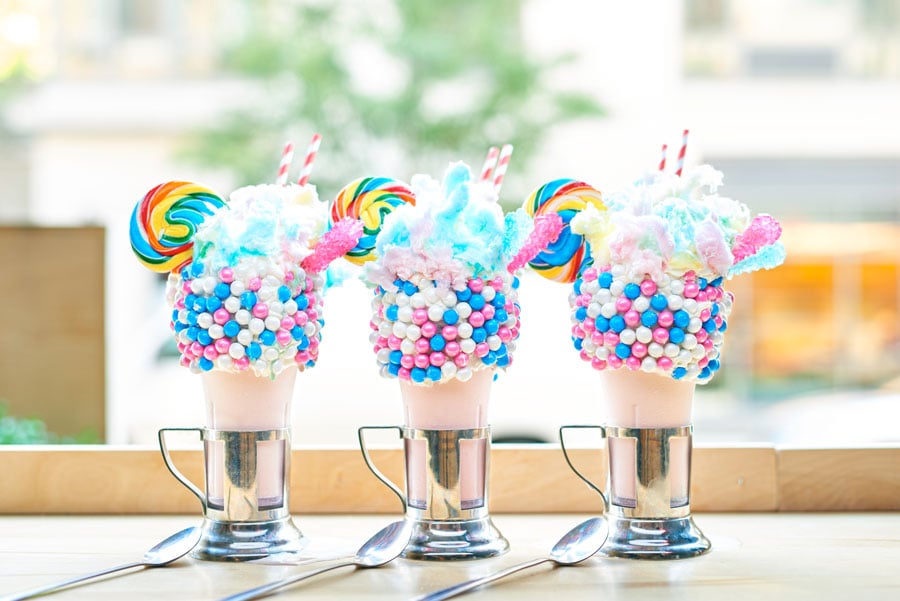 Image Source: Disney Parks Blog
May I have your attention, Disney- and milkshake-loving people of the world? Black Tap Craft Burgers & Beer is coming to Downtown Disneyland in 2018! In case you've forgotten, Black Tap has made headlines for the over-the-top, overindulgent, and wildly Instagrammable milkshakes available at its NYC restaurant locations. The fact that the two companies are joining forces to make the milkshakes and burgers readily available to Disneyland park-goers is pretty freaking amazing. This is the first time Black Tap has opened a location in California, and we're already imagining the lines wrapping around the block.
"Black Tap is creating a customized concept for its Downtown Disney District location, which will feature indoor and outdoor seating. The burger and beer joint will be set in a casual atmosphere reminiscent of a classic American luncheonette, but with a distinctly New York vibe," Disney's public relations manager confirmed in a statement.
As for the menu, expect a variety of burger and milkshake options fit for the omnivore and for the vegan. Burgers will range from the All-American to the vegan burger, and the sought-after "CrazyShakes" will be available in the outrageous flavors Black Tap is known for, such as the Cotton Candy Shake and the Bam Bam Shake, a Fruity Pebbles shake with a Nerds Rope and a strawberry Pop-Tart! Are we dreaming? Construction will reportedly begin soon across from the Catal Restaurant, so Disneyland will be even more magical in 2018.