Copycat Outback Steakhouse Blooming Onion Recipe | Video
G'day, Mate! Make Your Own Outback-Style Blooming Onion With This At-Home Recipe
It's hard to hold back whenever you see those blooming onions that resemble flower petals at Outback Steakhouse and other classic restaurants. The perfectly crispy appetizer is so good in every way, from the seasoned coating to the thick dipping sauce. And while it may seem like a hard one to recreate in your kitchen, we have good news: you absolutely can make them yourself right at home, you just have to have a little patience! The mouthwatering, crispy-on-the-outside, soft-on-the-inside snack is way easier to cook than you'd think — with the hardest part being cutting the onion into it's famous "petals," and even that's no biggie. Watch the video to learn how, and you'll be a blooming-onion expert in no time!
Blooming Onion
From POPSUGAR Food
Notes
Refrigerate the onion before frying; the breading will adhere more easily.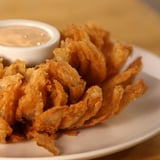 Ingredients
For blooming onion:
1 large sweet yellow onion, such as Vidalia
2 1/2 cups all-purpose flour
1 teaspoon cayenne pepper
2 tablespoons paprika
1/2 teaspoon dried oregano
1 teaspoon seasoned salt
1 teaspoon garlic powder
Freshly ground black pepper
2 large eggs
1 cup whole milk
1 gallon corn oil
Salt, to taste
For dipping sauce:
2 tablespoons mayonnaise
2 tablespoons sour cream
1 1/2 teaspoons ketchup
1/2 teaspoon worcestershire sauce
1 tablespoon drained horseradish
1/4 teaspoon paprika
Pinch of cayenne pepper
Salt, to taste
Freshly ground black pepper
Directions
Cut the top of the onion; place it cut-side down, and, using a sharp knife, make 1/2-inch cuts in a circular motion to create "petals." Flip the onion over and, using your hands, begin coaxing apart its layers.
In a large bowl, combine flour, cayenne, paprika, oregano, salt, garlic powder, and black pepper.
Place the onion cut-side down in the bowl, cover with a plate, and shake to coat onion and each "petal."
Meanwhile, in a separate medium bowl, mix eggs with milk. Dip onion in egg wash cut-side down; shake off excess egg wash and return onion to flour mixture to coat a second time. Shake off any excess flour.
In a deep-fryer or a heavy Dutch oven, heat oil to 375ºF, adding enough oil so that the entire onion will be able to float.
Meanwhile, in a separate bowl, combine dip ingredients until well-mixed. Set aside.
In the deep-fryer or Dutch oven, add the onion cut-side down in the oil for 2-3 minutes, then carefully flip the onion and allow it to fry for an additional 2-3 minutes or until the batter is golden brown.
Move it to a plate covered in paper towels to drain off excess oil and season with a little salt.
Serve immediately with sauce.
Information
Category

Vegetables, Appetizers

Cuisine

North American

Yield

Makes 1 blooming onion