Brussels Sprout, Lentil, and Kale Salad With Cranberries
A Gloriously Green Brussels Sprout, Kale, and Lentil Salad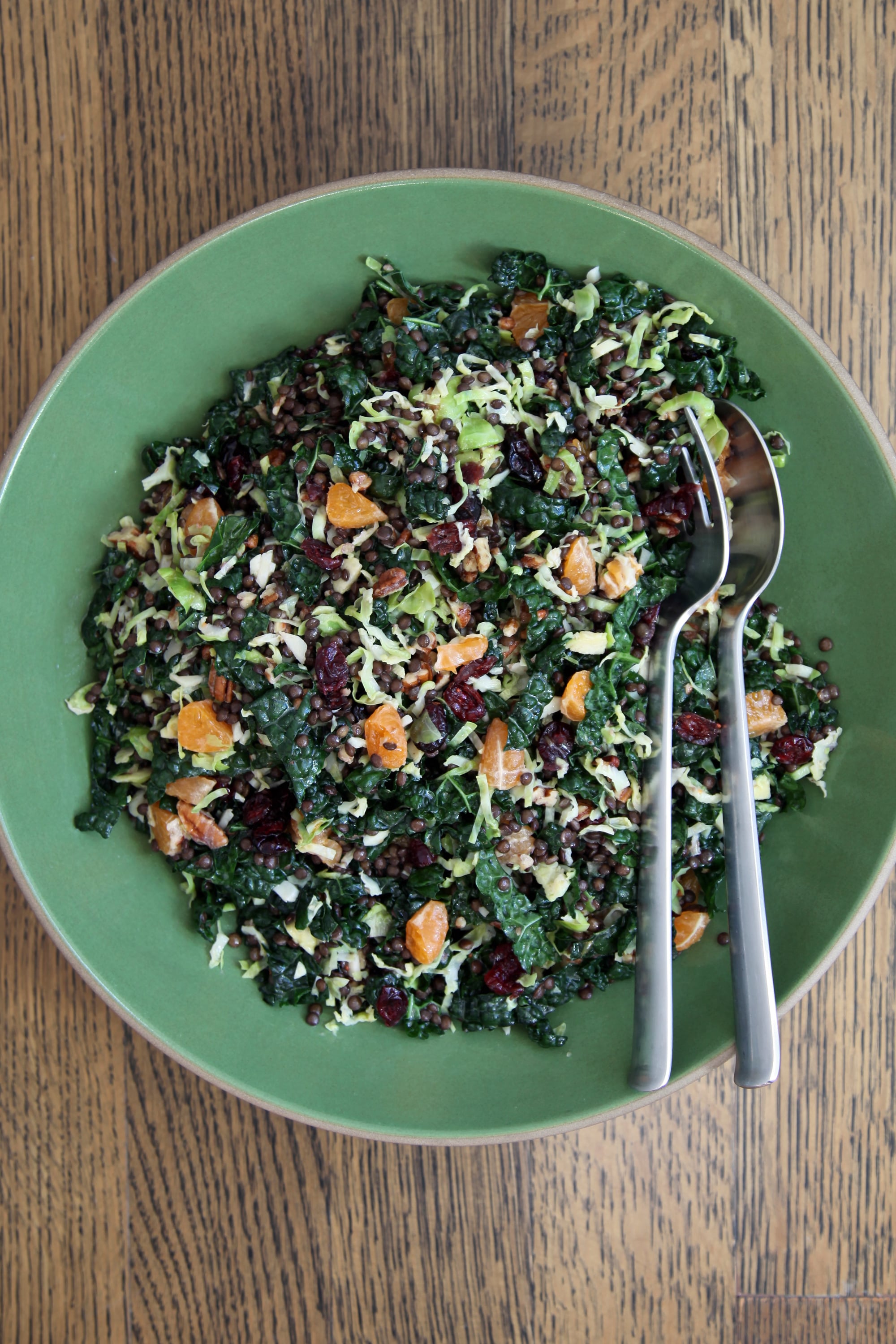 Decadent comfort foods absolutely have a time and place, but one can't subsist on butter, cream, cheese, and potatoes alone. When you need a respite, be sure to consider this gloriously green salad. Kale, brussels sprouts, and glossy black beluga lentils provide its wholesome base, while dried cranberries, toasted pecans, and clusters of clementine wedges are a festive nod to the season.
While it's best the day of, it can be made ahead with almost as good results. To keep it fresher in texture, add the clementine wedges just before eating, as they tend to wilt by the second day.
Brussels Sprout, Beluga Lentil, and Cranberry Holiday Salad
Adapted from Green Kitchen Travels by David Frenkiel and Luise Vindahl
Notes
French green lentils or other lentils that hold their shape when cooked can be substituted for the beluga lentils. You may have a bit of extra salad dressing.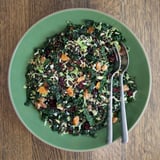 Ingredients
For the dressing:
2 tablespoons dijon mustard
2 tablespoons honey
6 tablespoons extra-virgin olive oil
Juice of 2 lemons
A generous pinch of kosher salt
For the salad:
1 cup (7 ounces) beluga lentils
Kosher salt
9 ounces kale (about 1 large bunch), center ribs removed and thinly sliced
1 pound 2 ounces brussels sprouts, finely shredded
1/2 cup (2 1/2 ounces) dried cranberries
1 cup (3 1/2 ounces) toasted pecans, coarsely chopped
4 clementines, peeled and cut into small wedges
Directions
Whisk together the mustard, honey, olive oil, lemon juice, and salt until emulsified. Adjust to taste.
Rinse and drain the lentils. Add to a saucepan with 2 1/2 cups water and bring to a boil. Reduce heat to maintain a simmer and cook for 15-20 minutes or until just tender (keep an eye on them for the last few minutes to ensure they don't overcook and lose their shape). Drain the water off, transfer to a medium mixing bowl, and fold in about 1/3 of the dressing. Season to taste with salt. Allow to cool before adding to the salad.
Add the kale to a large mixing bowl with a few pinches of salt and massage with your fingers until darkened in color and slightly softened. Add the brussels sprouts, cranberries, pecans, and most of the remaining dressing, and toss to coat. Season to taste with salt. Add the clementine wedges and lentils, and gently toss (add these last as these are more delicate than the other ingredients). Add more dressing if necessary and serve.
Information
Category

Salads, Main Dishes

Cuisine

North American

Yield

Serves 4-6
Image Source: POPSUGAR Photography / Nicole Perry