Burrata-Stuffed Squash Blossom Recipe
Killer App: Burrata-Stuffed Squash Blossoms With Olive Tapenade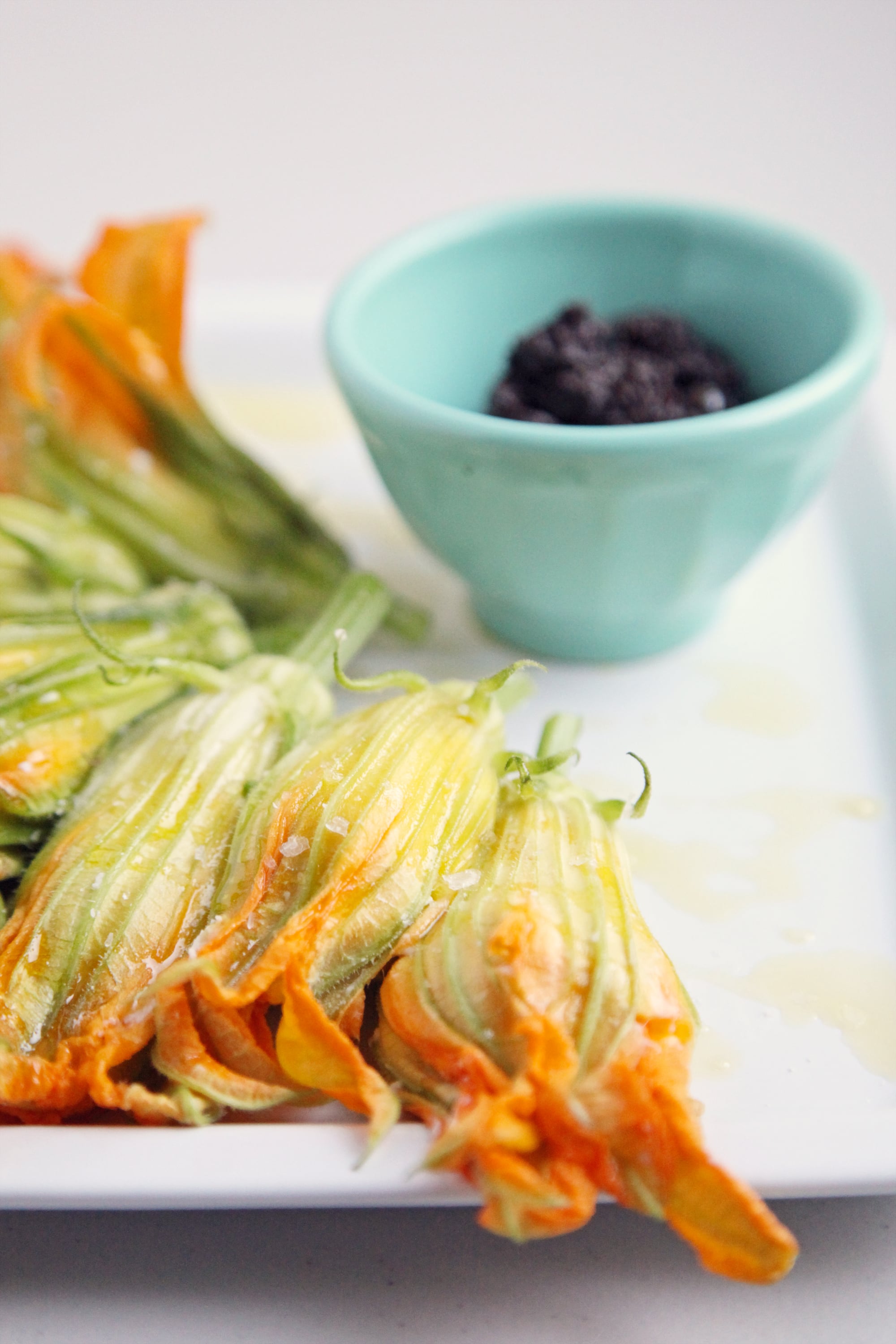 Traditionally, squash blossoms are stuffed with creamy cheese, battered, and deep fried; lovely and enticing in their own right, to be sure, but a girl can only eat so many deep-fried snacks without palate fatigue. So when my best friend brought a basket of these Summer beauties to dinner, alongside a rustic baguette, a tub of creamy burrata, and a jar of pungent olive tapenade, I knew I was in for a real treat.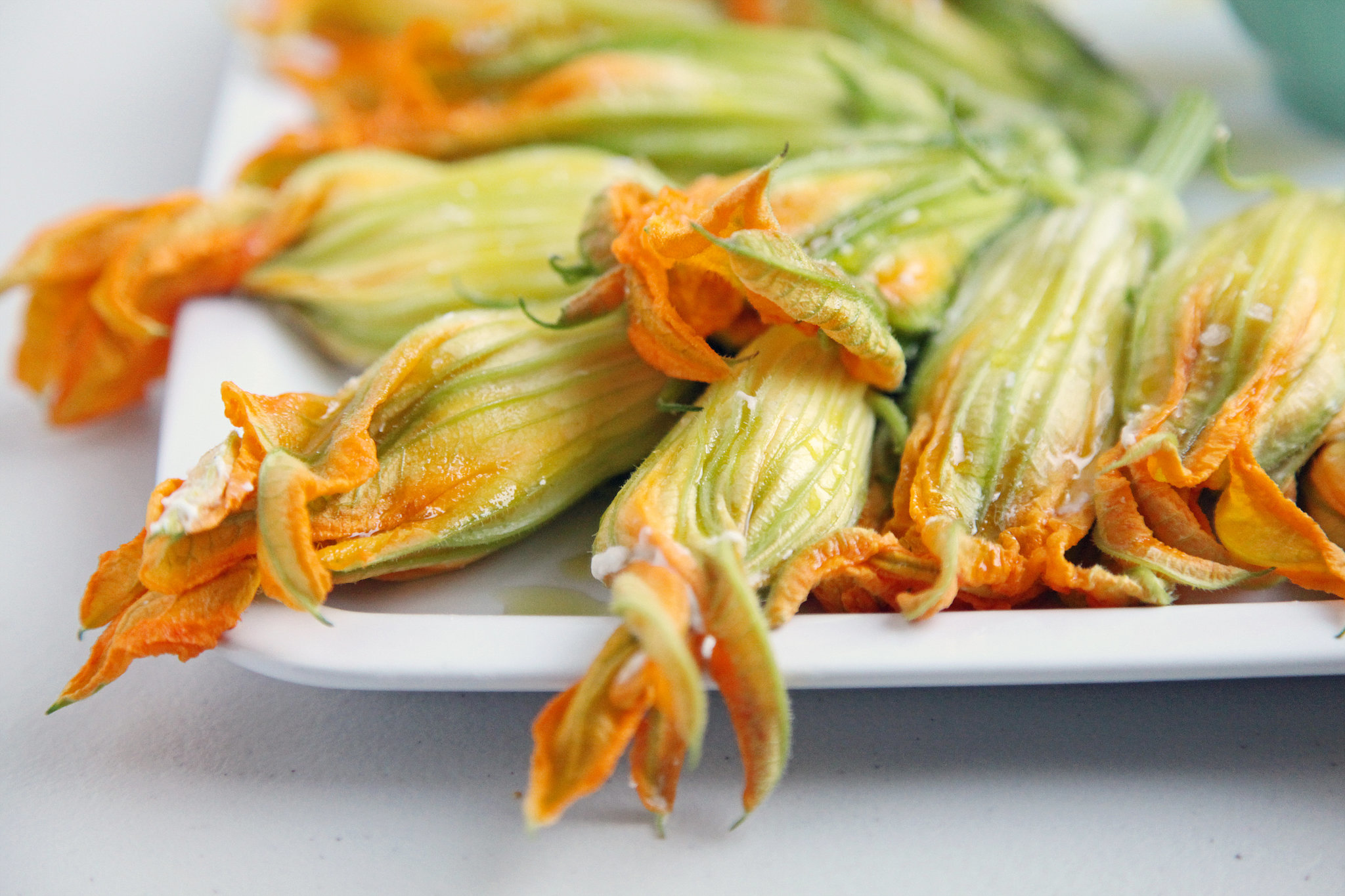 I watched in rapt attention as she deftly prepared this quick appetizer, barely able to restrain myself from sneaking a taste of the burrata as it oozed with cream. Mere minutes later, we bit in, and at that moment, I was sold. Not only are squash blossoms extraordinarily beautiful in their raw state, but when shed of their battered exterior, their nuanced delicate flavors truly shine. I imagine I'll be experimenting with raw preparations, until, like tomatoes (another Summer favorite), they're sadly whisked away until next season's flush.
I like to allow my guests to serve themselves, as a casual, assemble-your-own crostini plate, but if you're hosting a more formal dinner party, assemble the crostini ahead of time.
Burrata-Stuffed Squash Blossoms and Olive Tapenade Crostini
Adapted from Melissa Clark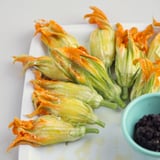 Ingredients
1 baguette, sliced 1/4-inch thick on an angle
3 tablespoons extra-virgin olive oil, plus more for brushing crostini
Flaky sea salt, such as Maldon
1 cup pitted mixed black olives, coarsely chopped
3 anchovy fillets, chopped
1 large garlic clove, minced
1 teaspoon chopped rosemary
1 teaspoon finely grated lemon zest
12 squash blossoms
1 piece burrata or buffalo mozzarella
Directions
Preheat the oven to 350ºF. Arrange the baguette slices on a cookie sheet, and generously brush them with olive oil and sprinkle with sea salt. Toast the baguette for about 10 minutes, or until light-golden brown and slightly crisp.
Add the olives, anchovies, garlic, rosemary, and lemon zest to the bowl of a food processor, and pulse until coarsely chopped and mixed together. Drizzle in the 3 tablespoons of olive oil, and pulse until a cohesive paste forms.
Make a lengthwise slit from base to tip in each squash blossom, and stuff with about 1 tablespoon burrata; pinch closed. Arrange the squash blossoms on a platter, drizzle them with olive oil, and generously sprinkle with salt. Present alongside a small bowl filled with tapenade and the crostini.
To assemble a crostini, spread a thin layer of tapenade on the toasted bread, and top with a squash blossom.
Serves 4.
Notes:
Look for squash blossoms at farmers markets, gourmet grocers, and even Mexican specialty markets.
Swap out a high-quality store-bought olive tapenade, such as The Gracious Gourmet, for an even faster appetizer.
Information
Category

Vegetables, Appetizers

Cuisine

North American