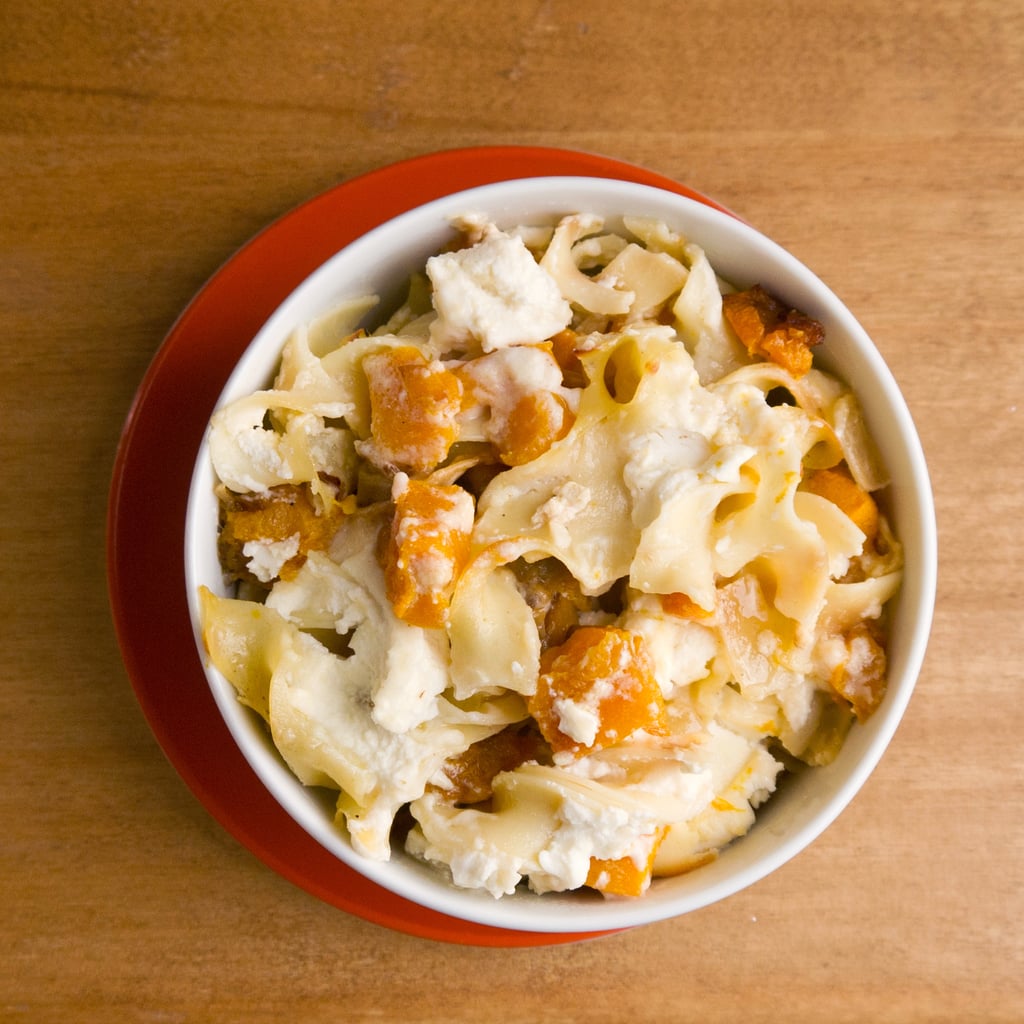 The combination of roasted butternut squash and creamy ricotta cheese in this anything-but-basic casserole quickly turns an ordinary day into a celebration of deliciousness. Mix in the extra bonus of béchamel sauce, and you'll elevate this dish to something so much more than a bowl full of noodles.
Butternut Squash Ricotta Casserole
From Sarah Lipoff, POPSUGAR Food
Notes
Serve alongside roast chicken for a stunning dinner.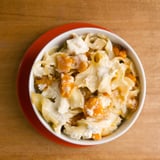 Ingredients
For the casserole:
1 medium butternut squash, chopped into a large dice
1 medium onion, chopped into a large dice
1 tablespoon olive oil
Salt and pepper
3 cups No Yolks® Extra Broad noodles
1 cup ricotta cheese
For the béchamel sauce:
1 tablespoon butter
1 clove garlic, chopped
1/4 teaspoon dried mustard
1/4 teaspoon paprika
1/4 teaspoon salt
1/8 teaspoon pepper
1 tablespoon flour
2 cups whole milk
1/2 cup shredded parmesan cheese, plus more for garnish
Directions
Preheat your oven to 400˚F.
Coat a sheet pan with a drizzle of olive oil, and evenly distribute the cubed butternut squash and onion. Sprinkle with salt and pepper, and then bake for 20 minutes or until the edges of the onion have started to brown.
While the butternut squash is roasting, boil the pasta in water until it is cooked through, drain it, and place it in a 9-inch casserole dish.
In a medium saucepan, melt the butter, add the garlic, and cook for 2 to 3 minutes. Then add the dried mustard, paprika, salt, pepper, and flour, stirring it into the butter. Cook for an additional minute, and then slowly whisk in the milk, constantly whisking until the sauce thickens. Remove from heat and add the parmesan cheese.
Scatter the roasted butternut squash mixture over the noodles, and then dollop the ricotta cheese over the top in big scoops.
Pour the béchamel sauce over the casserole and bake for 20 minutes. Serve with additional parmesan cheese.
Want more comfort-filled noodle recipes? Check out this collection of dishes that really hit the spot.
Information
Category

Pasta, Main Dishes

Cuisine

North American

Yield

4 servings