CannaOil Veggie Lasagna Recipe
This Cannabis-Infused Lasagna Offers a Comforting Way to Get Baked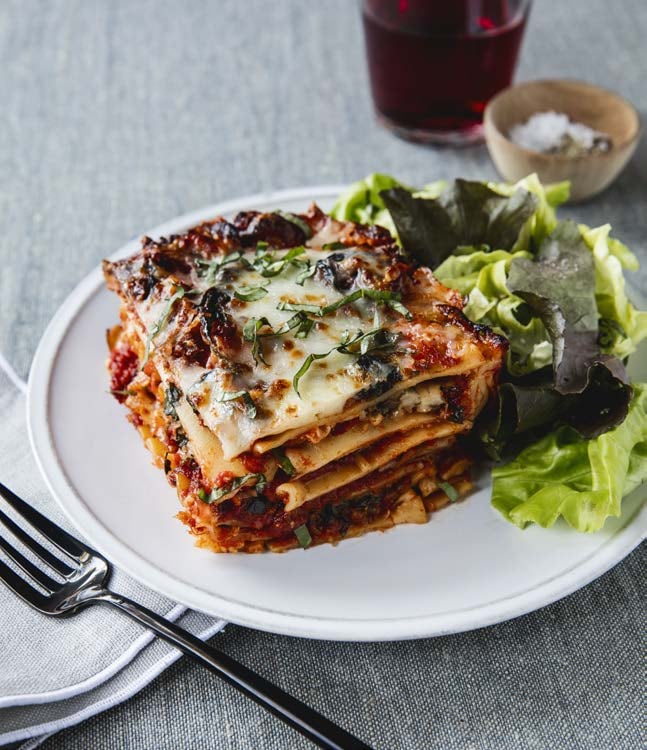 With weed being legalized for recreational use across a handful of states, certain residents are wasting no time incorporating marijuana into their cooking. Cedella Marley, health guru and daughter of reggae icon Bob Marley, offers a cannabis-infused twist on lasagna in Cooking With Herb ($20). With a low dose of THC, this dinner is perfect for people who have never tried edibles before, but Marley's cookbook contains plenty of tips in case anybody overindulges.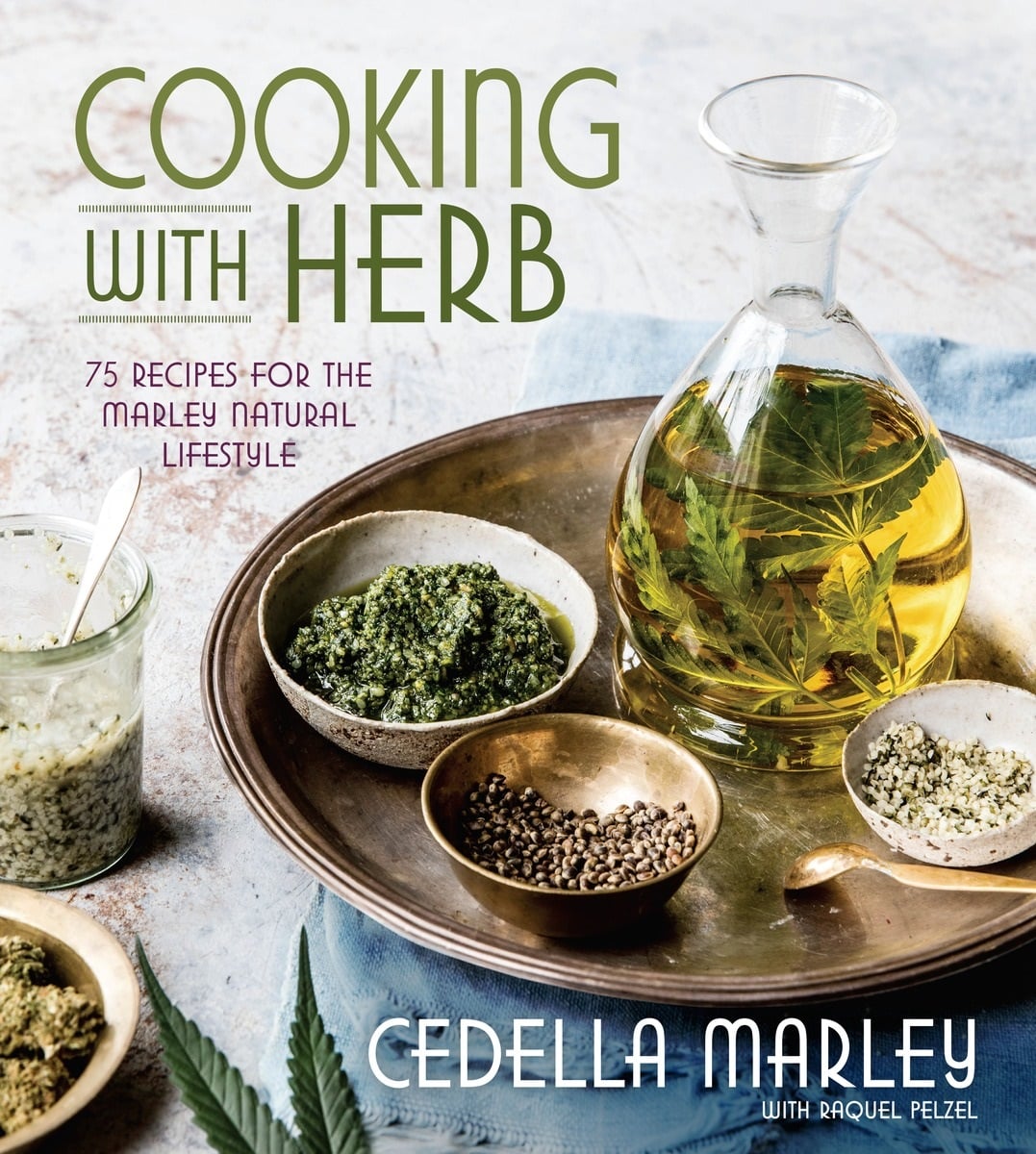 Notes
If you're just getting into spiking dishes with Herb, this is a great beginner main dish to try out. Just enhance it, serve a salad on the side, and you're good to go. It's also excellent party food since it feeds eight, but that said, you can halve the recipe and make it in a 9-inch baking dish to serve four. Or, double up and stash one in the freezer so a party is always just a defrost away. This lasagna is decadent and cheesy but also loaded with vegetables: scallions, mushrooms, spinach, tomatoes, roasted peppers, and an entire head of garlic. Garlic is so good for you and packed with antioxidants that, in my opinion, you just can't eat too much of it (though my husband sometimes disagrees). You can use no-boil lasagna noodles if you like, in which case you will skip the first step.
Ingredients
CannaOil:
1/4 ounce (7 grams) cannabis flowers (dose based on 15% THC herb)
2 cups coconut oil, extra virgin olive oil, or grapeseed oil.
Lasagna:
16 lasagna noodles (a little less than a 1-pound box)
1 tablespoon plus 1 3/4 teaspoons fine sea salt
3 tablespoons plus 1 teaspoon extra-virgin olive oil
1 small head of garlic (about 8 medium cloves), minced
2 tablespoons finely chopped fresh thyme
1/2 teaspoon freshly ground black pepper
1/2 teaspoon chipotle chile powder or red pepper flakes
2 tablespoons tomato paste
1/2 cup finely chopped roasted red peppers
1 can (28 ounces) crushed tomatoes (preferably fire roasted)
1 tablespoon plus 1 teaspoon CannaOil
6 scallions, finely chopped
2 cups veggie crumbles or crumbled veggie burgers (thawed if frozen)
8 ounces button mushrooms, thinly sliced 3 cups baby spinach leaves
1 1/2 cups fresh basil leaves, thinly sliced
1-pound fresh mozzarella cheese, shredded with your fingers into small pieces
2 cups grated young Gouda cheese (about 6 ounces)
1 cup finely grated Parmigiano-Reggiano (about 3 ounces)
Directions
To make the CannaOil: Grind the herb using a hand grinder (you don't want it to be powder fine—think dried oregano).
Combine the oil and herb in a medium saucepan and bring to a low simmer over medium heat (the oil should be hot but not boiling).
Reduce the heat to low and cook the infusion very slowly, stirring occasionally and maintaining a temperature of between 200° and 250°F, until the top layer in the saucepan changes from watery to glossy and thick, about 2 hours.
Set a sieve over a medium bowl and line the sieve with cheesecloth. Pour the infusion into the sieve and let it sit until all of the oil is filtered, about 5 minutes. Fold the ends of the cheesecloth over the herb and use a rubber spatula to press on the solids, extracting as much oil as possible (discard the solids). Transfer to a jar, seal, and store at room temperature for up to 3 months. Note that CannaOil made with coconut oil will solidify; reheat gently to liquefy if necessary.
To make the Lasagna: Bring a large pot of water to a boil. Add the lasagna noodles and 1 tablespoon of the salt and cook until al dente, according to the package directions. Drain and sprinkle with 1 teaspoon of the olive oil and set aside.
Heat 1 tablespoon of the olive oil in a large skillet. Add half of the garlic and the thyme and warm over medium heat until the garlic and herb are fragrant, about 30 seconds. Add the black pepper, chipotle powder, and the tomato paste and cook, stirring often, until the tomato paste darkens, 2 to 3 minutes. Stir in the roasted red peppers, then add the crushed tomatoes, CannaOil, and 1 teaspoon of the salt and cook, stirring occasionally, until the sauce becomes thick, 10 to 12 minutes (if your tomatoes are very chunky, use a potato masher to smash them so the sauce looks pasty rather than chunky). Transfer the sauce to a bowl.
Heat 1 tablespoon of the olive oil in another large skillet over medium-high heat. Add the scallions and cook until they start to brown, stirring occasionally, 2 to 3 minutes. Stir in the veggie crumbles and cook until they start to sizzle, about 1 minute. Stir in the mushrooms and the remaining 1 tablespoon oil and 3/4 teaspoon salt and cook, stirring occasionally, scraping up any browned bits from the bottom of the pan, until the mushrooms soften, 5 to 6 minutes. Stir in the remaining garlic and cook until it is fragrant, about 30 seconds. Remove from the heat and stir in the spinach leaves and 1 cup of the basil and set aside.
Preheat the oven to 375°F.
Place the mozzarella in one bowl and mix the Gouda and Parmigiano together in another bowl. Place a few spoonfuls of sauce in the bottom of a 9 x 13-inch baking dish. Overlap 4 lasagna noodles across the bottom of the pan. Arrange a few more noodles around the sides of the pan. Add 3/4 cup of the sauce to the pan followed by half of the veggie crumble mixture, one-third of the mozzarella, and one-third of the Gouda mixture. Add another pasta layer followed by more sauce, the rest of the veggie crumble mixture and half of the remaining mozzarella and Gouda mixture. Repeat one more time with the rest of the noodles, sauce, and cheese.
Bake the lasagna until it is golden brown on top and the sauce is bubbling, 35 to 40 minutes. Remove from the oven and serve sprinkled with the remaining 1/2 cup basil.
Reprinted from COOKING WITH HERB by arrangement with Pam Krauss Books/Avery, a member of Penguin Group (USA) LLC, A Penguin Random House Company. Copyright © 2017, Cedella Marley, Raquel Pelzel
Information
Category

Pasta, Main Dishes

Cuisine

North American

Yield

8 servings
Image Source: © 2017 Aubrie Pick