Caramel Apple Bars
Bars as American as (Caramel) Apple Pie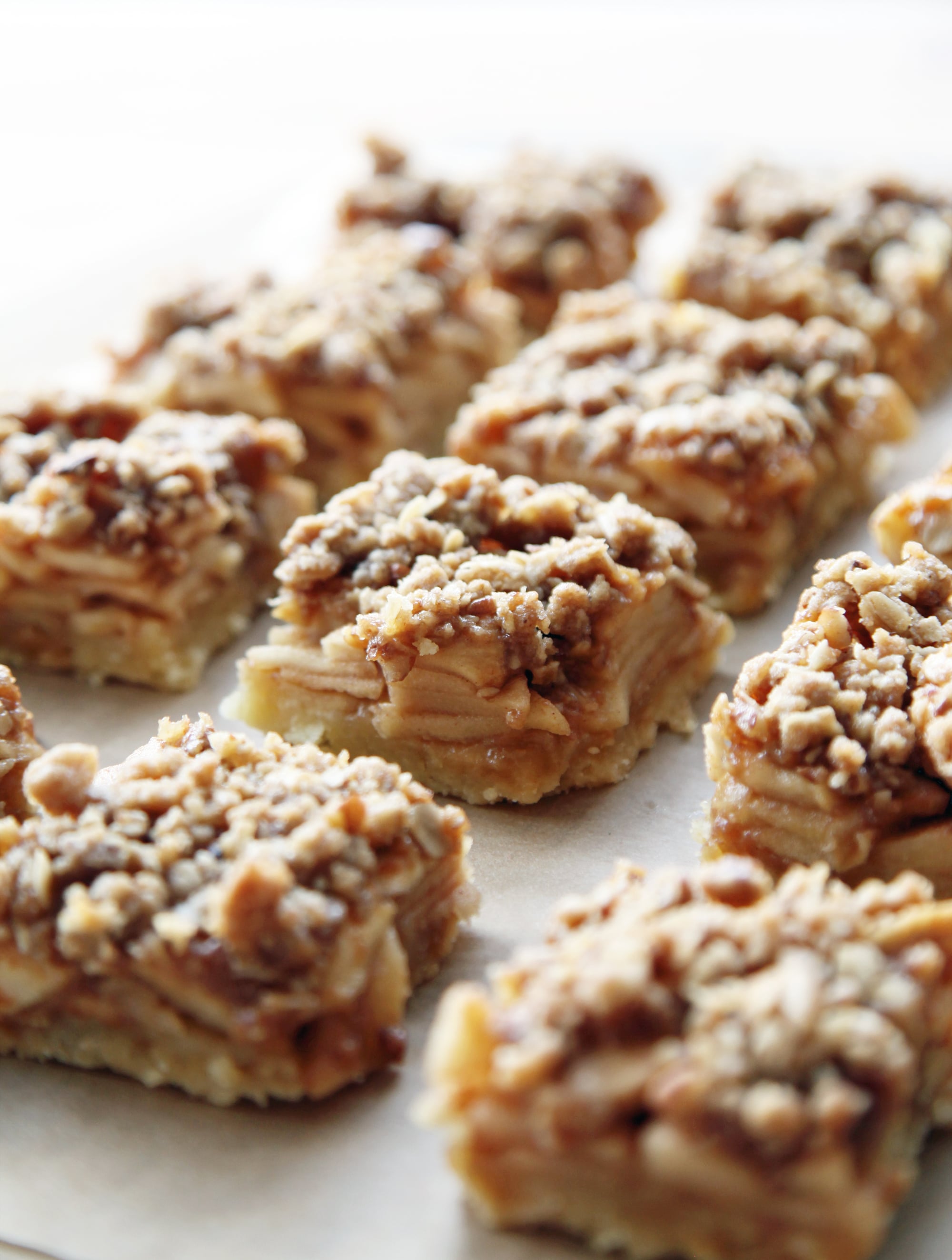 Though these bars may be crumbly, sticky, and a tad bit homely, I absolutely recommend them. Why? Layer after layer of flavor — buttery shortbread, salty-sweet caramel apple slices, and a nutty oat topping — add up to a dessert that tastes like the best parts of apple pie, crisp, and caramel apples.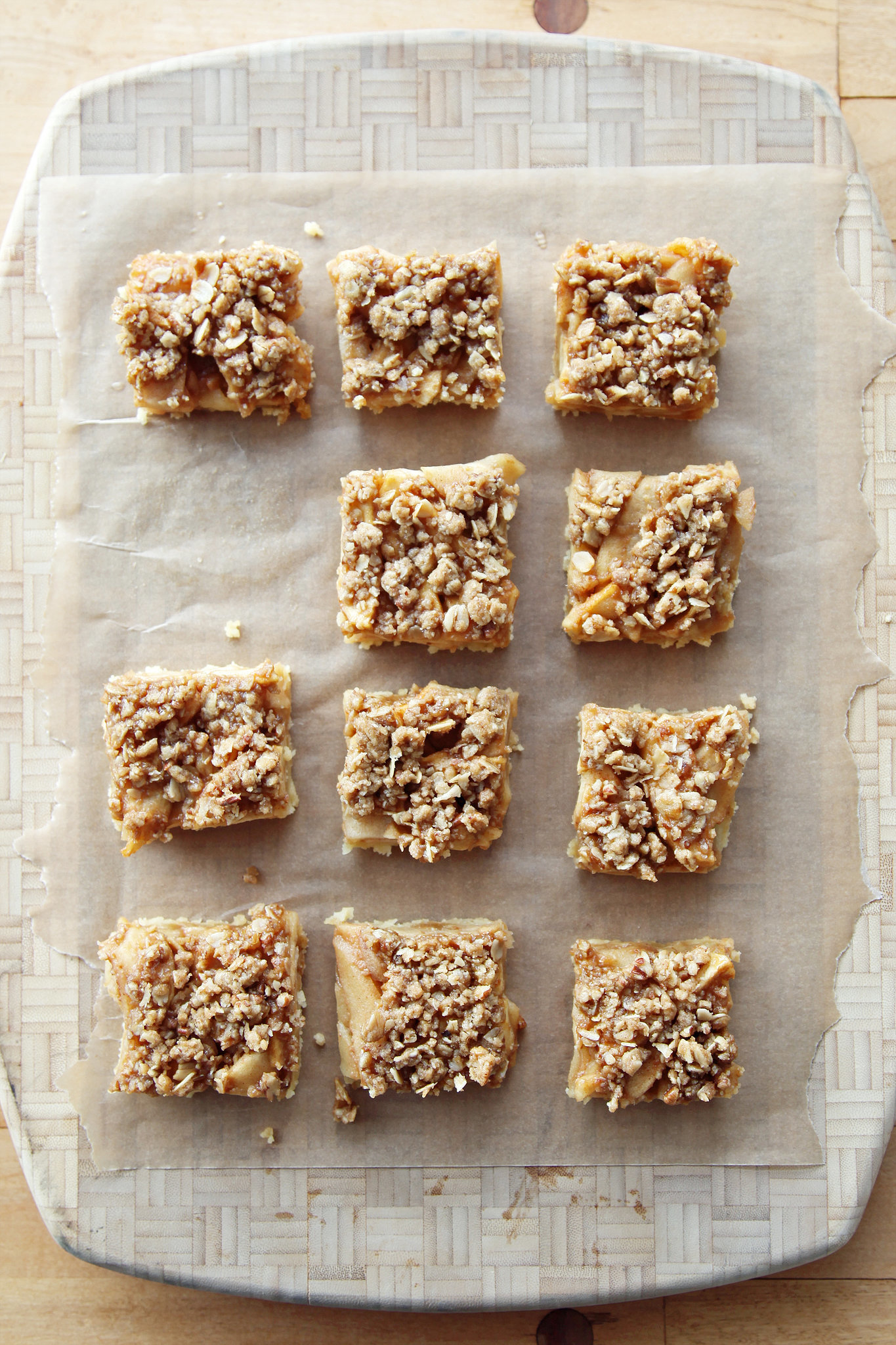 A word to the wise: don't skip both greasing the pan and lining it with parchment; otherwise they won't release from the pan properly and will be a pain to clean up.
Notes
These bar cookies are less sturdy than some. For best results, use a sharp knife to cut into squares and a very thin spatula to remove them from the pan. (They still will be a bit messy.) The bars can be stored in an airtight container at room temperature for 4 days or frozen for up to a month.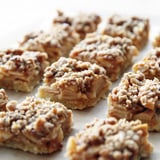 Ingredients
Butter, for greasing the pan
For the crust:
1 1/2 cups all-purpose flour
1/4 cup granulated sugar
1/2 teaspoon kosher salt
12 tablespoons unsalted butter, cubed and chilled
For the filling:
2 pounds tart apples, such as Pink Lady or Granny Smith, peeled, cored, and thinly sliced
1 teaspoon kosher salt
1/2 teaspoon cinnamon
1 (10 ounce) jar caramel sauce, such as Fran's
For the crumble:
1/4 cup (2 ounces) brown sugar
1/4 cup (1 1/4 ounces) all-purpose flour
1/4 cup lightly toasted pecans, finely chopped
1/2 cup rolled oats
1/4 teaspoon cinnamon
1/2 teaspoon kosher salt
3 tablespoons butter, cubed
Directions
Preheat the oven to 350°F. Grease the inside of a 9-by-13-inch baking pan and line with parchment paper so that it hangs over the edges.
Make the crust: In a large mixing bowl, whisk together the flour, sugar, and salt. Cut the butter in using a pastry cutter or the tines of a fork until it is in roughly pea-sized pieces and a very loose, shaggy dough has formed. Transfer to the baking dish. Spread it out evenly over the dish, and press it in firmly. Bake for 25 to 30 minutes, or until light golden brown and fragrant.
Make the filling: Meanwhile, toss the apples in a large bowl with the salt and cinnamon. Arrange the apples over the baked crust. Evenly drizzle with caramel sauce.
Make the crumble: Whisk together the brown sugar, flour, pecans, oats, cinnamon, and salt. Rub the butter in with your fingertips until a shaggy crumble forms. Evenly sprinkle the bars with the crumble topping.
Bake for 40-45 minutes, or until crumble is just starting to brown.
Let the bars cool completely, and then use a large chef's knife to cut into 2-1/4-inch (or smaller) bars.
Information
Category

Desserts, Cookies

Cuisine

North American

Yield

20 (2-1/4-inch) bar cookies