Cheddar Beer Soup Recipe
Putting the Soup Into Super Bowl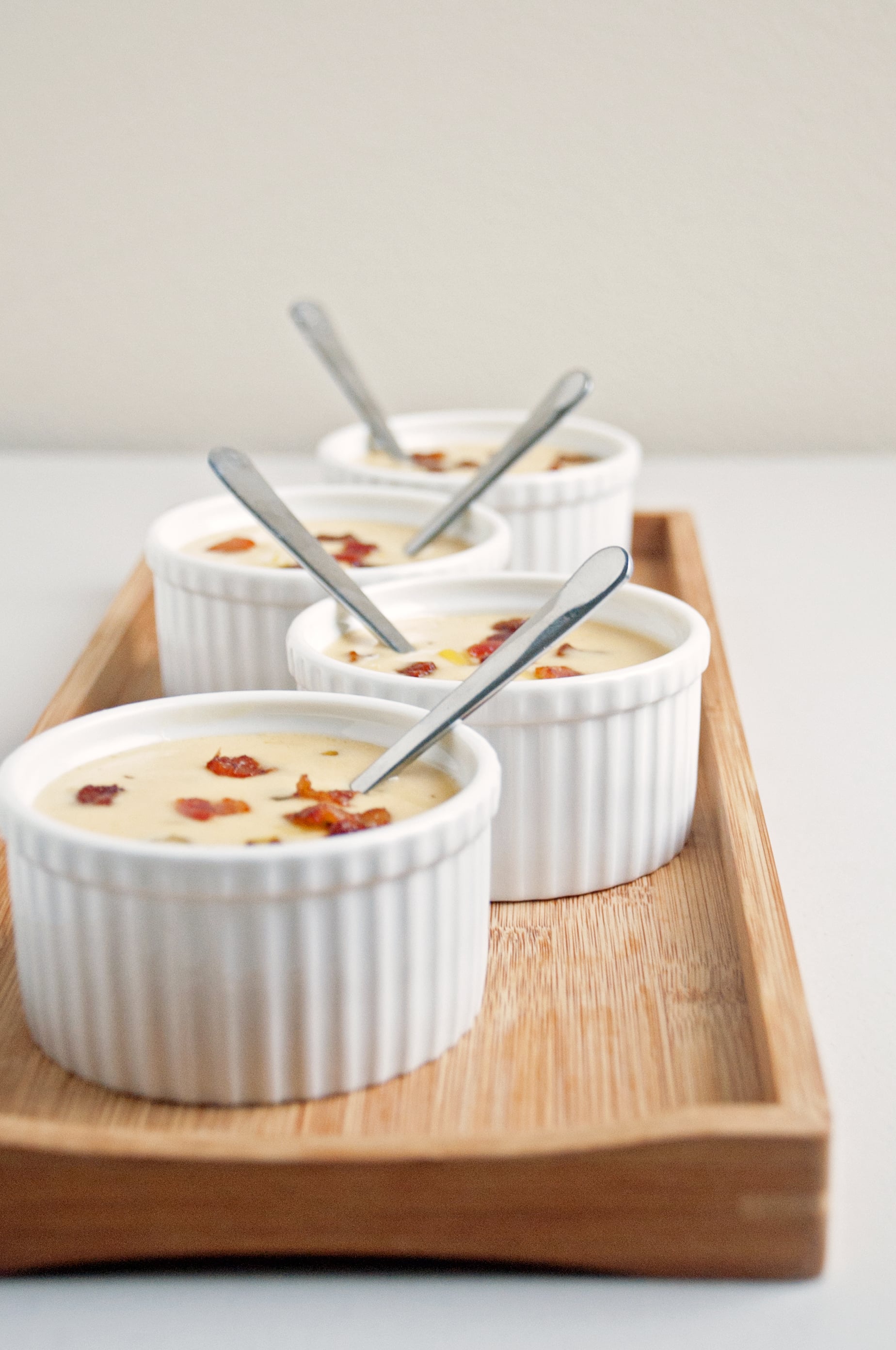 Perhaps you've tried cheddar beer chips, cheddar beer fondue, or even beer-infused cheese, but I'm going to go out on a limb and say that this bacon-studded cheddar beer soup is a whole new frontier, unless you've dined at Jonathon's Oak Cliff in Dallas, TX, where this ridiculously indulgent dish hails from.
Now, let's address the hulking elephant in the room: unlike many soups, this soup is decidedly not diet food, but that's OK. Heck, I could barely finish one petite bacon-studded bowl before admitting defeat, even though I loved every lush spoonful. Rather, this luxuriously decadent soup is the sort that's meant to be shared and paired with a pint of beer and a heaping mound of the greenest salad you can get your hands on.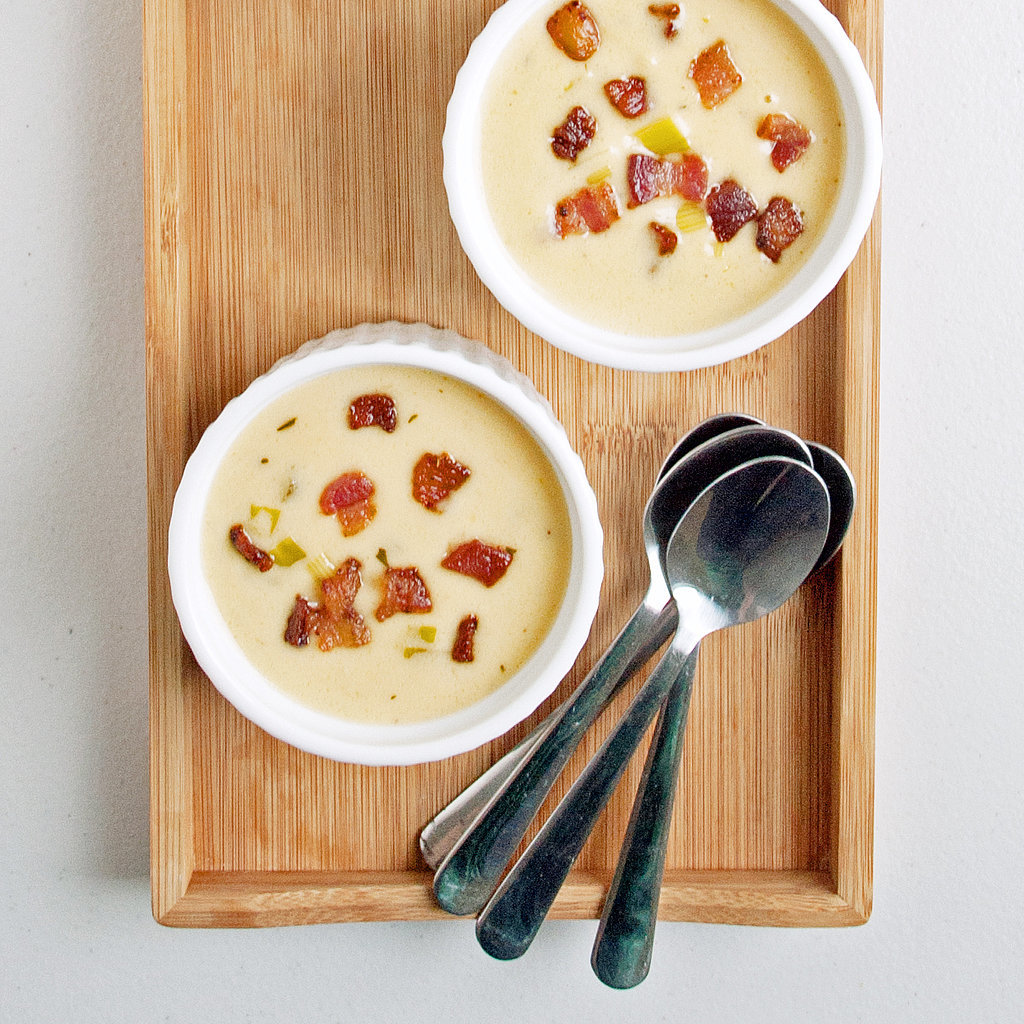 That said, it is very good — as in ditch your dinner plans and make it tonight good. I can say with absolute certainty that I'll be making it at any appropriate opportunity I can conjure — for starters, I can think of no better Super Bowl party treat — and suggest you follow suit. Treat yourself!
Notes
If you can't find slab bacon, substitute 1/2 pound of the thickest-cut bacon you can find. For a less spicy soup, seed the jalapeño before chopping.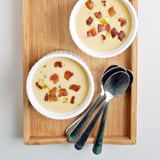 Ingredients
1/2 pound slab bacon, cut into 1/3-inch dice
1 celery rib, finely chopped
1 leek, finely chopped and cleaned
1 jalapeño, finely chopped
2 large garlic cloves, minced
1 tablespoon chopped thyme
12 ounces lager or pilsner
About 2 1/4 cups low-sodium chicken stock
4 tablespoons unsalted butter
1/4 cup (1 1/4 ounces) all-purpose flour
1 cup heavy cream
12 ounces sharp cheddar cheese, coarsely shredded
A splash of malt vinegar, to taste (optional)
Salt and freshly ground pepper, to taste
Toasted crusty bread, for serving (optional)
Directions
In a dutch oven or small stockpot, cook the bacon over medium heat until the fat has rendered out and the bacon bits are crisp, about 7 minutes. Remove the cooked bacon to a paper-towel-lined plate using a slotted spoon, leaving the rendered fat in the dutch oven. Add the celery, leek, jalapeño, garlic, and thyme, and cook for about 8 minutes, stirring occasionally, or until softened and beginning to brown.
Add half of the beer (6 ounces), and cook for about 5 minutes, or until reduced by half. Add the chicken stock, and bring to a simmer.
Meanwhile, melt the butter in a small skillet over medium heat. Once the butter has melted, whisk in the flour, and cook for about 2 minutes, whisking constantly, until the flour is completely incorporated and the

roux

is smooth. Whisk the roux into the soup, and cook for about 8 minutes, or until thickened.
Add the cream, cheddar, and remaining beer, and simmer, stirring occasionally, until thick and creamy and the cheese has melted completely. Take the soup off of the heat, and season to taste with malt vinegar and salt (it may not need either). If the soup is too thick, thin it out with chicken stock until it reaches a desirable consistency.
Ladle into small bowls, and garnish with bacon and a few cracks of freshly ground black pepper. Serve with toasted bread.
Information
Category

Soups/Stews, Cream

Cuisine

North American

Yield

Serves 6-8 as a first course