Cheese and Wine Pairing Chart
The Ultimate Wine and Cheese Pairing Cheat Sheet
Our partner Tasting Table has the best of food and drink culture. Today, Ruth Tobias shares with us a cheat sheet for pairing wine with cheese.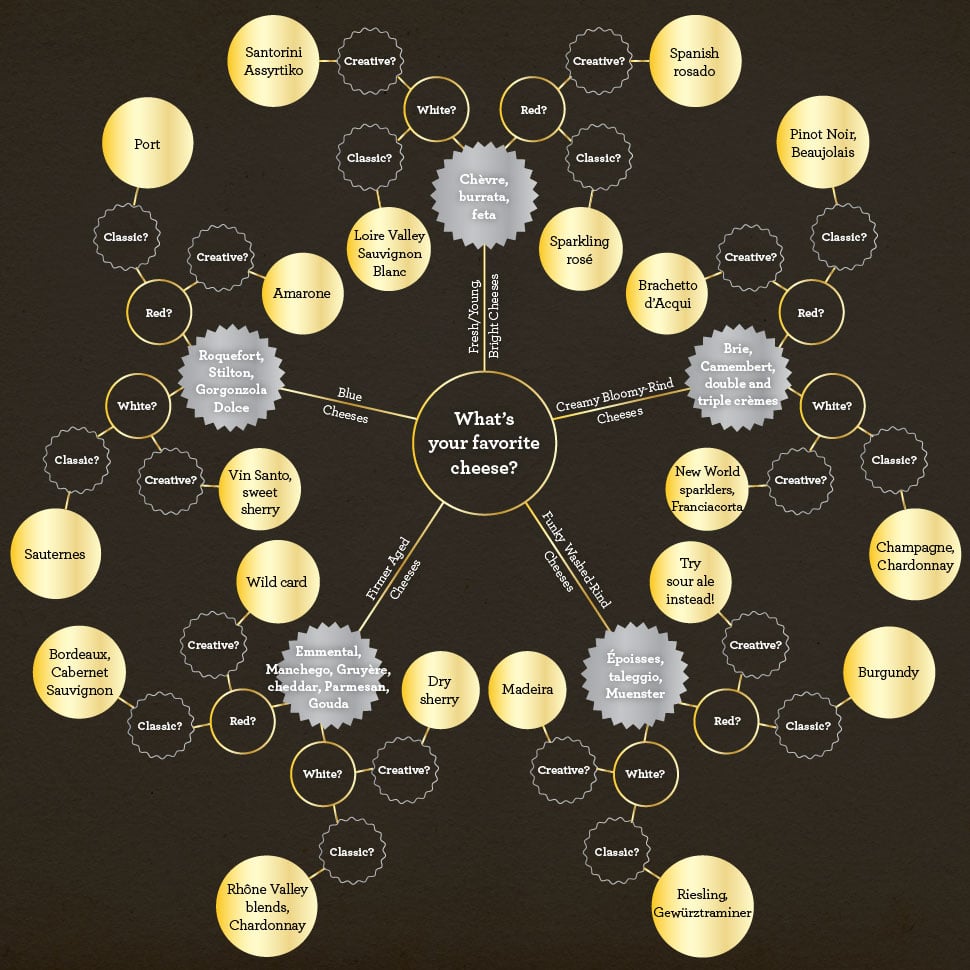 Source: Tasting Table / Kim Graziano
These days, there are so many confusing rules about pairing wine and cheese that it's no wonder many are turning instead to craft beer as their drink of choice. With wine, you need to consider body, texture, acid and tannins; complements and contrasts; regional traditions and modern chemistry—enough, in short, to make a concerned holiday party host's head spin.
But here's the thing: You're not having a get-together for sommeliers and cheesemongers, you're having it for family and friends. (Unless your family and friends are all sommeliers and cheesemongers—in which case, you probably don't need this cheat sheet.) The key is to make your guests happy, whatever their likes and dislikes. That means pouring some reds, despite the current consensus that white wine is friendlier to cheese in general. It means letting a cranky aunt sip Pedro Ximénez with a delicate goat's cheese and another obliterate Pinot Grigio with Gorgonzola if they feel like it.
In that spirit, we've created a pairing guide (printable version here), which accounts for classic as well as quirky tastes—throwing some curveballs in with the straight pitches—and covers a range of budgets. If, in the end, you're still fretting and sweating, forget it all and stick with Champagne and Riesling, which go with just about every cheese there is, along with a fruity, low-tannin red for the die-hards.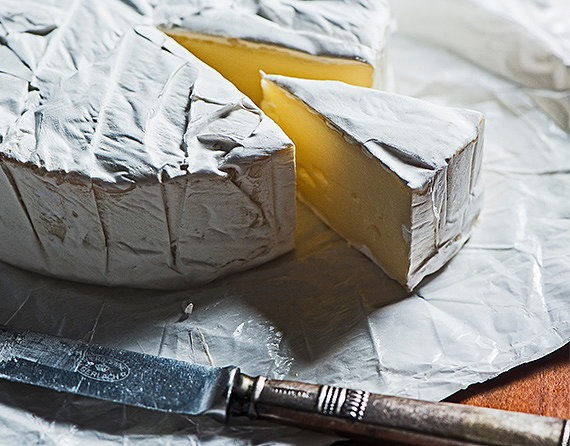 Source: Tasting Table / Dave Katz
Fresh/Young, Bright Cheeses: Chèvre, burrata, feta
White classic: Loire Valley Sauvignon Blanc
White creative:

Santorini

Assyrtiko
Red classic: Sparkling rosé
Red creative: Spanish rosado
Delicately milky or distinctly tangy soft cheeses need light-bodied, higher-acid wines with citrus, floral and herbaceous notes, plus a hint of salinity, like Sancerre and Pouilly Fumé from the Loire Valley or flinty Greek whites. Most red wine gets mean here, so go for still or sparkling strawberry-toned rosés from France, Italy, Spain and even Austria.
Creamy Bloomy-Rind Cheeses: Brie, Camembert, double and triple crèmes
White classic: Champagne, Chardonnay
White creative: New World sparklers, Franciacorta
Red classic: Pinot Noir, Beaujolais
Red creative: Brachetto d'Acqui
Buttery, soft-ripened cheeses are made for Champagne, with its palate-cleansing effervescence and complementary apple, pear and bread flavors—but non-French bubbly (even a red one) is a delightful alternative. Seek out a not-too-oaky Chardonnay, White Burgundy or a fresh, juicy Pinot Noir.
Funky Washed-Rind Cheeses: Époisses, taleggio, Muenster
White classic: Riesling, Gewürztraminer
White creative: Madeira
Red classic: Burgundy
Red creative: Try sour ale instead!
Few dispute the ability of dry or off-dry Rieslings to stand up to stinky cheeses, with their honeyed, tropical fruits and high acidity. But the toffee and dried fruit in good Madeira Bual also mesh with the funk—as do France's legendarily earthy Pinots and, to put the "cheat" in this cheat sheet, wine-like sour beers like Russian River's Supplication.
Firmer Aged Cheeses: Emmental, Manchego, Gruyère, cheddar, Parmesan, Gouda
White classic: Rhône Valley blends, Chardonnay
White creative: Dry sherry
Red classic: Bordeaux, Cabernet Sauvignon
Red creative: Wild card
Red wine with some tannin is friendlier to flavorful semifirm and hard cheeses. While Bordeaux is one example, this category provides your best opportunity to pour whatever you want. Lush, full-bodied whites hold up well here, too, but sherry has a field day, especially amontillado and oloroso.
Blue Cheeses: Roquefort, Stilton, Gorgonzola Dolce
White classic: Sauternes
White creative: Vin Santo, sweet sherry
Red classic: Port
Red creative: Amarone
Densely textured, rich dessert wines pair famously with intense blue cheeses. Most are going to cost you, but ports and sweet sherries—your tawnies and rubies, your Pedro Ximénez and Moscatel—run the pricing gamut. If you prefer table wine, consider one with similarly bold, dried-fruit qualities, like Amarone della Valpolicella.
More stories from Tasting Table:
Are You Serving Your Wine Too Warm?
Joy the Baker's Tips For Hosting a Holiday Cookie Swap
Why You Should Be Drinking Apple Brandy Right Now
An Unexpected 2-Ingredient Aperitif
This Warm, Boozy Tom and Ginger Is Christmas in a Glass