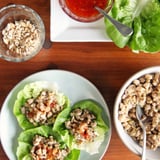 Ingredients
16 large butter lettuce leaves
1/2 cup Asian sweet chili sauce
1 pound skinless, boneless chicken thighs, finely chopped
1/4 cup unsalted, roasted cashews, chopped
2 scallions, minced
2 tablespoons soy sauce
1 teaspoon cornstarch
2 tablespoons peanut oil
4 medium shiitake mushrooms, stemmed and minced
2 garlic cloves, minced
1 teaspoon fresh ginger, minced and peeled
Directions
Arrange lettuce leaves on a large platter. Pour chili sauce into a small bowl; place on platter with leaves. Add cashews to a small serving bowl.
Mix chicken, scallions, soy sauce, and cornstarch in a medium bowl; marinate chicken 10 minutes at room temperature, stirring occasionally.
Heat oil in a large nonstick skillet over medium-high heat. Add mushrooms; stir-fry 15 seconds. Add garlic and ginger, and stir-fry 10 seconds. Add chicken mixture and cook, stirring often, until golden brown and cooked through, about 3-4 minutes.
Spoon chicken mixture into a bowl, and serve with the lettuce leaves, chili sauce, and cashews. To eat: spoon chicken into a lettuce cup, sprinkle with cashews, roll leaves around filling, and dip into chili sauce.
Information
Category

Poultry, Appetizers

Cuisine

North American

Yield

8 servings as an appetizer

Total Time

29 minutes, 59 seconds