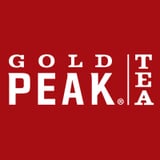 We've partnered with Gold Peak Tea to give you a taste of Nashville.
There's so much good stuff happening in this recipe that we can hardly believe it all fits inside this fluffy waffle cone. Check out how to combine chicken nuggets with just the right level of spicy for a mobile snack that's straight out Nashville (home of hot chicken). You've got two hands: double up!
Nashville Hot Chicken and Waffle Cone
Original Recipe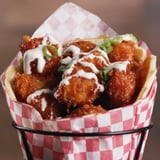 Ingredients
Chicken:
1 pound chicken tenders, cut into 1-inch cubes
12 ounces peanut oil
Flour:
1 cup all-purpose flour
2 teaspoons salt
1 teaspoon cayenne
1 teaspoon garlic powder
1/2 teaspoon cumin
Egg:
1/2 cup buttermilk
1 egg
Breadcrumbs:
1 teaspoon salt
1 teaspoon cayenne
1 teaspoon garlic powder
1/2 teaspoon cumin
5 ounces of panko breadcrumbs
1 tablespoon cayenne hot sauce
Honey Coating:
3 tablespoons honey
1/2 teaspoon cayenne hot sauce
1/2 teaspoon cayenne
Toppings:
Spicy ranch dressing
2 scallions, thinly sliced
Directions
For the Waffle:
Plug in the bubble waffle iron.
Prepare the waffle batter according to package directions and whisk together.
Once all clumps are removed, slowly fold in the additional egg whites until the light and fluffy batter is smooth and light yellow.
Generously spray the inside of both sides of the waffle iron with cooking spray. Fill the bubble waffle iron about 70 percent full and close the lid.
Immediately flip the waffle iron over and cook for about 4 minutes until lightly golden.
For the Chicken
In one large mixing bowl, combine all of the flour ingredients. In another mixing bowl, combine the egg ingredients. In a third bowl, combine all the breadcrumb ingredients, and in a fourth bowl, combine the honey coating ingredients.
Add the chicken a few pieces at a time into the flour mixture. Shake off the extra flour and dip into the egg mixture. Shake off the extra egg and fully coat each piece in the panko breadcrumbs. Put the breaded chicken on a plate and continue until all the chicken is coated and ready to cook.
Heat your largest pan over a medium-high heat and pour in the oil. Once the oil is hot, add the chicken. Don't crowd the pan with the chicken. You will most likely need to cook the chicken in two batches. Cook on one side until golden brown and then flip. Once both sides are golden brown, remove the chicken and put it on a plate. Once all the chicken is cooked, toss it in the honey coating in batches until it is all glistening and lightly coated.
To Assemble
Fold the waffle to resemble a cone and fill with chicken. Top with a drizzle of spicy ranch dressing and thinly sliced scallions.
Information
Category

Snacks

Yield

Serves 5