Chrissy Teigen's Brick Chicken Recipe
Pretend You Are John Legend and Make His Favorite Chicken Recipe From Chrissy Teigen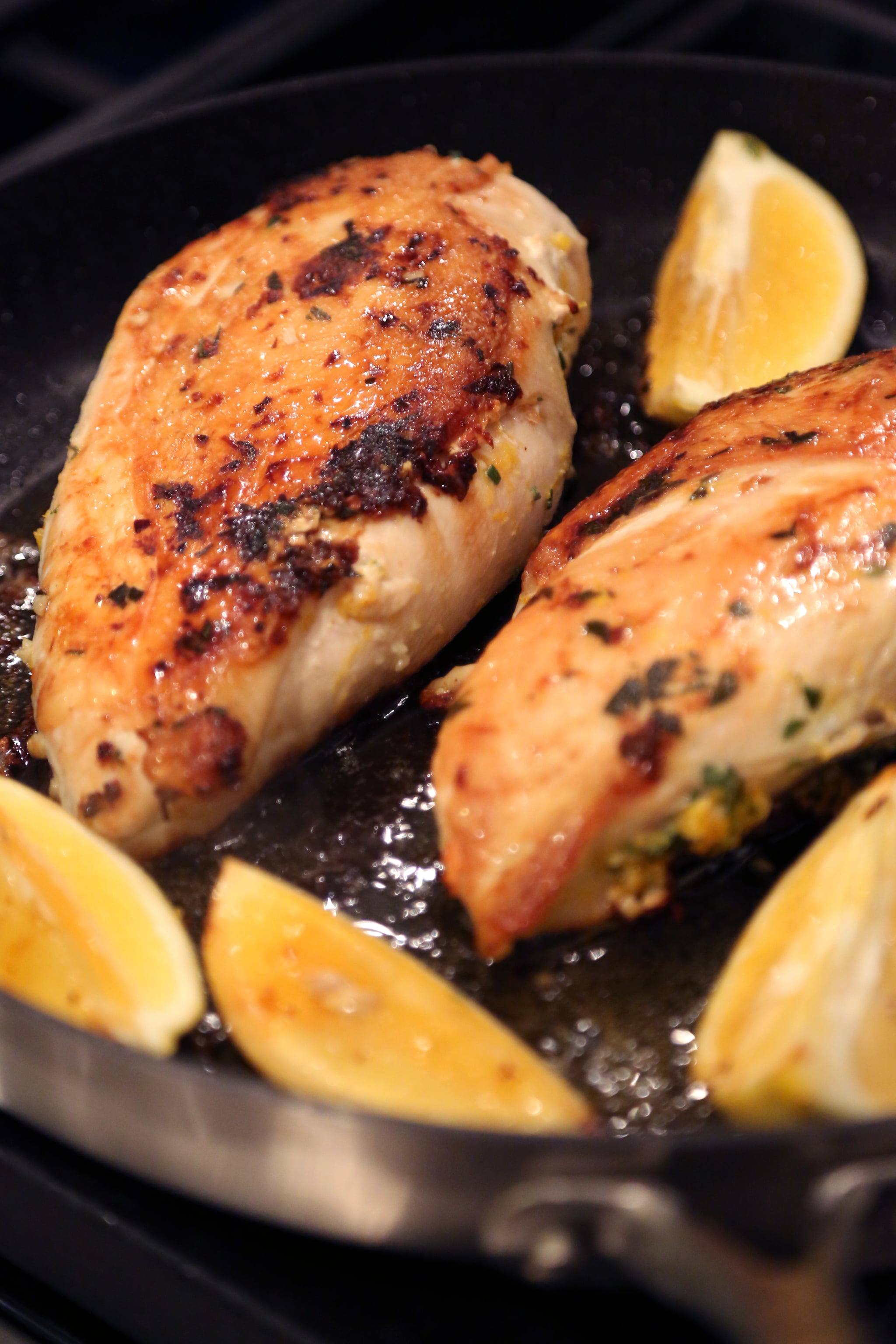 This brick chicken recipe from Chrissy Tiegen's cookbook Cravings will instantly become part of your weekly dinner rotation, as it has for the model/food blogger and her husband, John Legend. Why, you may wonder? For starters, the brick trick does make the chicken skin crisp up to a perfect golden brown. Your maillard reaction (aka the exterior caramelization) will be sexy AF.
Secondly, the flavors deliver. The lineup of ingredients is familiar, yet the unique preparation will ignite your taste buds in a whole new way. The garlic-lemon-herb mixture seeps into the skin of the chicken and sizzles oh so finely on the pan. If you're more of a white meat person (sorry, Chrissy, don't hate!), be aware that a superthick chicken breast may require a trip to a 400°F oven until it reaches an internal temperature of 165°F.
In case you are wondering, yes, this chicken recipe will constitute as foreplay.
John's Tuscan Brick Chicken With Charred Lemons
From Cravings by Chrissy Tiegen
Notes
Brick chicken is so heavily demanded by our loved ones that it drive me to the point of insanity. Good thing it's damn easy.
The first time I made it, the biggest difficulty was actually getting the bricks. I mean have you seen the parking lot at Home Depot? It's like freaking Grand Theft Auto meets Mario Kart. I've never seen so much pure chaos. And let me tell you, they are really weirded out by you buying exactly two bricks.
But once you have said bricks? Your entire chicken-cooking world changes. The bricks weigh the chicken down, pressing its skin against the pan and making sure it all crisps up, and the meat inside is locked up like the Fort Knox of chicken juiciness. And then you'll be in the same boat as me. Having to make this herby bird every godd*amned weekend.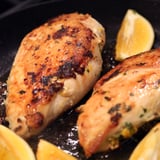 Ingredients
1/3 cup extra-virgin olive oil
3 tablespoons chopped fresh rosemary
3 tablespoons chopped fresh sage
2 tablespoons very finely minced garlic (about 4 cloves)
1 1/2 teaspoons red pepper flakes
Kosher salt
1 1/2 teaspoons freshly ground black pepper
Grated zest of 2 lemons, plus 2 skin-on lemons, quartered
4 bone-in, skin-on chicken leg quarters
2 tablespoons canola oil
Special equipment:
2 bricks (they're, like, a dollar at Home Depot!)
Directions
In a bowl, combine the olive oil, rosemary, sage, garlic, red pepper flakes, 1 1/2 teaspoons salt, the pepper, and lemon zest. Pat the chicken dry and place it in a baking dish. Rub the herb mixture all over the chicken, cover, and refrigerate for at least 2 hours and up to 24 hours.
Double-wrap the bricks in heavy-duty foil (this is your workout for the day). Heat a large cast-iron skillet over medium-high heat until hot. Add the canola oil, then add the chicken, skin side down, and weigh it down with the bricks. (If they don't all fit comfortably, use 2 pans, or cook in batches). Cook, without moving the chicken, for 7-9 minutes, or until the underside is crisped and mahogany brown (don't lift it, which means to be a more patient person than me). Remove the bricks, flip the chicken, weigh it down with the bricks again, and continue to cook until the underside is browned and the meat is cooked through, 7-9 minutes. (If the skin on the first side seeemed too dark, reduce the heat to medium). To check if the meat is done, pierce the thickest part with a knife; if the juices that come out have no pink, it's done.)
Remove the chicken from the pan, add the quartered lemons, and sear until slightly charred and caramelized, about 2 minutes per side. Serve the chicken with more salt to taste and the charred lemons for squeezing.
Reprinted from Cravings: Recipes for All the Food You Want to Eat. Copyright © 2016 by Chrissy Teigen. Published by Clarkson Potter/Publishers, an imprint of Penguin Random House LLC.
Information
Category

Main Dishes

Cuisine

Italian

Yield

Serves 4

Total Time

2 hours, 59 minutes, 59 seconds
Image Source: POPSUGAR Photography / Anna Monette Roberts