Dominique Ansel's Salted Caramel Apple Pie Recipe
How to Get Dominique Ansel's Salted Caramel Apple Pie on Your Thanksgiving Table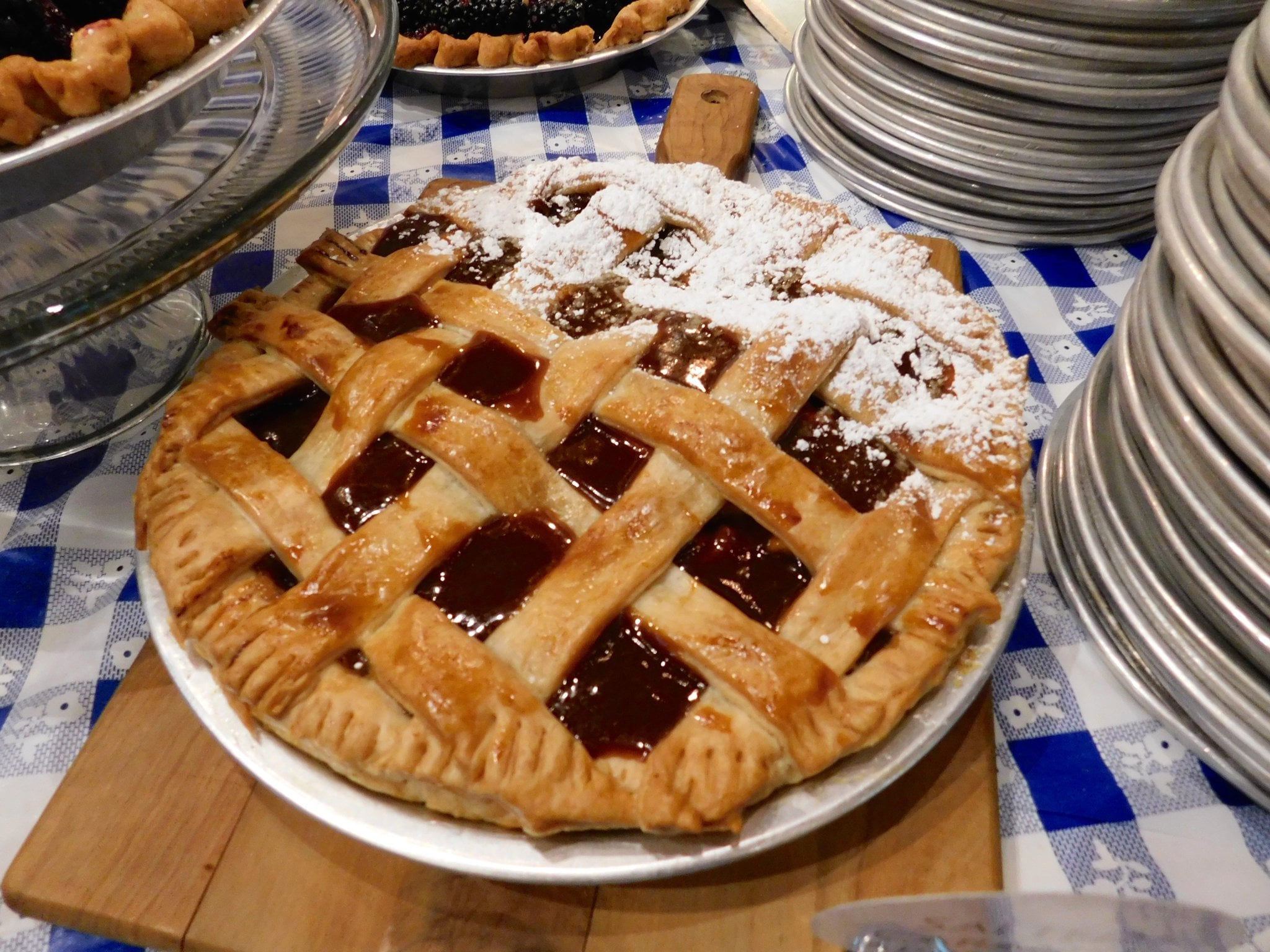 Every time you walk past Dominique Ansel Bakery and Dominique Ansel Kitchen (both in New York City), there's a line wrapped around the corner. What's so special, you ask? Well, not only did the chef create an entirely new category of hybrid food with his revolutionary Cronut, but he continues to serve up unparalleled recipes that do, in fact, deserve praise, including this elevated take on a classic Fall staple: salted caramel apple pie.
The pie recipe was exclusively created for Dominique Ansel Kitchen's annual Pie Night, which sold out in minutes. POPSUGAR was one of the lucky ones to snag a seat, but if you couldn't, we're spreading the joy by sharing the recipe. Keep reading to learn how to re-create this standout dessert that you'll absolutely want on your Thanksgiving table this year.
Salted Caramel Apple Pie
From Dominique Ansel Kitchen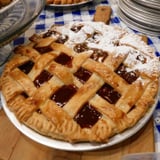 Ingredients
Pie Dough:
4 cups flour
2 tbsp. sugar
1/2 tbsp. salt
2/3 cup cold water
3 sticks unsalted butter, cold and cubed
Apple Pie Filling:
1/4 cup cornstarch
3/4 cup sugar
1/3 dark brown sugar
Pinch of nutmeg
1 1/2 tsp. cinnamon
1/4 tsp sea salt
8 apples, peeled, cored, sliced
1/3 stick unsalted butter
1 cup apple cider
1/4 cup bourbon
Salted Caramel Sauce:
2 cup sugar
2 2/3 cups heavy cream
4 tbsp. light corn syrup
1/2 cup dark brown sugar
2 tsp. fleur de sel
Directions
For the dough:
In a stand mixer fitted with a paddle attachment, combine flour, sugar, and salt on medium-low speed (about 30 seconds).
Increase speed to medium and stream in cold water, followed by cold butter cubes. Continue mixing on medium speed (about 2 minutes). Stop mixing just before the butter is fully incorporated (the dough will look streaky and the pieces of butter should be about the size of peas).
Transfer the dough onto a floured surface and divide in two balls. Flatten each into a disk, wrap in plastic, and chill for at least 1 hour.
For the filling:
In a large mixing bowl, whisk together cornstarch, sugar, brown sugar, nutmeg, cinnamon, and salt. Add apple slices and toss until apples are evenly coated.
Melt butter in a large saucepan over medium heat. Add apples into melted hot butter. Pour in apple cider and bourbon. Cook on medium heat, stirring occasionally, until apples are tender (about 30 minutes).
Remove from heat, let cool to room temperature.
For the sauce:
In medium pot, bring all ingredients to a boil, gently stirring occasionally. Once the mixture has reached 230°C, or 446°F, (it will get noticeably thicker), remove from the heat and pour into a nonplastic container (ie, a Pyrex or metal mixing bowl). Let cool to room temperature.
Once at room temperature, whisk well and then chill in the fridge until needed. (TIP: the caramel sauce can be made up to 2 weeks ahead; you can also drizzle it over ice cream or add into your coffee!).
One hour before you're ready to assemble the pie, remove the sauce from the fridge and bring to room temperature.
For the pie:
Preheat the oven to 350°F.
On a floured surface, roll out 1 ball of dough into a 12-inch round, then transfer to a 9-inch pie dish, pressing gently down and up the sides. Pour cooled apples into the pie shell. Drizzle some of your salted caramel sauce across the apples.
Roll out the other ball of dough. Cut strips that are 1" wide and 12" long. Arrange half of your dough strips across pie. Form a lattice by arranging the other half of the strips diagonally across the first strips. Seal the edges by pressing around the rim of the pie with a fork. Trim around the edges as needed.
Brush the surface of the pie with egg wash. Bake for 35-40 minutes until crust is deep golden brown. Let cool on a rack for 30 minutes, then drizzle more of the salted caramel sauce on top, and serve.
Information
Category

Desserts, Pies/Tarts

Cuisine

North American

Yield

1 pie

Total Time

1 hour, 44 minutes, 59 seconds
Image Source: POPSUGAR Photography / Samantha Netkin