We have given the classic bread pudding a satisfyingly sweet makeover with the addition of day-old doughnuts! This warm and comforting recipe is made even better with a sticky sweet pink frosting and tons of sprinkles. Can't wait to try a bite? Neither could we, so get ready to dig right in!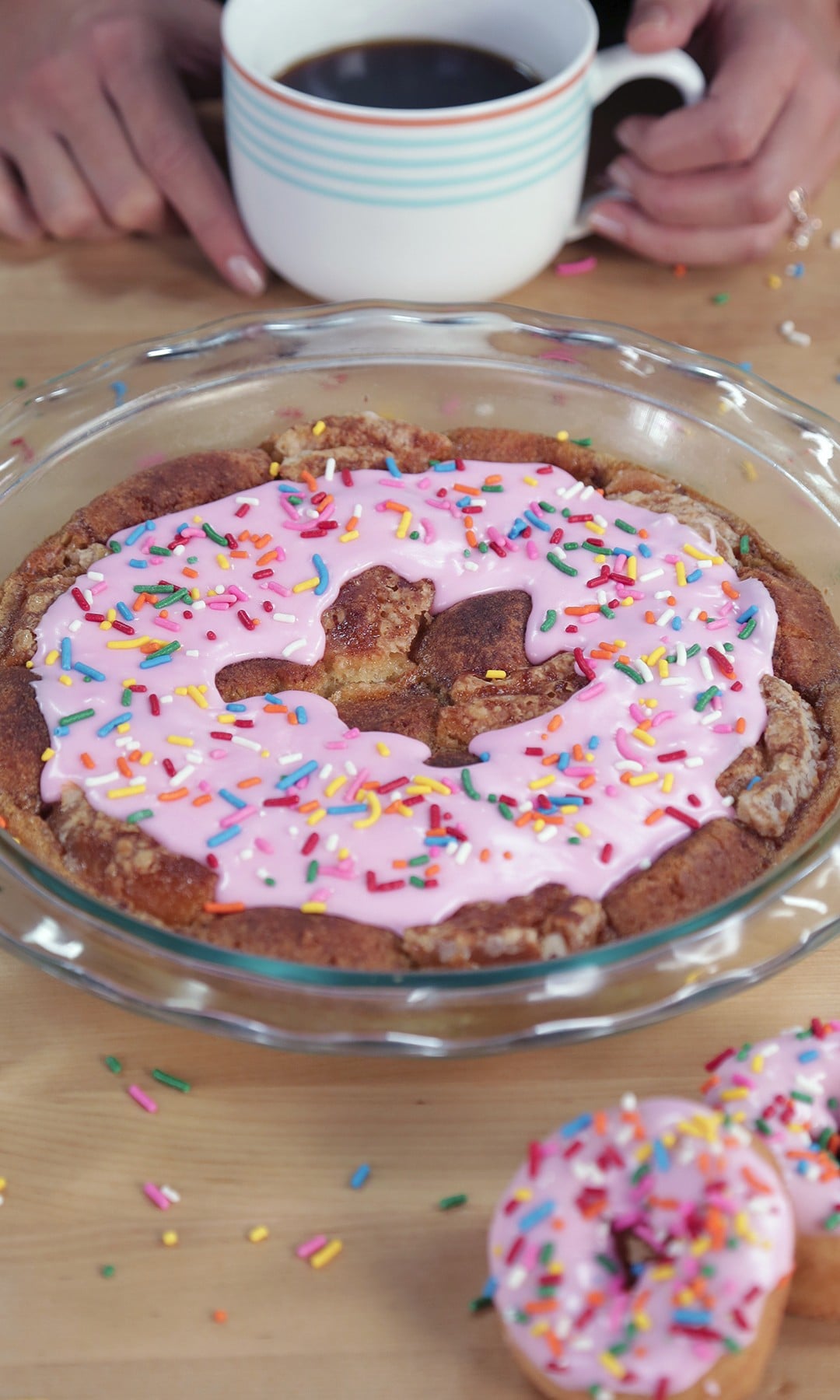 Doughnut Bread Pudding With Pink Frosting
From Heather Platt, POPSUGAR Food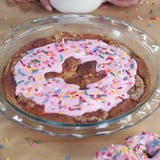 Ingredients
For doughnut bread pudding:
1/2 tablespoon unsalted butter
6 day-old vanilla cake doughnuts (glazed or plain)
4 eggs
1/2 cup whole milk
1/2 cup heavy cream
1/4 cup brown sugar
1/4 teaspoon salt
1/2 teaspoon vanilla extract
1/4 teaspoon nutmeg
1/4 teaspoon cinnamon
For frosting:
2 1/4 cups powdered sugar
1/4 cup whole milk
3 drops neon pink food coloring
Rainbow sprinkles, for topping
Directions
To make doughnut bread pudding: Preheat oven to 350°F. Use the butter to grease 9 1/2-inch diameter circular pan or oven-proof skillet.
Cut each doughnut into four equal parts and place in the greased pan. In a medium bowl, lightly beat the eggs. Add the milk, heavy cream, brown sugar, salt, vanilla extract, nutmeg, and cinnamon and whisk until completely combined.
Pour the milky egg combination onto the donuts. Press the doughnuts into the egg mixture to make sure all doughnuts absorb the liquid. Let it sit for 5 minutes before placing it in the oven.
Bake for 50 minutes, or until golden brown on top. When the bread pudding is almost finished baking, make the pink glaze.
To make frosting: In a medium bowl whisk together the powdered sugar and milk. Once combined, whisk in the pink food coloring.
When the bread pudding is finished, remove it from the oven and let cool. Once it has cooled, use a large spoon to drizzle the frosting around the pudding in the shape of a large doughnut. Sprinkle with sprinkles and serve warm.
Information
Category

Desserts, Doughnuts

Yield

6 to 8 servings

Total Time

1 hour, 9 minutes, 59 seconds