Notes
For maximum popping potential, pour the Pop Rocks into the cake centers no earlier than 1 hour before serving. The moisture in the cakes will cause the Pop Rocks to slightly snap and crackle on their own. In fact, they make a great sizzling sound on the plate. After about 4 hours, the Pop Rocks lose most of their popping power, so plan accordingly.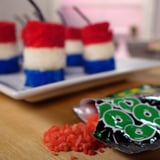 Ingredients
1 box white cake mix, like Duncan Hines
1/4 cup vegetable oil
3 large egg whites
Red and blue food coloring
Simple syrup, for dipping
Red, white, and blue sanding sugar, for decorating
1/4 cup vanilla buttercream frosting
3 packages Pop Rocks candy
Black licorice ropes, cut into 1-1/2-inch long pieces
Directions
To make cakes: Preheat oven to 350°F and coat 3 quarter sheet pans with cooking spray and lightly flour the bottoms.
Follow white cake box instructions to make cake batter. Pour 1/3 of the white cake batter into 1 of the prepared pans. Pour another 1/3 into a separate bowl. Mix in several drops of red dye to one bowl until a red cake batter forms, and repeat the process with the blue dye and the other bowl of batter. Transfer each to the remaining pans.
Bake the red, white, and blue cakes according to the package directions, or until a toothpick test comes out clean. Allow them to cool 5 minutes before flipping the cakes onto a wire rack to cool completely. Using a 1-1/2-inch round cookie-cutter, cut circles from each of the baked cakes. With a serrated knife, carefully trim off the browned, baked bottoms of each cake circle.
To assemble: Lightly roll the outer ring of each cake in simple syrup, then roll in the corresponding sanding sugar color (i.e.: roll the blue cake in blue sanding sugar). Using a jumbo straw (a bubble tea straw will work), punch out the centers of the cake circles. Save the red and blue centers to use as plugs for later. Using a serrated knife, carefully split both the red and blue cake plugs into 2 thinner plugs. Insert the blue cake plugs into the bottoms of the blue cake circles. Pipe a line of frosting around the tops of the blue cake circles and stack the white cake circles on top, firmly pressing down to glue the 2 together. Repeat this process to glue the red cake circles to the white cake circles.
Fill the hollow centers of the stacked cakes with Pop Rocks, leaving 1/4 inch of headspace at the top. Seal the top of each cake with a red cake plug. Insert licorice rope into the center of each cake. Serve immediately!
Information
Category

Desserts, Cake

Cuisine

North American

Yield

10 to 14 small cakes