Freddie Prinze Jr.'s Pulled Pork Recipe
Freddie Prinze Jr.'s Pulled Pork Recipe Is What Convinced Me to Cook Meat Again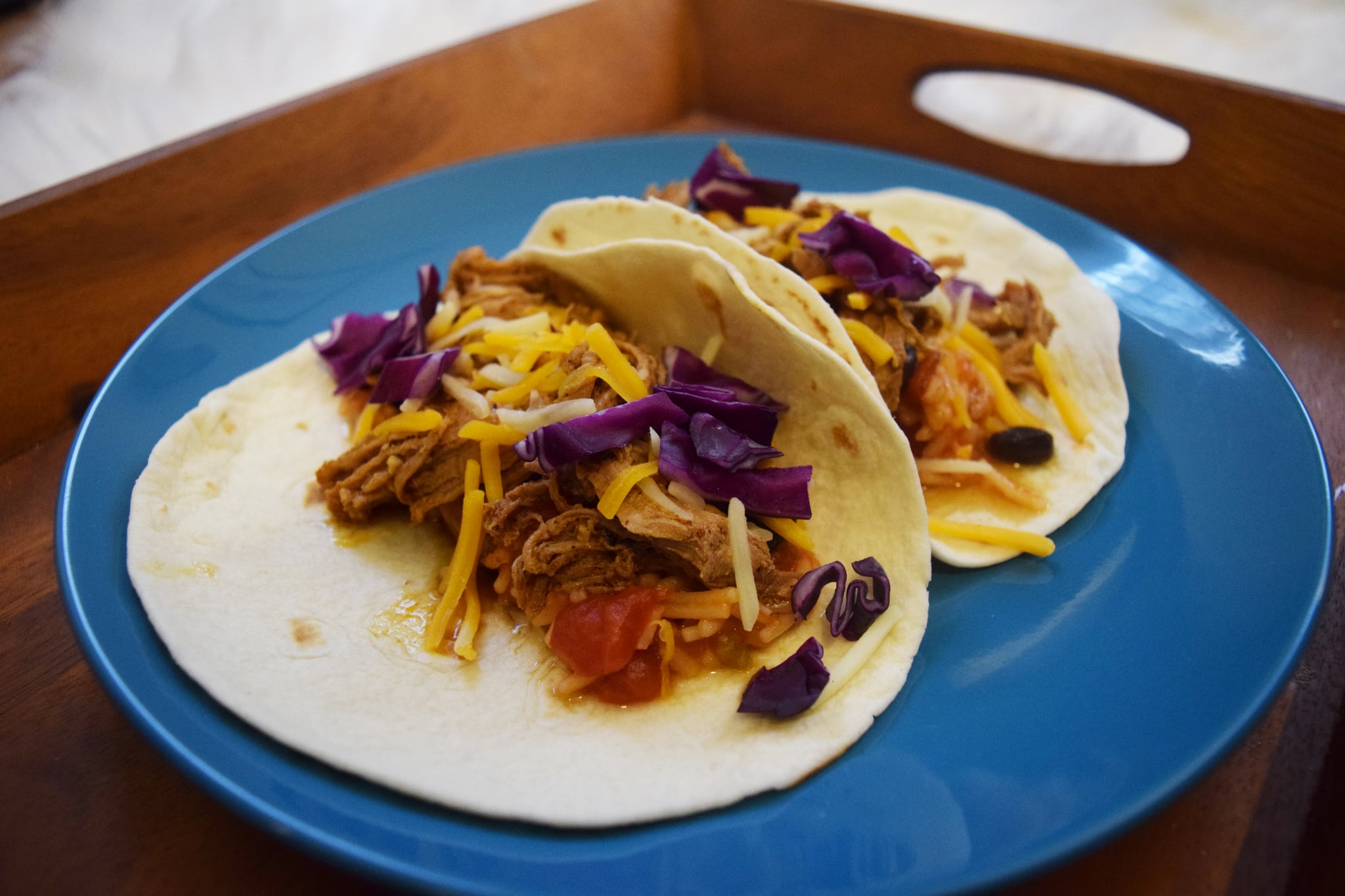 I may love to eat tacos, but having to cook the meat to make them is never something I've enjoyed. I've always been a bit terrified of cooking it to the right temperature, and I can't deny that raw meat grosses me out a little. But put a completed taco in front of me, and I will eat it and ask for three more. So when Freddie Prinze Jr. told me that I absolutely had to make his pulled-pork recipe, I was hesitant but determined.
"It's the best recipe in the book," the actor and home chef said of the dish in his new cookbook, Back to the Kitchen, when I asked which recipe I should try first. "It's really simple, and the first time I made it, I actually got my wife to curse in front of our family, so it's one of my favorites."
He recommended making the pulled pork into tacos because he insists "everything is better served in a tortilla," and after doing so, I can't help but think that this was a very wise decision. I topped the tacos with Spanish rice, shredded cabbage, black beans, and cheese. The recipe is indeed very simple, and while I still don't love handling raw meat, the tacos I ended up with pretty much made it worth it.
Freddie, who you might remember from some of our favorite movies from yesteryear like She's All That and I Know What You Did Last Summer, has been a fan of cooking for many years and admits he does just about all the cooking around his house for his wife, Sarah Michelle Gellar and their two kids. He spent nine months creating and collecting the recipes for his cookbook and said it was extremely important to him for all of them to come with a story, which you will see if you flip through a copy of the book. But before you make anything else from his book, you have to try the pulled-pork recipe, which you can find when you keep reading.
Holy $#!% Pulled Pork
Back to the Kitchen by Freddie Prinze Jr.
Ingredients
2 tablespoons olive oil
1 to 1 1/2 pounds pork tenderloin
1/4 teaspoon salt
1/4 teaspoon freshly ground black pepper
4 cups chicken stock
2 teaspoons garlic powder
1 heaping tablespoon New Mexico red chile powder (I substituted ancho chile powder)
Flour tortillas
Taco toppings of your choice
Directions
In a dutch oven, heat the oil over medium heat. Season the tenderloin with the salt and pepper and then brown both sides, 3-5 minutes per side.
Add the chicken stock — it won't fully cover the pork – then the spices and bring to a low boil. As soon as you see bubbles, reduce the heat to a simmer, cover the pot, and then walk away for 1 hour and 30 minutes. The pork should be fork-tender.
Turn off the heat and remove the tenderloin to a cutting board.
While the pork rests, bring the liquid remaining in the pot back up to a simmer and let it cook until it is reduced by half, 15-20 minutes. Taste for salt.
Meanwhile, use a fork to "pull" or shred the pork. (It should just fall apart.) Once the whole tenderloin has been shredded, add it back into the liquid and turn off the heat.
Let it sit for 5 minutes before serving, with warm tortillas and shredded cheese or rice and beans.
Information
Category

Main Dishes, Pork

Cuisine

North American

Yield

4 servings

Total Time

2 hours, 59 minutes, 59 seconds
Image Source: POPSUGAR Photography / Hedy Phillips