Gingerbread Guitar Cookies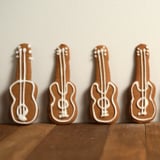 Ingredients
For the gingerbread cookies:
2 cups all-purpose flour (spooned and leveled), plus more for rolling
2 teaspoons ground ginger
1 teaspoon ground cinnamon
1/2 teaspoon ground nutmeg
1/4 teaspoon ground cloves
1/4 teaspoon baking soda
1/4 teaspoon salt
1/2 cup (1 stick) unsalted butter, room temperature
1/3 cup packed dark brown sugar
1/3 cup unsulfured molasses
1 large egg
For the icing:
1 cup powdered sugar, sifted
2 teaspoons milk
2 teaspoons light corn syrup
1 teaspoon vanilla extract
Directions
Make the cookies: In a medium bowl, whisk together flour, spices, baking soda, and salt.
With an electric mixer, beat butter and brown sugar until smooth. Beat in molasses and egg. With the mixer on low, add the dry ingredients. Mix just until a dough forms.
Place the dough on floured plastic wrap. Pat into an 8-inch square. Wrap well. Chill until firm, 1 to 2 hours.
Preheat oven to 350°F. Divide dough in half. Working with one half at a time (rewrap and refrigerate other half), place dough on floured parchment or waxed paper. Roll it out 1/8 inch thick, turning, lifting, and flouring dough (and rolling pin) as needed. Freeze dough (on paper) until firm, about 20 minutes.
Loosen dough from paper. Cut out shapes, and transfer to baking sheets.
Bake until firm and edges just begin to darken, 10 to 18 minutes. Cool completely on baking sheets before decorating with icing.
Make the icing: Meanwhile, whisk together the powdered sugar, milk, corn syrup, and vanilla extract until completely smooth. Transfer to a piping bag fitted with a small round tip. Pipe on the guitar details.
Information
Category

Desserts, Cookies

Cuisine

North American

Yield

About 3 dozen cookies