Green Beans With Caramelized Onions Recipe
Easy Thanksgiving Side: Green Beans With Caramelized Onions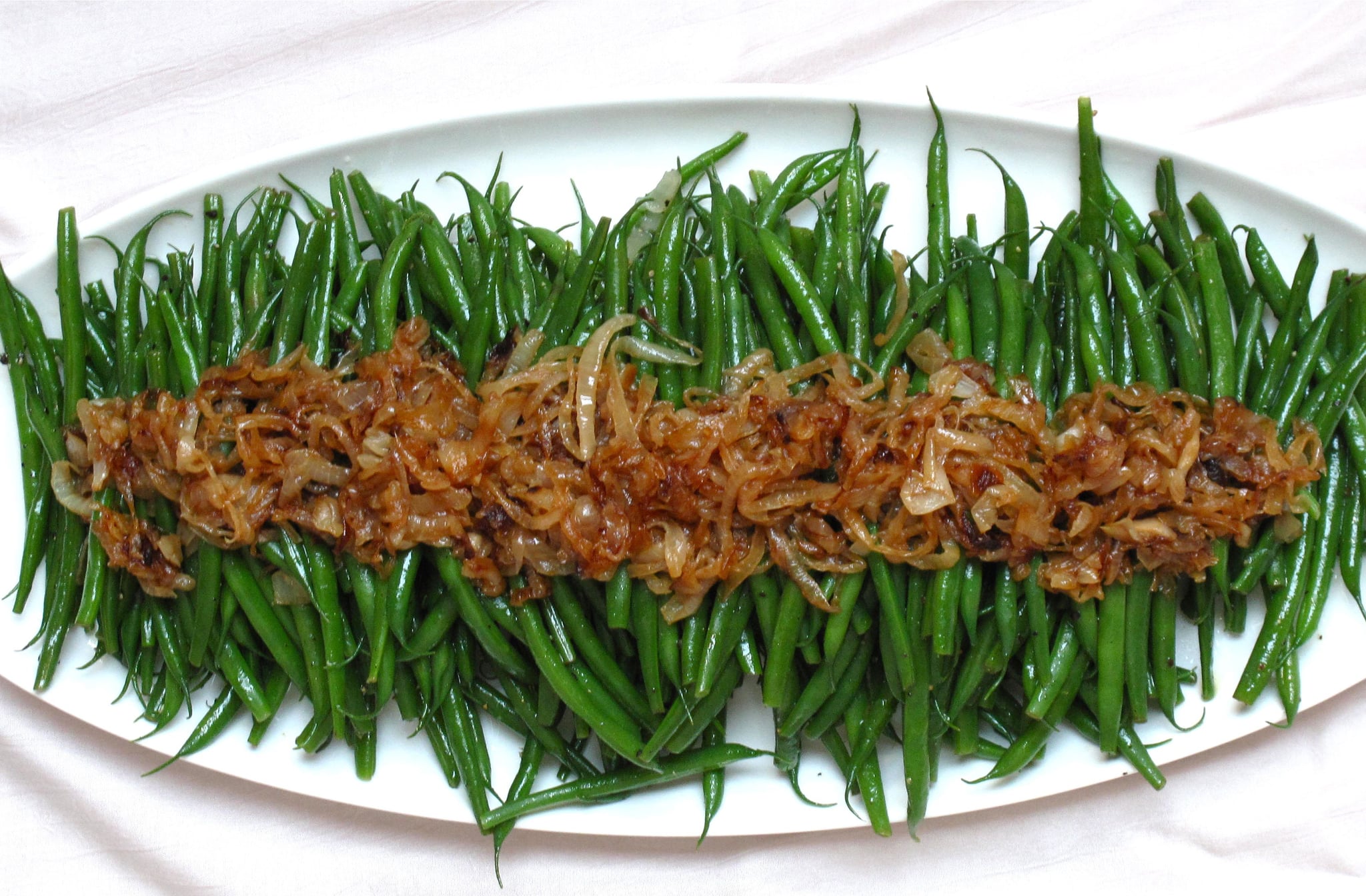 When it comes to my own personal Thanksgiving menu, I'm a bit of a minimalist and prefer to keep recipes understated rather than over-the-top. This applies, in particular, to side dishes: I'm partial to items such as simply prepared sweet potatoes and these green beans, blanched briefly and served with caramelized onions.
In my humble opinion, there's no need for green beans to be shrouded in a mysterious canned mushroom concoction, baked until soggy, then drenched in a shower of processed "crispy onions." It's entirely unnecessary, especially when taut haricots verts and naturally sweet slow-braised onions can speak for themselves.
Ingredients
1 tablespoon plus 1 teaspoon extra-virgin olive oil
3/4 teaspoon salt, plus more to taste
3/4 teaspoon granulated sugar
3 large sweet onions, such as Vidalia (about 1 1/4 pounds), thinly sliced
Splash balsamic vinegar
1 1/2 pounds green beans, trimmed
Directions
In a large nonstick skillet, heat 1 tablespoon oil over medium-high heat. Add onions and season with 3/4 teaspoon kosher salt and 3/4 teaspoon granulated sugar. Cook, stirring often, until softened and just beginning to brown, 10 minutes. Scrape up any brown bits that begin to form on the bottom of the skillet; a flat-sided wooden spatula is particularly well-suited to this task. Add a splash of water (about a tablespoon) from time to time to aid in deglazing the browned bits. Reduce heat, if needed. Cook, stirring occasionally, until onions are deep golden brown and very soft, 30 minutes. Remove from heat and season with additional salt and a splash of balsamic vinegar. (Refrigerate in an airtight container, up to 1 day. Bring to room temperature before using.)
Meanwhile, in a large pot of boiling salted water, cook green beans until crisp-tender and bright green, about 6 minutes.
Drain and toss with 1 teaspoon oil. Season with salt and pepper.
Transfer beans to a platter and top with onions.
Information
Category

Vegetables, Side Dishes

Cuisine

North American

Yield

Serves 6-8