Grilled Corn With Parmesan and Basil
This 6-Ingredient Grilled Corn Recipe Will Become a Summer Staple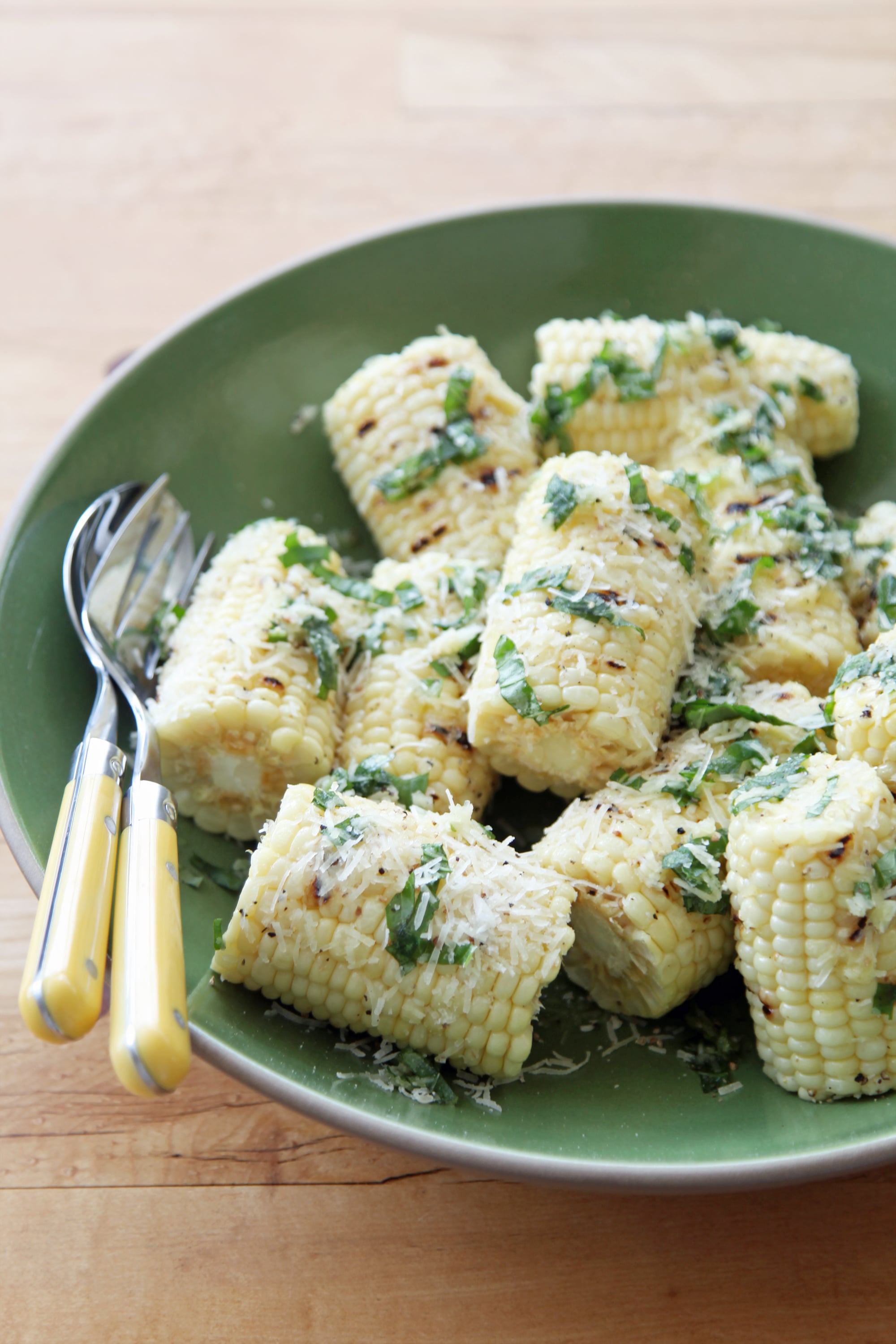 Grilled corn on the cob is one of Summer's simplest pleasures. (When made with peak-season freshly picked ears, really that's all one needs to do to have a killer side.) That said, it can be fun to dress it up ever so slightly, like by coating it with parmesan and basil, as in this recipe from Chris Schlesinger and John Willoughby's The Big-Flavor Grill: No-Marinade, No-Hassle Recipes.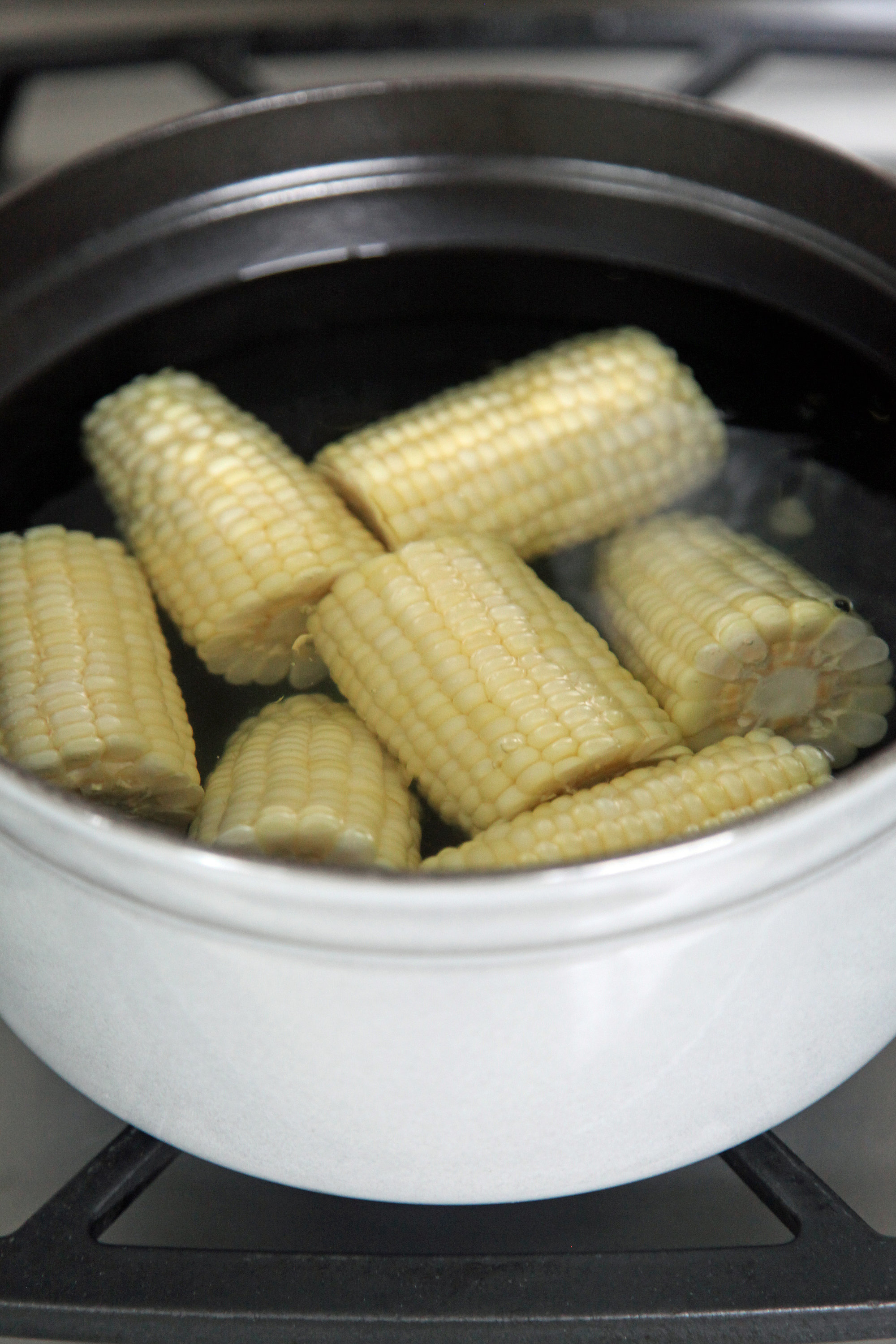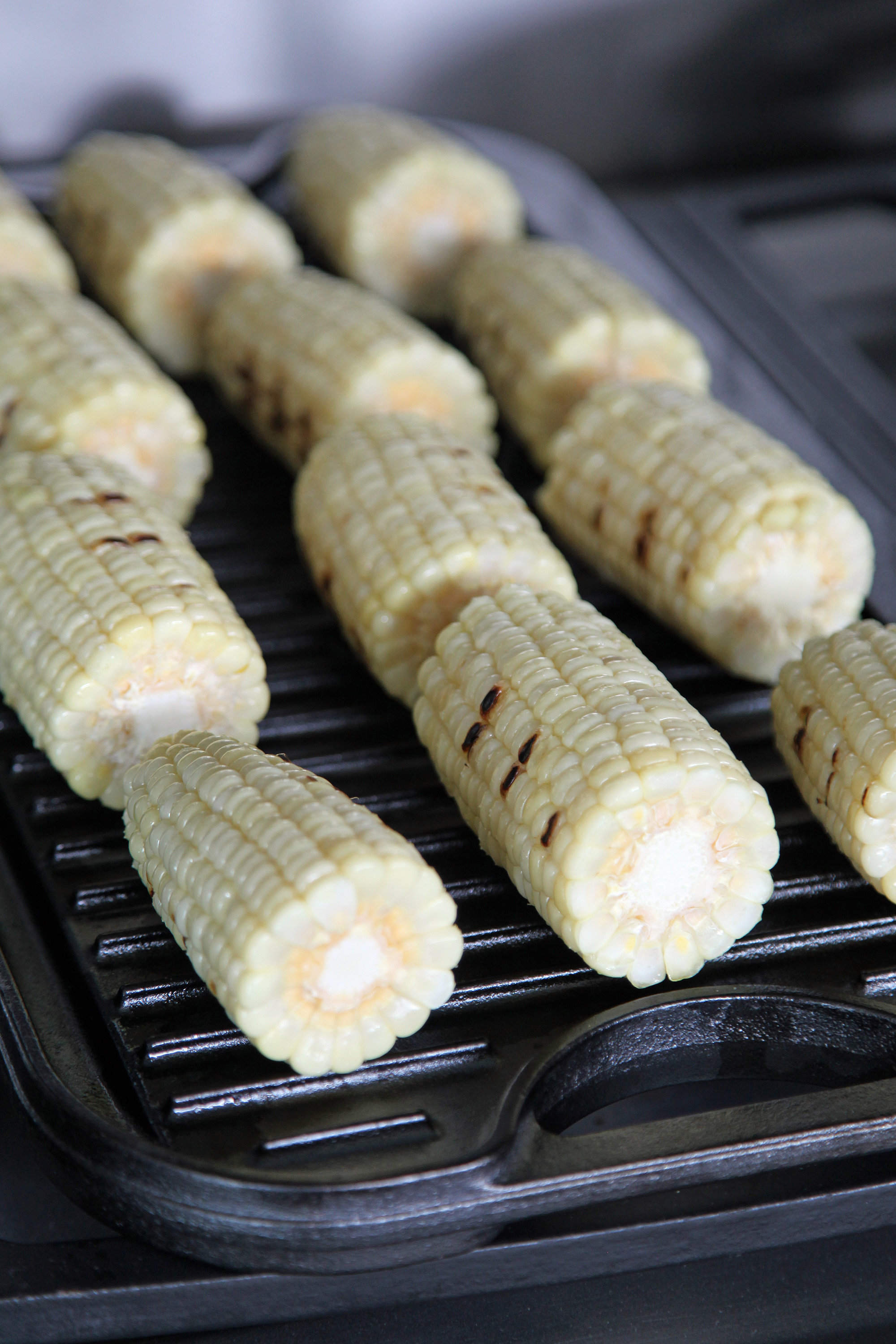 This book provides ample inspiration to fire up the grill (or heat up a grill pan). Not only does it give recipes for two more variations on grilled corn, but it also tackles grilling pretty much anything and everything under the sun. (Japanese-style grilled shrimp with togarashi, grilled chicken thighs with apricot-chile glaze, and grilled cherry tomatoes with feta and green olives are all on our list to try next.)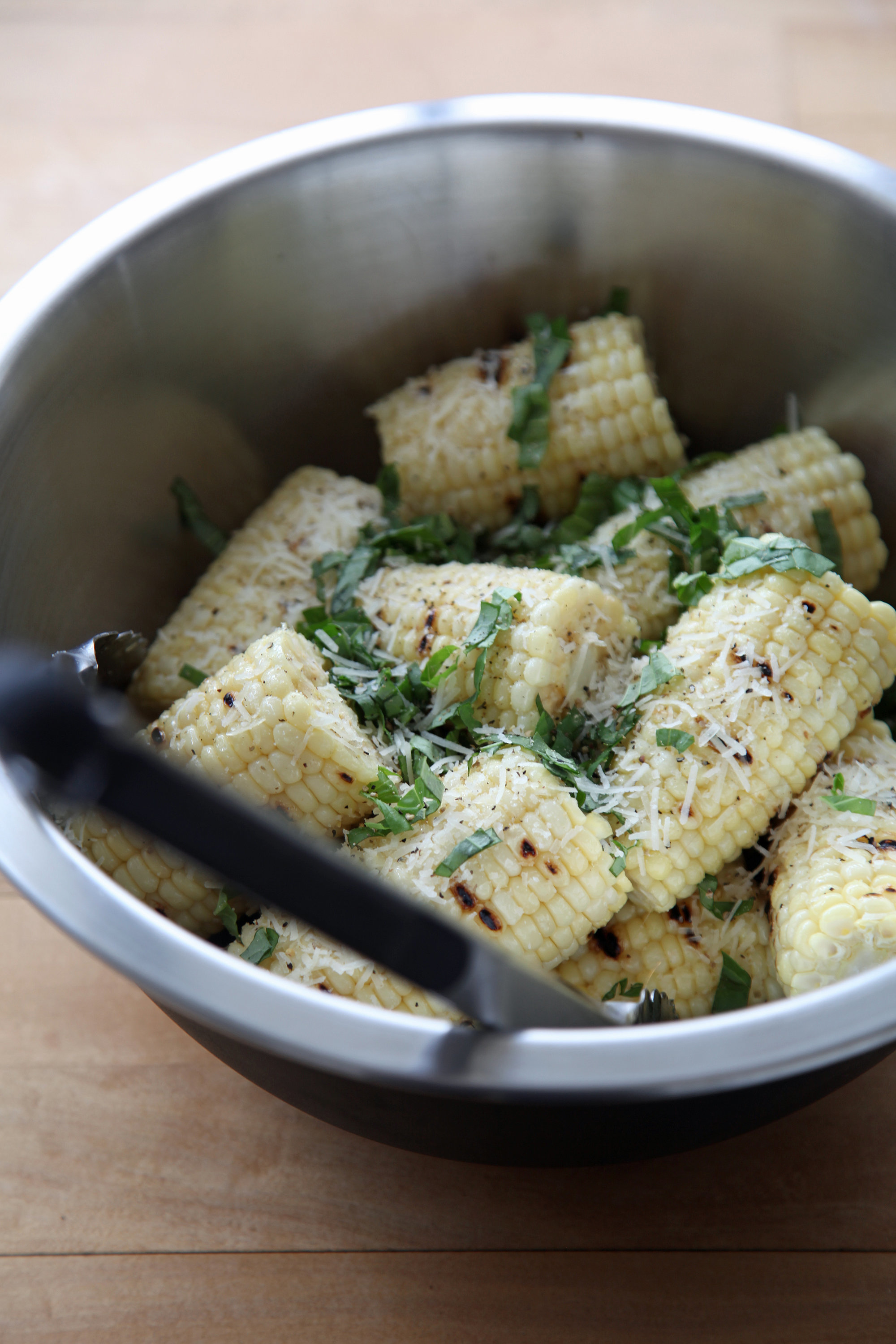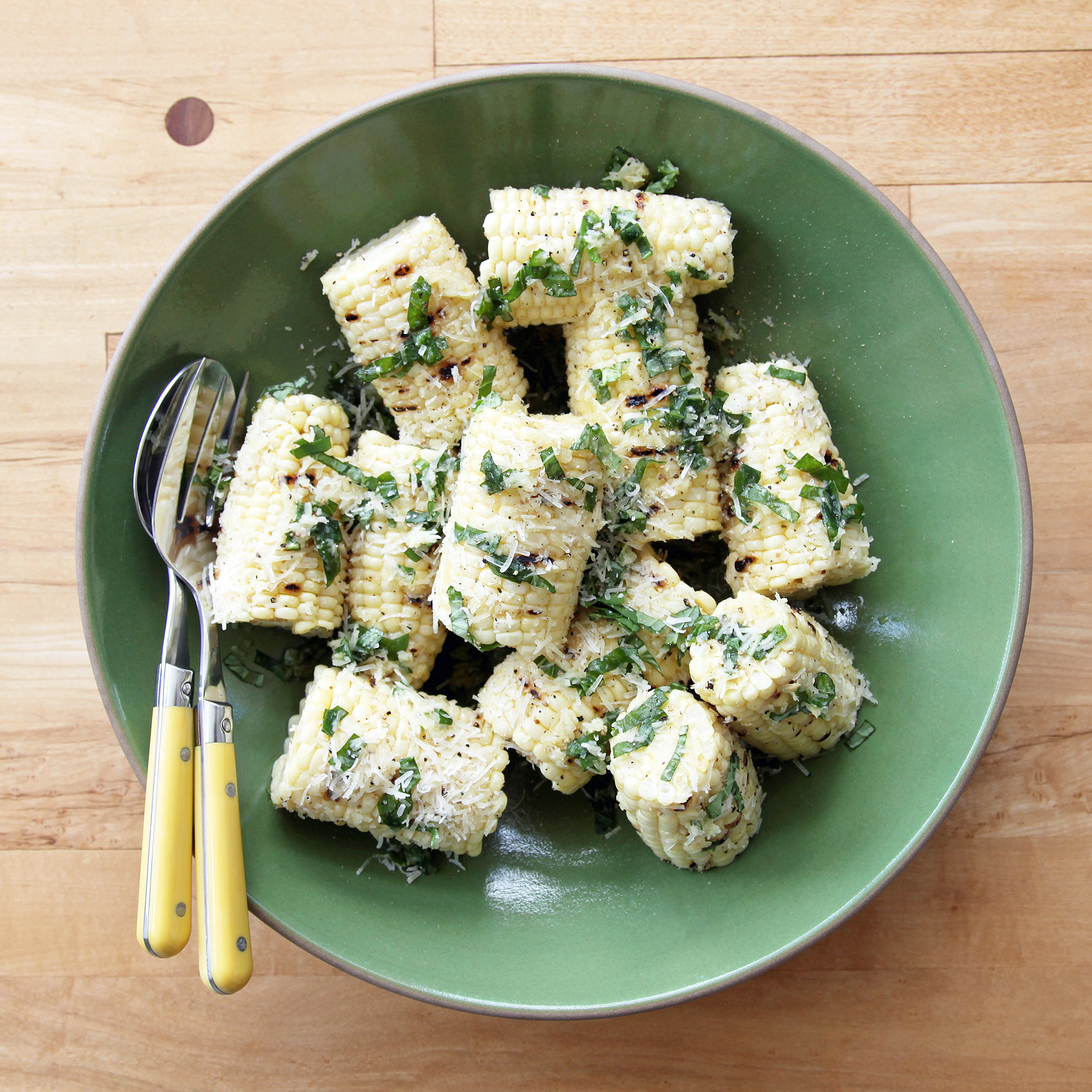 Cover design by Toni Tajima; cover photographs by Ed Anderson
Notes
Don't have a grill? Heat a cast iron grill pan to medium high and turn your stove's exhaust hood on to high to minimize smoke. Have the 1/4 cup olive oil, parmesan cheese, and basil prepped and ready before grilling the corn.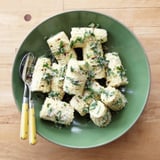 Ingredients
6 ears of corn, shucked, silks removed, broken in half, and blanched in boiling water for 2 minutes
1/4 cup plus 3 tablespoons olive oil, divided
Kosher salt to taste
1/2 cup grated parmesan cheese
1/4 cup finely chopped fresh basil
Freshly cracked black pepper to taste
Directions
Build a two-level fire in your grill, which means you put all the coals on one side of the grill and leave the other side free of coals. When the flames have died down, all the coals are covered with gray ash, and the temperature is medium (you can hold your hand 6 inches above the grill for 4 to 5 seconds), you're ready to cook.
Rub the corn ears all over with 3 tablespoons of oil and sprinkle them with the salt. Put the ears on the grill directly over the coals and cook, rolling them around to ensure all of the sides are getting some attention from the fire, until they are golden brown all over, which should take 4 to 6 minutes.
Remove the corn from the grill, place the ears in a large bowl, add all the other ingredients (including the remaining 1/4 cup olive oil) one after another, and toss so the corn gets well coated.

Information
Category

Side Dishes

Cuisine

North American

Yield

Serves 4-6 as a side
Image Source: POPSUGAR Photography / Nicole Perry