Grilled Flatbread Recipe
Fresh-Baked Bread Straight From the BBQ
Nothing compares to fresh-baked bread, but in the Summer, who wants to have their hot oven on? Why not heat up the grill and make these stuffed flatbreads to satisfy your craving? I stuffed the bread with a variety of herbs, garlic, and farmer cheese, but feel free to experiment with different fillings. Like any bread, time is needed to prepare the dough. However, they can be made in advance, separated by parchment paper, and refrigerated until needed. Although the prep may take awhile, these flatbreads cook in no time and only require a couple minutes on each side before they are ready to enjoy. At your next barbecue, while your meat is resting, keep the grill hot and bake these flatbreads.
Grilled Flatbreads Stuffed With Herbs and Cheese
From Fine Cooking
Notes
These can be made ahead of time. To store: separate each bread with parchment paper, and stack. Cover in saran wrap. Will keep in the fridge for 24 to 48 hours.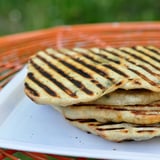 Ingredients
For the dough:
1 pound 7 1/2 ounces (5 1/4 cups) unbleached all-purpose flour; more as needed
4 teaspoons baking powder
4 teaspoons kosher salt
2 teaspoons granulated sugar
1/2 cup plain whole-milk yogurt
1 large egg
1/4 cup peanut or canola oil; more for brushing
For the filling:
1 1/2 cups fresh cilantro, roughly chopped
1/2 cup fresh mint, roughly chopped
1/4 cup unsalted cashews or blanched almonds
2 cloves garlic, chopped
1 tablespoon chopped fresh ginger
1 teaspoon kosher salt
6 tablespoons peanut or canola oil; more as needed for the grill
2/3 cup (3 1/2 ounces) farmer cheese or queso fresco, crumbled
Melted butter for brushing
Kosher salt for sprinkling
Directions
Make the dough: Combine the flour, baking powder, salt, and sugar in the bowl of a stand mixer fitted with the dough hook. Whisk the yogurt and egg in a medium bowl, then whisk in 1 1/2 cups of lukewarm water and the oil. Pour the egg mixture into the flour mixture and mix on low speed until a soft, sticky dough starts to clump around the hook, about 5 minutes. If the dough seems too wet, add more flour, 1 teaspoon at a time.
Line a baking sheet with parchment and dust lightly with flour. Turn the dough out onto a lightly floured surface and divide it into 10 equal pieces. Form each piece into a ball and arrange them on the baking sheet. Lightly brush the dough with oil, cover with plastic, and let rest at least 1 hour and up to 2 hours before shaping.
Make the filling: Combine the cilantro, mint, nuts, garlic, ginger, and salt in a food processor. Pulse until the ingredients are finely chopped. Scrape the sides of the bowl, turn the processor back on, and pour the oil through the feed tube, mixing until incorporated. Transfer to a medium bowl.
On a lightly floured surface, roll a dough ball into a 5-inch circle. Spread about 2 teaspoons of the filling in the center, leaving a 1/2-inch border. Scatter 1 tablespoon of the crumbled cheese over the filling.
Gather the border to form a pouch, pinching it to seal in the filling. Turn the pouch pinched side down and, using very light pressure, roll it into a 6-inch circle. Transfer to a parchment-lined baking sheet. Continue filling and shaping the dough, layering parchment between the breads if you stack them.
Prepare a medium charcoal or gas grill fire. Brush the grill grates with a stiff brush, then wipe with a lightly oiled paper towel. Grill the breads in batches pinched side down, covered, until they look puffy and the undersides brown lightly in places, 2 to 3 minutes. Turn over and cook the other side, covered, until grill marks form and the breads are cooked through, 2 to 4 minutes. Just before taking them off the grill, turn the breads pinched side down and brush lightly with the butter. Sprinkle with a pinch of salt. Cut each bread in half, and serve warm.
Information
Category

Side Dishes, Breads

Cuisine

North American

Yield

About 10 flatbreads