Gruyere Gougeres
Gruyère Gougères Sound Crazy-Fancy but Are Shockingly Easy to Make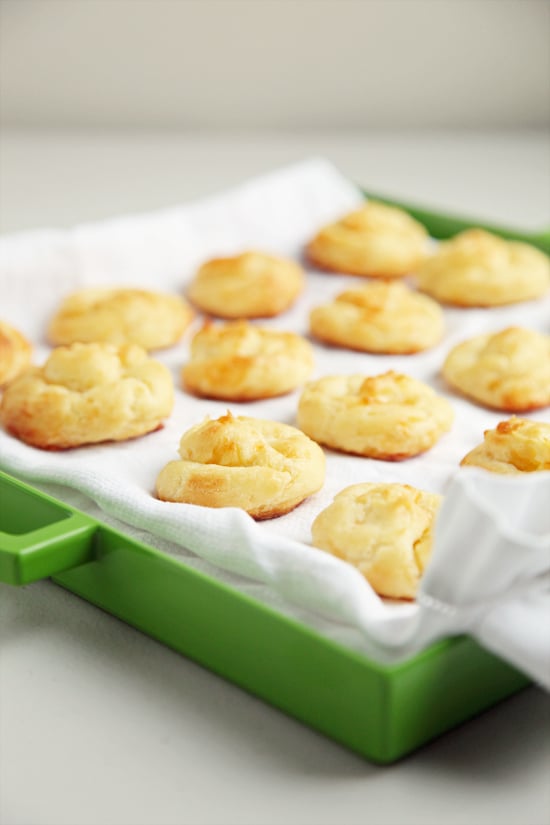 If you've ever tasted a gougère — essentially savory cheese-flecked cousins of cream puffs and eclairs — then little needs to be said in order to convince you to head to the kitchen to whip up a batch of these luxurious appetizers. If not, I'll keep it simple: airy and light, with just enough nutty cheese to keep things lively, these pâte-à-choux party favorites will go fast if included in a party spread.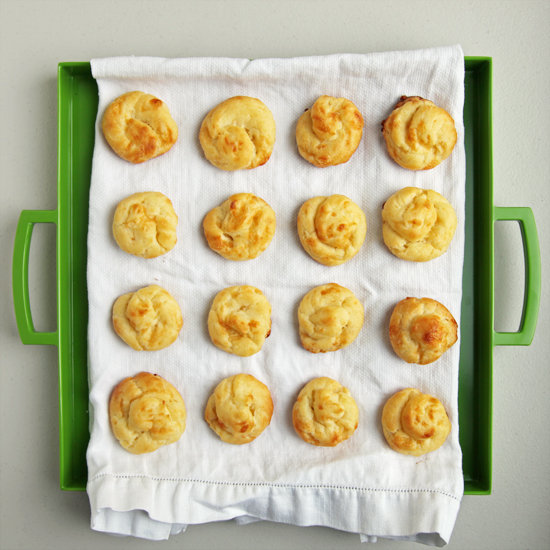 Put off by the slightly strange method of cookery that's outlined in the recipe below? Don't be. It may be a slight step outside of your baking repertoire if you've yet to try your hand at any treats in the choux-pastry family, but their assembly is actually quite simple and intuitive and can be made in large party-friendly quantities in precious few minutes. Keep reading for the easy yet impressive recipe.

For a killer pairing, serve these with crisp sparkling wine — rich and salty snacks, particularly those that involve cheese, are even more delectable when served with a bottle of bubbly.
Notes
While gruyère is traditional, other sharp, nutty cheeses can be substituted (sharp cheddar, like Cabot clothbound, would be particularly lovely).
Ingredients
1 cup water
8 tablespoons unsalted butter
1/2 teaspoon kosher salt
1/4 teaspoon granulated sugar
1 teaspoon dry mustard
A pinch of cayenne pepper
1 cup (5 ounces) all-purpose flour
2 large eggs
2/3 cup (2 1/2 ounces) grated gruyère cheese
Directions
Preheat the oven to 375ºF. Line two half-sheet pans with parchment paper.
In a medium (preferably not nonstick) saucepan heat the water until steaming. Add the butter, salt, sugar, mustard, and cayenne pepper. Lower the heat to medium-low and cook, stirring occasionally, until the butter has completely melted.
Slowly add the flour to the hot liquid while stirring vigorously with a wooden spoon. Keep stirring until the flour is completely incorporated, and the mixture comes together into a tacky ball that pulls away from the sides of the pan when stirred.
Transfer the dough to the bowl of a stand mixer and beat in the eggs, one at a time, until they're absorbed by the batter and it's smooth, sticky, and waxy in appearance. Fold in the gruyère.
Fill a pastry bag with the gougère dough, and pipe one-inch swirls of dough onto the parchment-lined pans. Using damp fingertips, gently smooth down any spikes (from where the pastry bag was lifted up) in the dough, so that they don't get too brown.
Bake for 30 to 35 minutes, or until they've puffed up and are lightly brown on top. After they've cooled for a couple minutes, use the tip of a very sharp knife to poke a small slit in the side of each gougère to release steam and prevent them from turning soggy. Serve warm (or rewarm in the oven before serving, if they're cool).
Information
Category

Appetizers, Breads/Crackers

Cuisine

North American

Yield

About 40 (1 1/2-inch) gougères
Image Source: POPSUGAR Photography / Nicole Perry