Healthy Shepherd's Pie Recipe
Recipe Makeover: Shepherd's Pie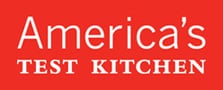 We've got a partnership with the recipe, equipment, and product testing gurus at America's Test Kitchen; they'll be sharing some of their time-tested recipes and technical expertise with us. Today, America's Test Kitchen shares smart ingredient substitutions for a comforting favorite, shepherd's pie.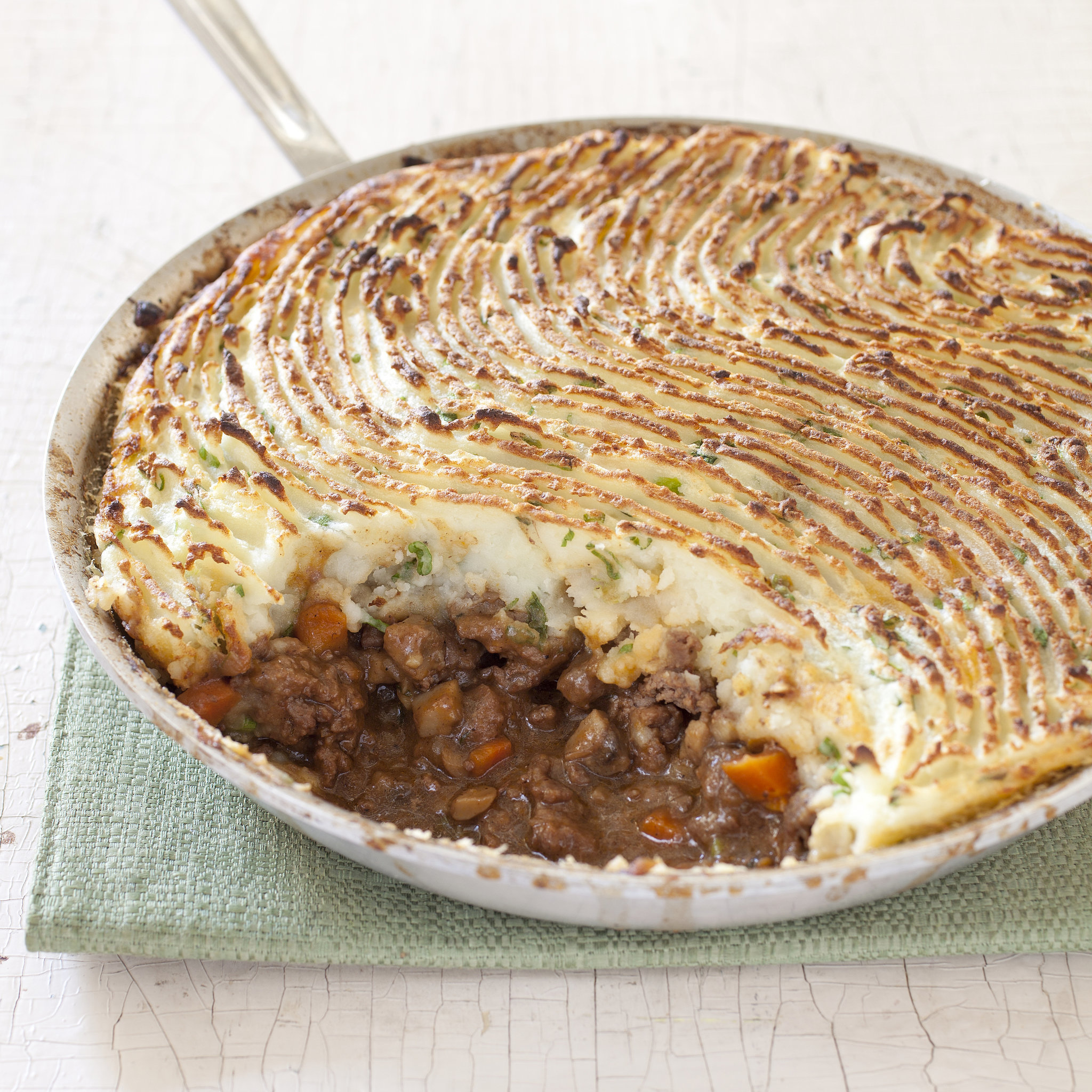 Shepherd's pie, a meaty filling topped with rich mashed potatoes, can be pub grub at its very best. However, at more than 700 calories and 40 grams of fat per serving, it's decidedly not dainty fare. In our lightened up version, we wanted to retain the heartiness and rib-sticking qualities of this classic Irish dish while streamlining its numbers. Our shepherd's pie is cooked in and served straight from the skillet. An aromatic beef mixture is topped with creamy scallion mashed potatoes, which are piped evenly on top and scored with a fork before a brief finish under the broiler for perfectly golden-crispy ridges. Sláinte!
Why this recipe works: For a lower-fat shepherd's pie that was still ultra-rich and hearty, we used lean ground beef and handled it gently when cooking so we had big chunks of meat throughout. Tossing the meat with a bit of baking soda was key to keeping it tender and juicy in the finished dish.
Related:
Notes
Recipe Makeover by America's Test Kitchen
Before: 710 calories, 40g fat, 19g saturated fat
After: 450 calories, 15g fat, 6g saturated fat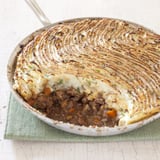 Ingredients
1-1/2 pounds 93 percent lean ground beef
2 tablespoons plus 2 teaspoons water
1/2 teaspoon baking soda
Salt and pepper
2-1/2 pounds russet potatoes, peeled and cut into 1‐inch chunks
2 tablespoons unsalted butter, melted
1/2 cup 2 percent low‐fat milk
1 large egg yolk
8 scallions, green parts only, sliced thin
2 teaspoons vegetable oil
1 onion, chopped
4 ounces white mushrooms, trimmed and chopped
1 tablespoon tomato paste
2 garlic cloves, minced
2 tablespoons Madeira or ruby port
2 tablespoons all‐purpose flour
1-1/4 cups beef broth
2 teaspoons Worcestershire sauce
1 bay leaf
2 sprigs fresh thyme
2 carrots, peeled and chopped
2 teaspoons cornstarch
Directions
Toss ground beef with 2 tablespoons water, baking soda, 1 teaspoon salt, and 1/4 teaspoon pepper in bowl until well combined; let sit for 20 minutes.
Meanwhile, place potatoes and 1 tablespoon salt in large saucepan; add water to cover. Bring to boil, then reduce to simmer and cook until potatoes are tender, 8 to 10 minutes. Drain potatoes; return to saucepan over low heat, stirring constantly, to evaporate any remaining moisture, about 1 minute. Off heat, mash potatoes smooth with potato masher. Stir in butter. Whisk milk and egg yolk together in bowl, then stir into potatoes. Stir in scallions; season with salt and pepper to taste. Cover; set aside.
Heat oil in broiler-safe 10-inch skillet over medium heat until shimmering. Add onion and mushrooms and cook until vegetables begin to soften, 4 to 6 minutes. Stir in tomato paste and garlic and cook until bottom of skillet is dark brown, about 2 minutes. Stir in Madeira, scraping up any browned bits, and cook until evaporated, about 1 minute. Stir in flour and cook for 1 minute. Stir in broth, Worcestershire, bay leaf, thyme, and carrots; bring to boil, scraping up any browned bits.
Reduce heat to medium-low. Pinch beef into 2-inch pieces and lay on top of mixture in skillet. Cover and cook until beef is cooked through, 10 to 12 minutes, stirring and breaking up meat chunks with two forks halfway through cooking time. Combine cornstarch and remaining 2 teaspoons water in bowl, then stir into skillet. Continue to simmer, stirring constantly, until filling is slightly thickened, about 30 seconds. Remove thyme and bay leaf. Season with pepper to taste.
Adjust oven rack 6 inches from broiler element and heat broiler. Place mashed potatoes in large zipper-lock bag; snip off corner to create 1-inch opening. Pipe potatoes evenly over filling to cover entire surface. Smooth potato with back of spoon, then use tines of fork to make ridges over surface. Place skillet on rimmed baking sheet; broil until potatoes are golden and sauce is bubbling, 10 to 15 minutes. Let cool slightly; serve.
Nutritional information per serving: Cal 450, Fat 15g, Sat Fat 6g, Chol 115mg, Carb 49g, Protein 30g, Fiber 5g, Sodium 850mg
Information
Category

Main Dishes, Beef

Cuisine

English/Scottish/Irish

Yield

Serves 6
Image Source: America's Test Kitchen