Herb and Veggie Flowerpot Bread
You've Probably Never Baked Bread in a Flowerpot Before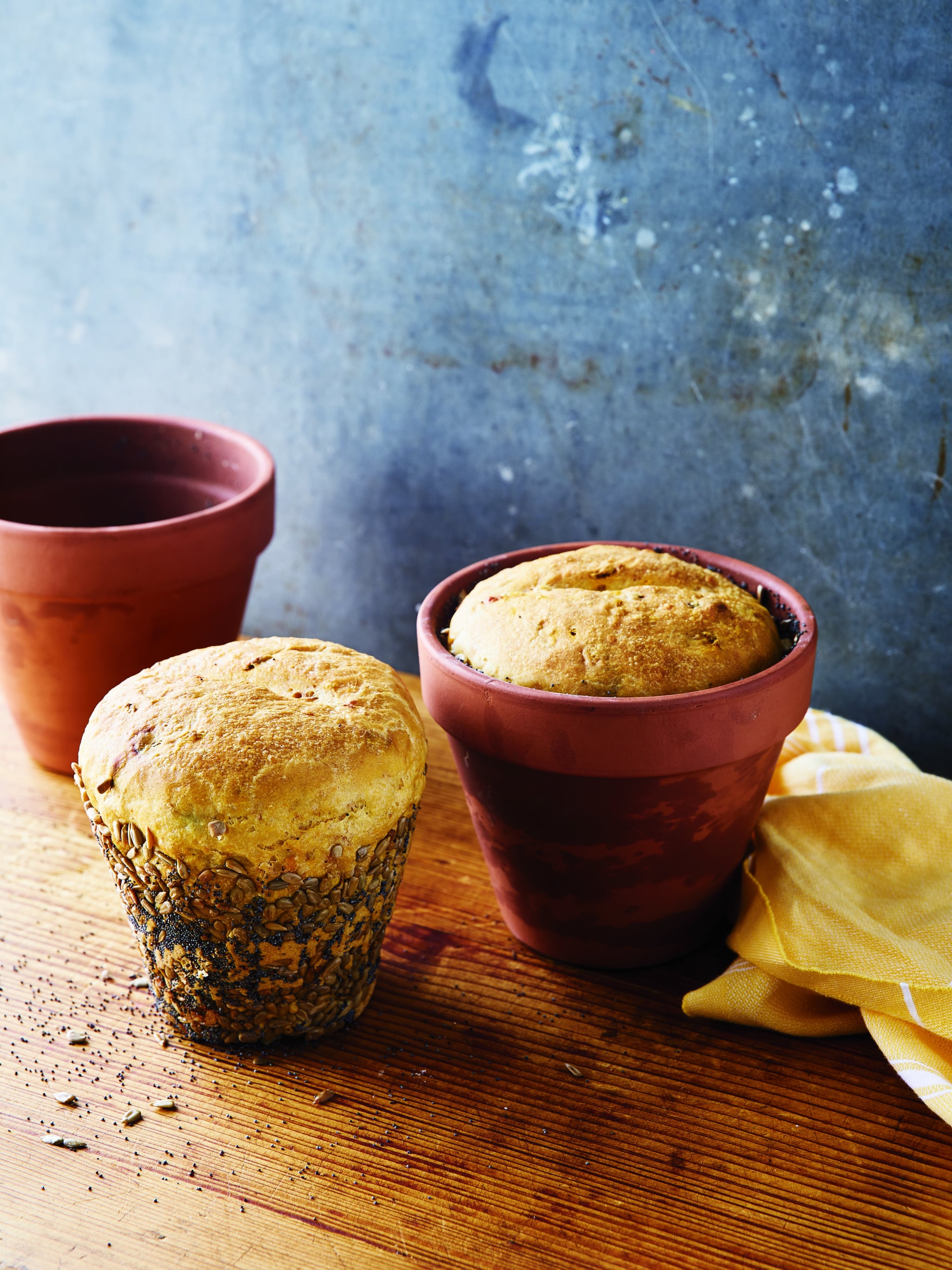 Why bake bread in a flowerpot? For starters, you can fit multiple pots in your oven and produce beautiful loaves of bread with maximum efficiency. This recipe, from The Harvest Baker by Ken Haedrich ($20), is chock-full of flavorful vegetables and herbs and is crusted with seeds and nuts, resulting in a rustic, savory bread to serve at any occasion.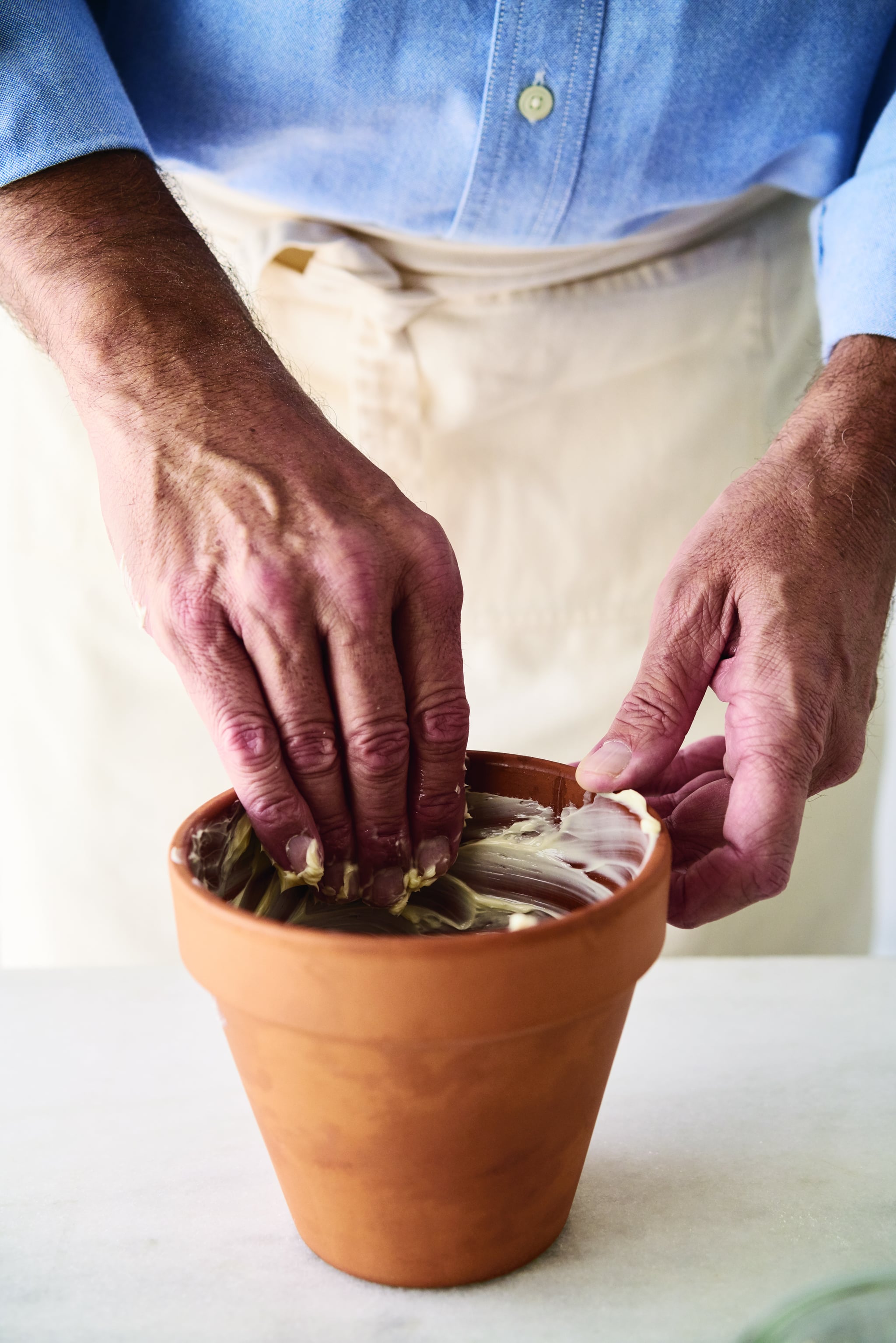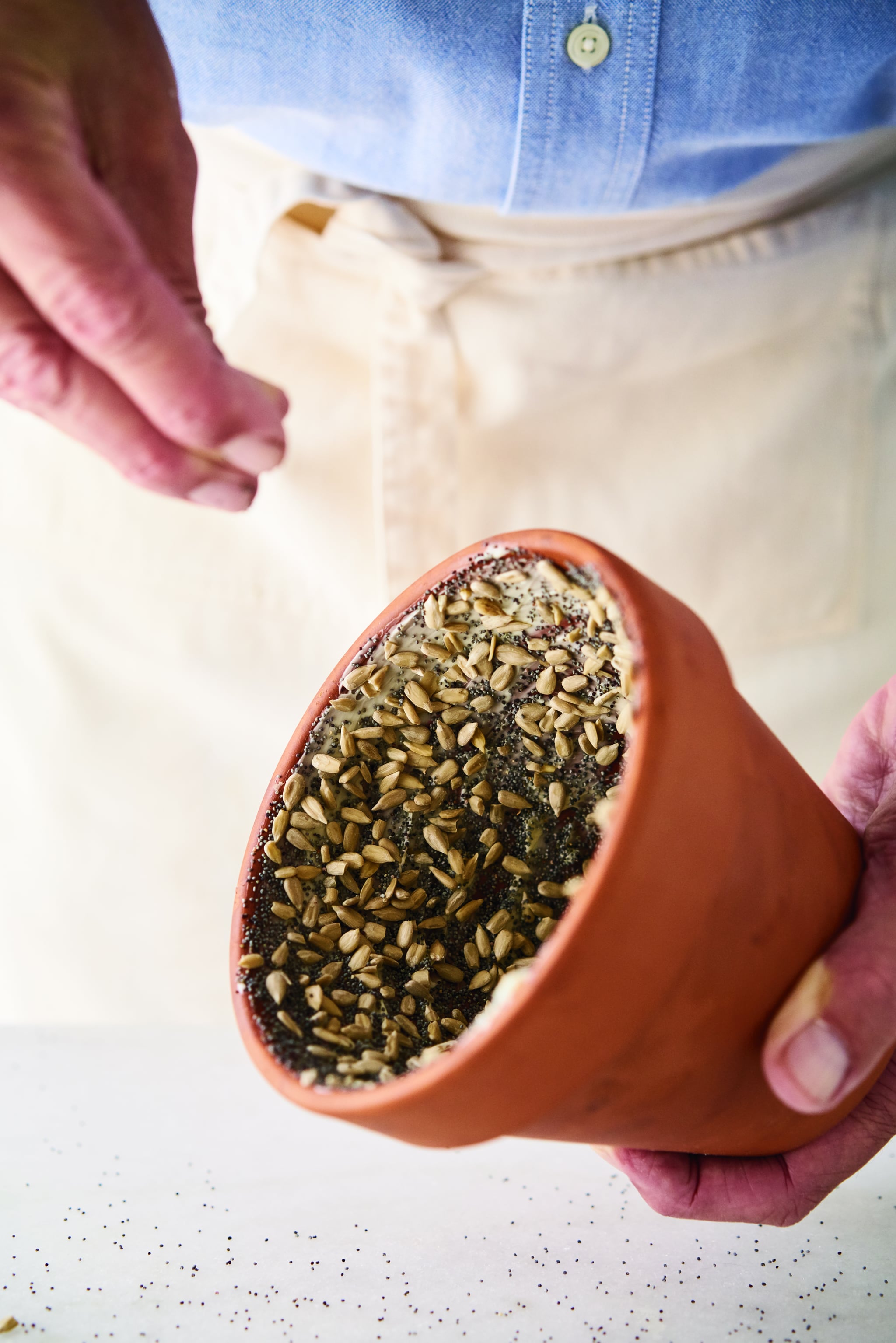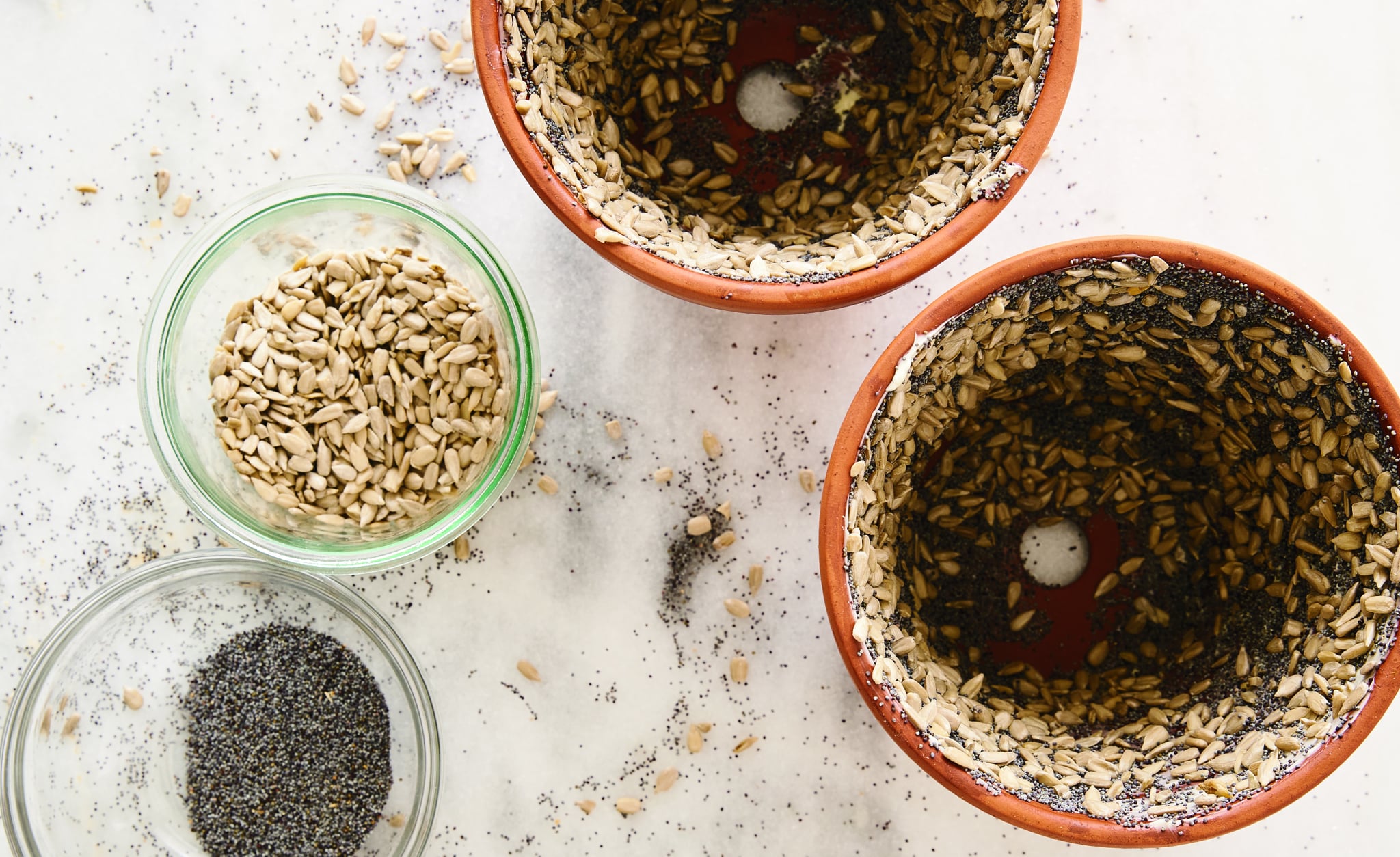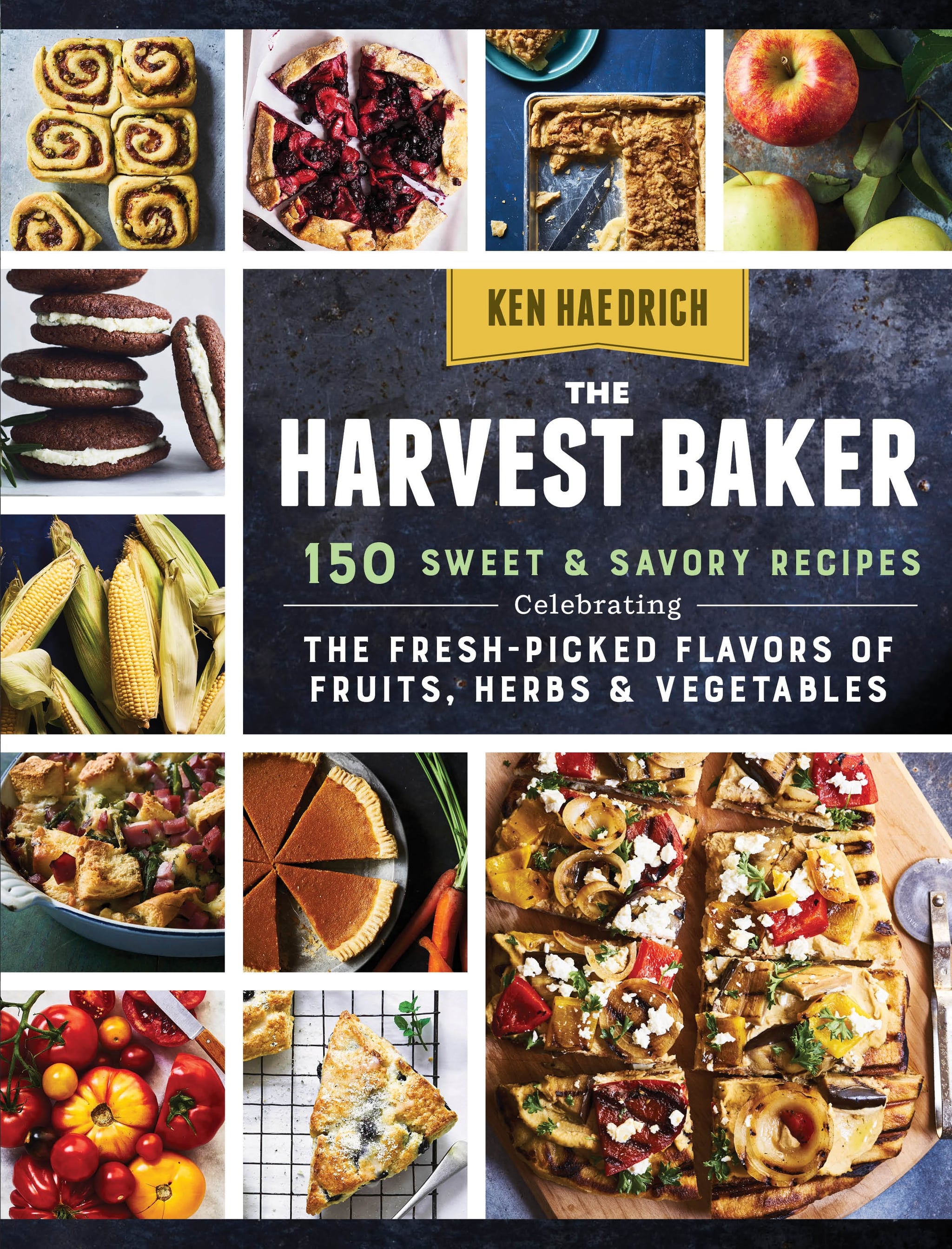 Notes
Did you know that you can bake bread in a terra-cotta flowerpot? Indeed you can, and it's only fitting that loaves baked in flowerpots be a showcase for good stuff from the soil. Here we begin by finely chopping and grating a handful of vegetables and drying them out in the oven. This process concentrates the flavors, which in turn permeate the loaves as they bake. This recipe uses carrots, celery, and onions, but don't be shy about going off script and substituting some parsnips, winter squash, a clove or two of sliced garlic — whatever sounds appealing. Fresh or dried herbs round out the garden-fresh profile, and a bit of cheddar cheese adds richness and tang. It all adds up to one fragrant loaf that's especially good for sandwiches. There are a few little tricks for baking in flowerpots, outlined; heed, and your loaves will turn out beautifully from the start. Remember to allow enough time early in the day, or the day before, to "season" your flowerpots.
Flowerpot Bread Basics
You can bake yeast bread in clay flower-pots of any size, but I think the best ones for the home baker measure 5 1/2 to 6 inches in diameter and about 5 inches tall. These will yield a medium-size (if somewhat cone-shaped) loaf that you can slice up for sandwiches and toast.
Buy a couple of new terra-cotta pots just for this purpose. You'll have to "season" them, like you would a cast-iron skillet, before their initial use. Wash and dry them well. Rub the insides thoroughly with cooking oil; safflower oil and light olive oil are good because they have a high smoke point. Put the pots on a baking sheet and place in a preheated 450°F (230°C) oven for 1 hour. Don't be surprised if a strong odor develops as the pots heat; open the windows if it becomes bothersome. Remove the pots after an hour and set them aside on a cooling rack. Cool thoroughly. Some say that you should repeat this process a second time, but I never did with my own pots, and I've had no problems.
Until you've baked in your pots several times, and even after you have, it's a good idea to take extra measures to keep your loaves from sticking. The easiest way is to butter your pots well with softened butter and line them with strips of parchment paper brushed with melted butter. By the way, if your pots have a hole in the bottom — most do — cover it with a little circle of buttered aluminum foil. For an attractive, wholesome-rustic look, butter the inside of the pots thickly with soft butter and put a generous little pile of sunflower seeds in the bottom. Lean the pot way over and slowly rotate it so the seeds coat the sides thoroughly. You can sprinkle on a second layer of smaller seeds, such as sesame or poppy seeds, once the sunflower seeds are in place. Handle the pots carefully after the seeds go on so you don't knock them off.
When you're done baking, clean your pots like you would any other pan, soaking them if anything gets stuck on.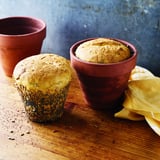 Ingredients
1-2 teaspoons cooking oil for the baking sheet and bowl
1 1/2 cups grated carrots
1 celery stalk, finely chopped
1/2 medium onion, finely chopped
2 cups lukewarm water (105-110°F [41-43°C])
1 tablespoon sugar
1 packet (1/4-ounce) active dry yeast
1/4 cup fine yellow cornmeal
4 1/4-4 1/2 cups unbleached all-purpose flour
2 tablespoons unsalted butter, softened, plus a little melted butter for brushing
2 teaspoons salt
2 tablespoons chopped fresh sage or 2 teaspoons dried
2 teaspoons fresh thyme or 3/4 teaspoon dried
1 cup grated sharp cheddar cheese
Directions
Preheat the oven to 300°F (150°C). Oil a large rimmed baking sheet very lightly. Spread the carrots, celery, and onion evenly in a single layer on the sheet. Place in the oven and roast for 45 minutes to an hour. When they're ready, they'll look shrunken and shriveled — especially the carrots — and take up about half as much room on the sheet. You don't want them to get brittle dry. Transfer the sheet to a cooling rack and allow the vegetables to cool.
Pour the water into a large bowl. Stir in the sugar and sprinkle on the yeast. Stir once or twice with a fork and set aside for 5 minutes.
Add the cornmeal and 3 cups of the flour to the water. Using a wooden spoon, stir well for 100 strokes. Set aside for 10 minutes.
Add the softened butter, salt, sage, and thyme to the dough. Stir well. Stir in the veggies and cheese. Add enough of the remaining flour, about 1/4 cup at a time, to make a firm dough that pulls away from the sides of the bowl. Using your wooden spoon, work the dough vigorously against the sides of the bowl for a minute or so.
Flour your work surface and turn the dough out. Using floured hands, knead the dough for about 8 minutes, dusting with flour as necessary to keep the dough from sticking. Rub a teaspoon or two of cooking oil in a large ceramic or glass bowl. Add the dough, rotating it to coat the entire surface with oil. Cover the bowl with plastic wrap and set aside in a warm, draft-free spot for 1 to 11/2 hours, until the dough has doubled in bulk.
While the dough rises, prepare your two flowerpots using one of the options outlined above.
When the dough has doubled, punch it down and turn it out onto a floured surface. Knead the dough for 1 minute, then divide it in half. Shape each half into a ball and place them in the pots. Cover the pots with plastic wrap and put them aside in a warm, draft-free spot until the loaves have almost doubled in bulk, about 40 minutes to 1 hour. As they approach this point, move one of your oven racks to the lowest position. If you have a second rack, move it up high or take it out of the oven. These are tall loaves, and you don't want them bumping into the rack. Preheat the oven to 400°F (200°C).
As soon as the loaves appear to have doubled, brush the top of each one with a little melted butter. Use a sharp serrated knife to make a shallow slash right across the middle of each loaf. Bake the loaves for 30 minutes, then reduce the heat to 375°F (190°C) and bake for an additional 15 to 20 minutes. The tops of the loaves will be a rich golden brown. Transfer the pots to a cooling rack. Cool the breads for about 5 minutes, then slide them out of the pots. Slide a knife down the sides if you need to loosen them. Lay the loaves on their sides and cool thoroughly. Store, refrigerated, in plastic bags.
Excerpted from The Harvest Baker, © by Ken Haedrich, used with permission from Storey Publishing.
Information
Category

Side Dishes

Cuisine

North American

Yield

Makes 2 loaves
Image Source: © Johnny Autry