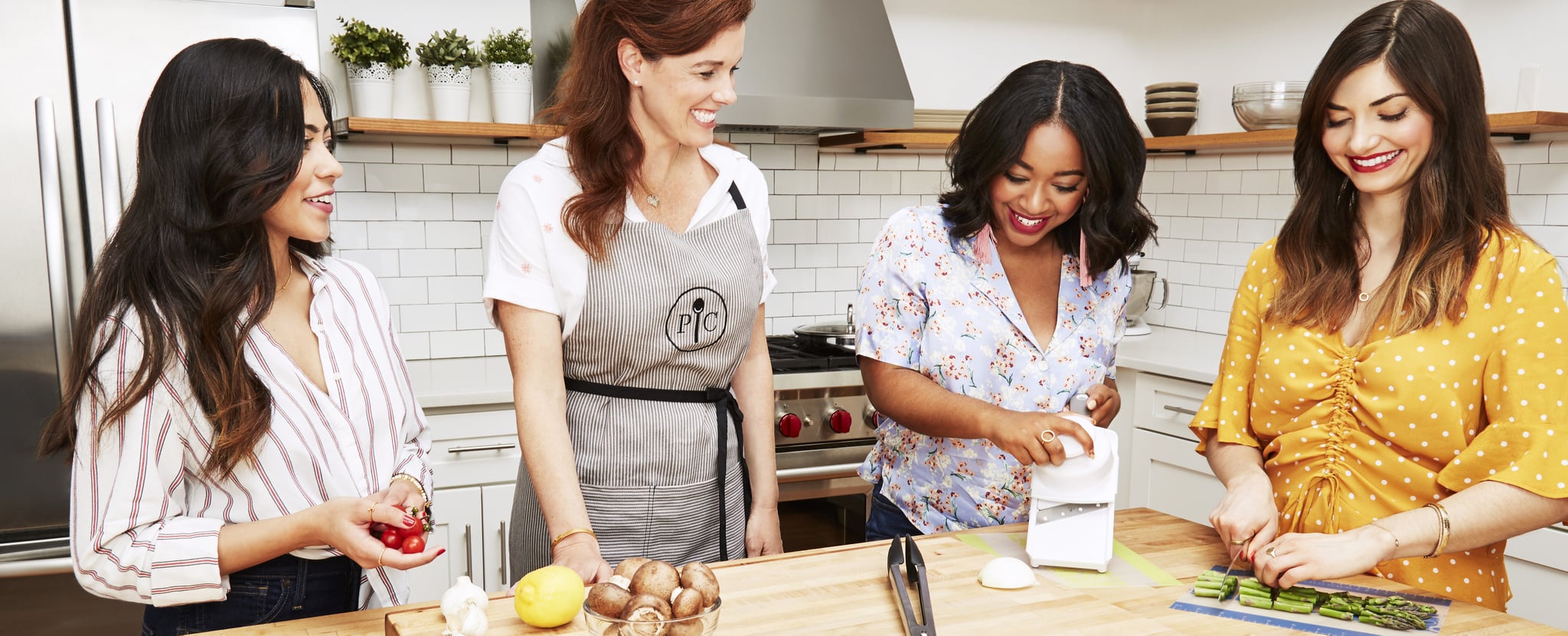 Image Source: POPSUGAR Photography / Diggy Lloyd
How to Hold a Pampered Chef Cooking Party
I Went to a Cooking Party — and I Learned Some Serious Skills

Every single one of us has culinary skills that just need to be awakened, so we've partnered with
Pampered Chef
to get you cooking!
Cooking with creative techniques and fresh ingredients is becoming more popular every day, and it's not just for the experts. Whether you love to cook or can't tell a paring knife from a potato peeler, making meals you can be proud of is easy, fast, and fresh… with the right skills, that is.
One of the best ways to learn those skills is by hosting a Pampered Chef party with your favorite people — which I learned recently when I invited a Pampered Chef consultant to come to my home. Like many other Pampered Chef consultants, my guest for the evening, Stacy, has made a career out of giving novices like me at-home crash courses in the kitchen. I invited two of my favorite POPSUGAR editors over for the party, and with Stacy's help, we chopped, blended, and sautéed our way to a fantastic dinner, while learning some valuable skills that I will use from now on.
Here are a few of the things Stacy taught us during our Pampered Chef party that helped me gain some much-needed confidence in the kitchen.
Step 1: Start With the Basics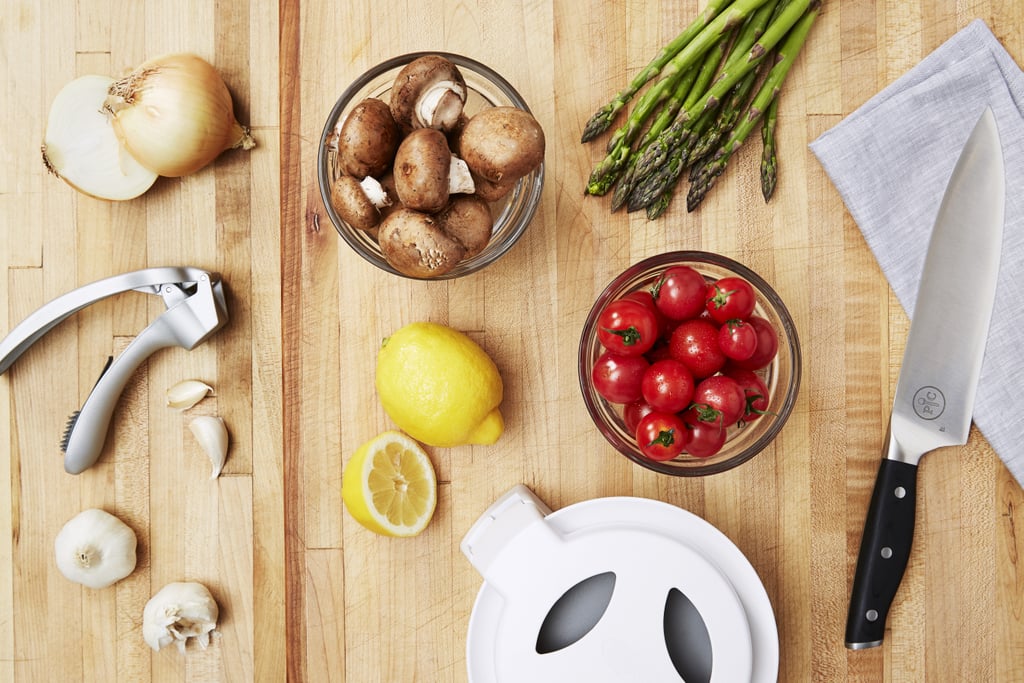 Image Source: POPSUGAR Photography / Diggy Lloyd
Good news for the kitchen-shy: Anyone can learn to cook! As we gathered around the kitchen counter to learn what we would make, Stacy revealed a bit about her journey to becoming a Pampered Chef consultant.
In 2005, Stacy was a stay-at-home mom who wanted to help financially support her family without sacrificing quality time with her kids. The now-skilled cook started out with some basic skills in the kitchen and wasn't necessarily a cooking expert when she decided to take the leap and join Pampered Chef. She wanted a job with a flexible work schedule that would help her contribute to her household income. Thirteen years later, Stacy is a top consultant with cooking skills that have evolved over the years — and that she is sharing with cooking novices like me. The takeaway: anyone can start a Pampered Chef business as a side gig and explore a whole new career.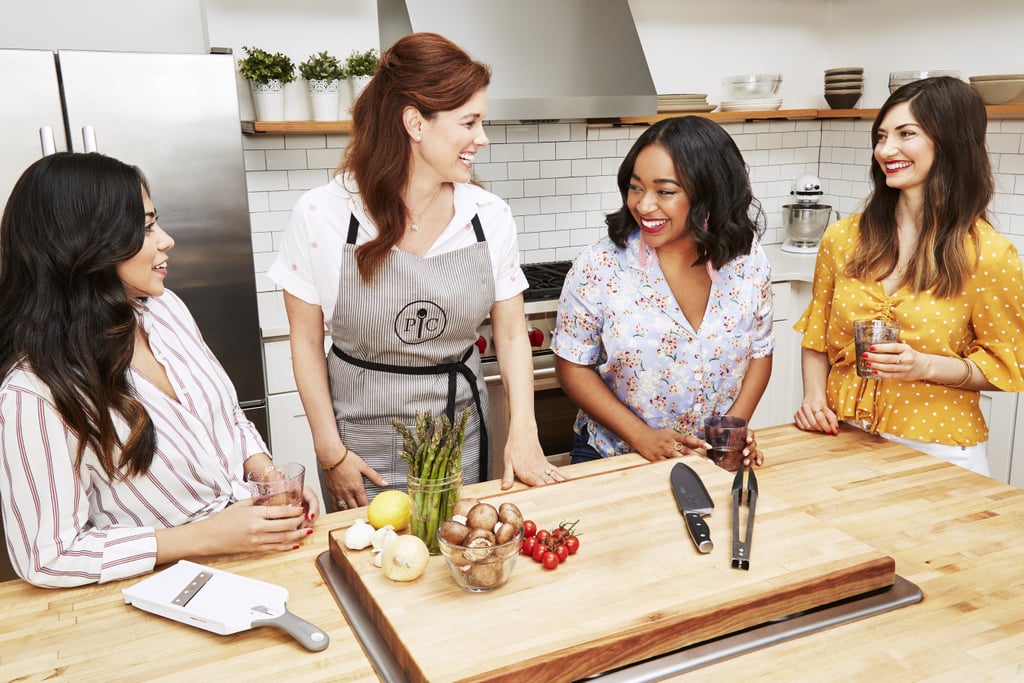 Image Source: POPSUGAR Photography / Diggy Lloyd
Our mission for the evening was to produce a delicious roasted chicken with pan sauce, followed by custom chocolate bars — all with the help of my consultant. As we dove into prepping, Stacy shared a few of her favorite cooking tools and techniques to simplify the process. First up: knife skills! After equipping me with an 8" Chef's Knife, she let us in on a secret: using a pinch grip to hold the knife — with your thumb placed flat against one side and your pointer finger curled against the opposite side in a position that's akin to pinching — is comfortable and offers a high level of control over the knife's movement. Using this technique allowed me to chop our asparagus with ease before we tackled our subsequent steps. It's a simple tip but a game changer for me.
Step 2: Get Your Techniques Down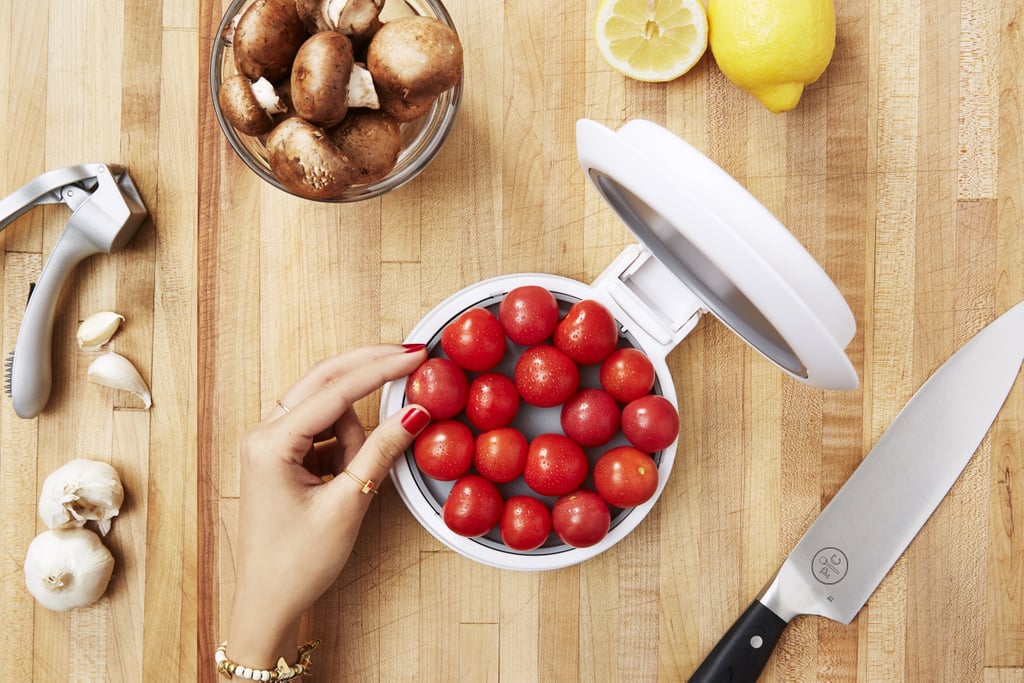 Image Source: POPSUGAR Photography / Diggy Lloyd
Next, we moved on to slicing. Often, the most time-consuming task of preparing meals is prep time, but Pampered Chef has lots of tools and tips to make it easier. Stacy showed us how to use the Close & Cut, which can quickly cut a cup of cherry tomatoes or seedless grapes. It holds them all in place, allowing you to make one slice rather than working on each item individually. Using the Close & Cut, our tomatoes were almost instantly ready for the dish.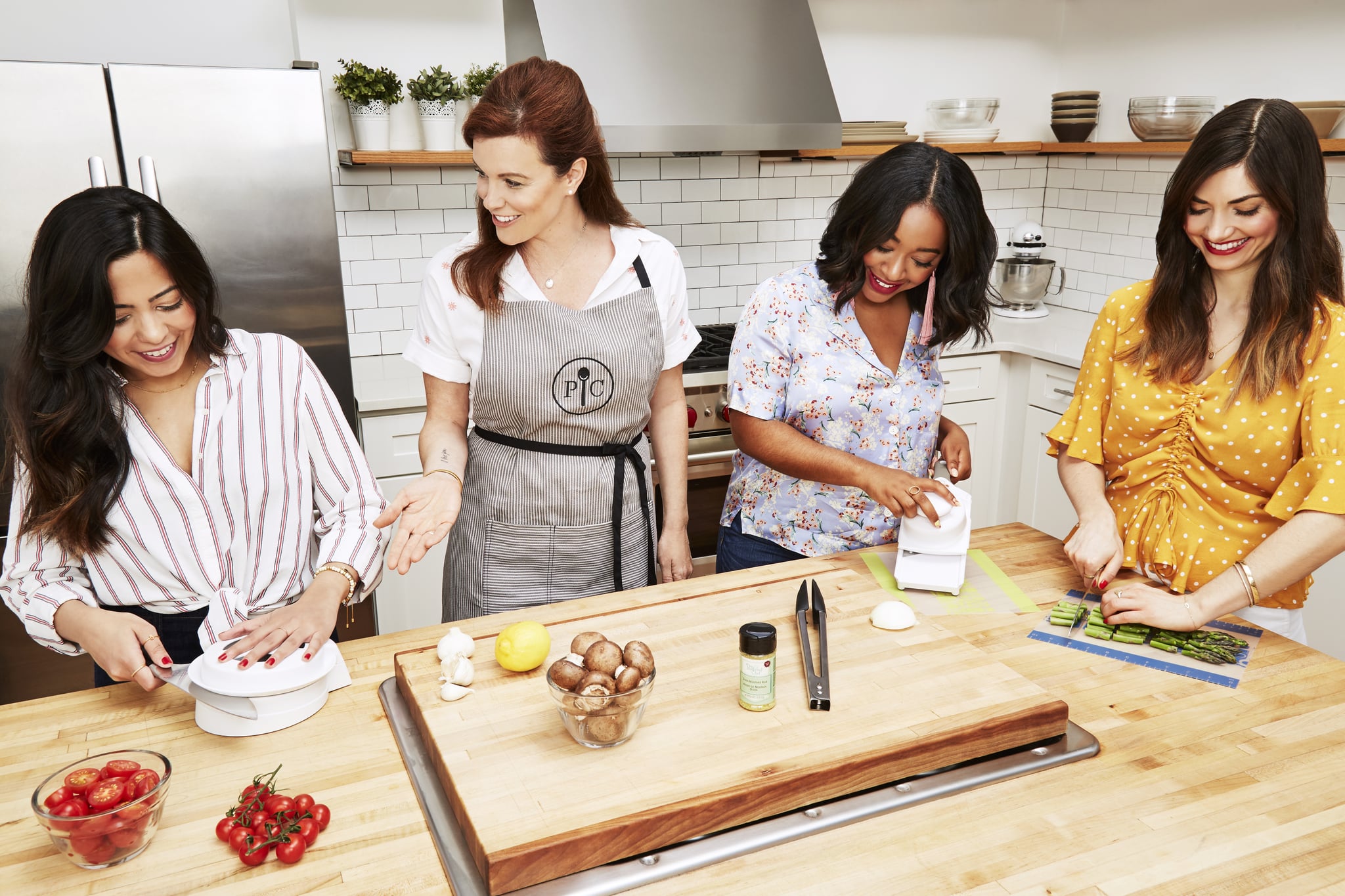 Image Source: POPSUGAR Photography / Diggy Lloyd
Cutting skills mastered and simplified, our consultant then moved on to the actual cooking portion of the evening, using a nonstick pan that makes cooking and cleanup a no-brainer.

Stacy's top pick for dinner prep was the 12" Stainless Steel Nonstick Skillet, which gives meat a beautiful, golden crust while removing the need for an extensive scrubbing session after the meal, thanks to its mesh grid coating. If mess-making is a barrier to cooking, a dishwasher-safe skillet that shaves off tidying time might just be the solution.
After placing all of our ingredients in the pan, along with a splash of wine and a squeeze of fresh lemon juice, we waited for the pan to work its magic. As promised, after a few minutes of simmering, the chicken and vegetables had begun to caramelize into a meal that looked, dare I say it, restaurant quality — from my kitchen.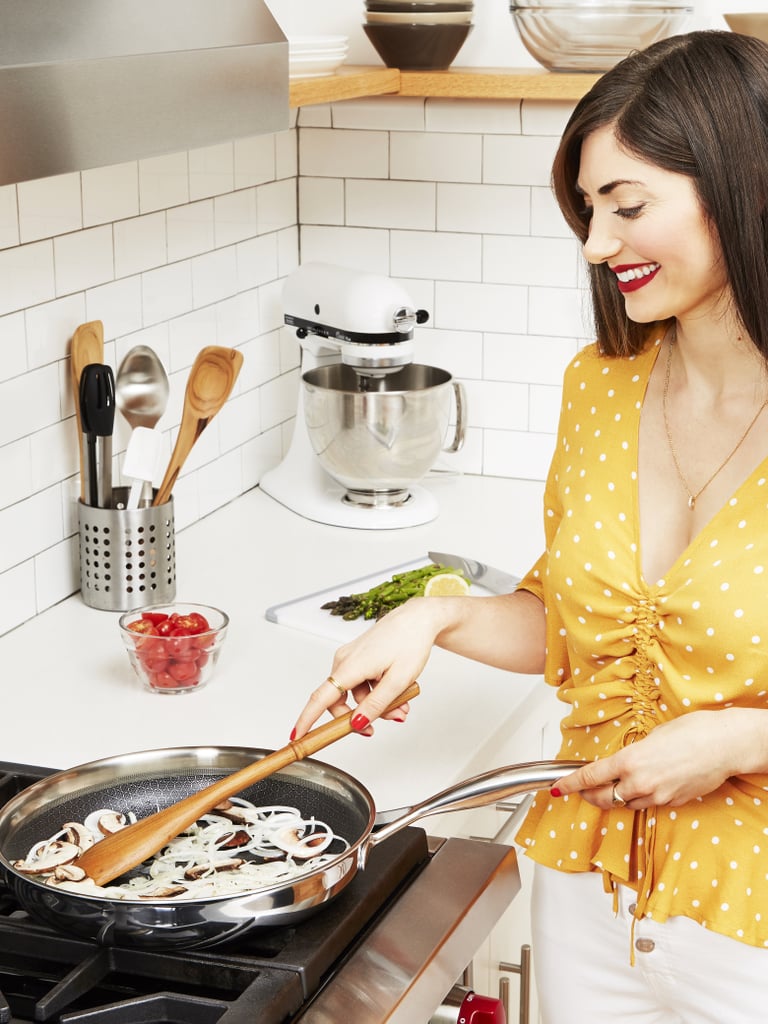 Image Source: POPSUGAR Photography / Diggy Lloyd
Step 3: Don't Forget Dessert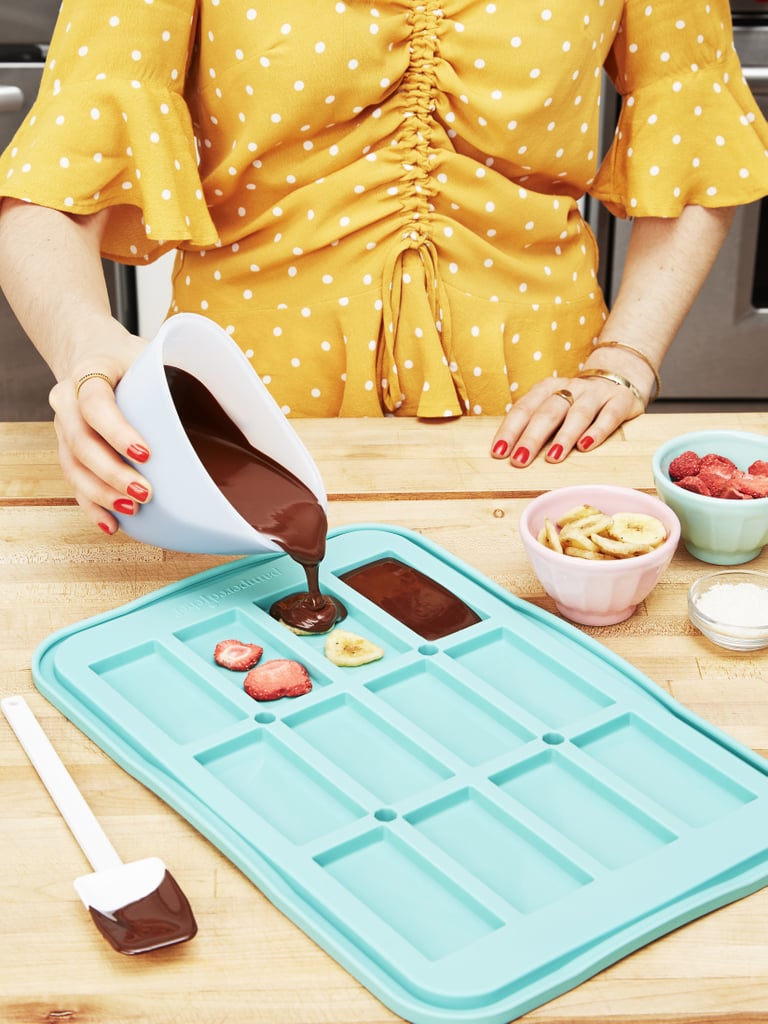 Image Source: POPSUGAR Photography / Diggy Lloyd
While we were already impressed with our efforts, Stacy had one last great recipe to show us: easy, two-ingredient chocolate bars with customizable mix-ins. Spoiler alert: working with liquid chocolate is just about the most fun you can have in the kitchen!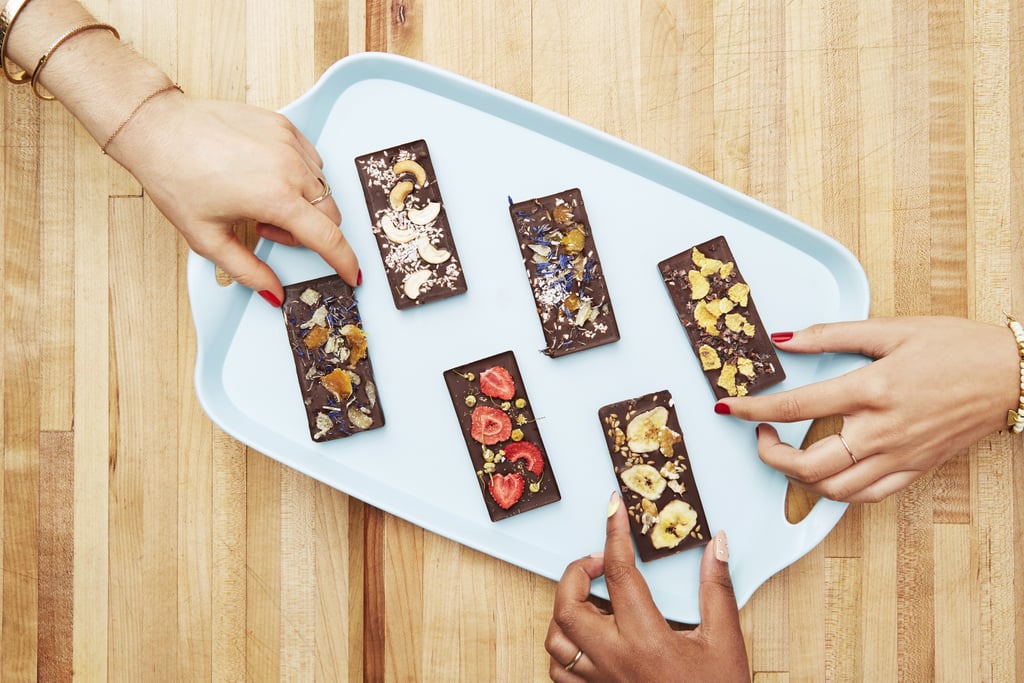 Image Source: POPSUGAR Photography / Diggy Lloyd
After melting the chocolate and coconut oil mixture together in a Silicone Prep Bowl in the microwave, we carefully poured the chocolate into Pampered Chef's Snack Bar Maker, then added dried bananas, strawberries, or nuts to taste — whatever we liked! The prep bowl evenly distributed the chocolate, thanks to its flexible structure, and it didn't overheat when warmed. We then placed our bars in the freezer, and 15 minutes later they were ready to eat!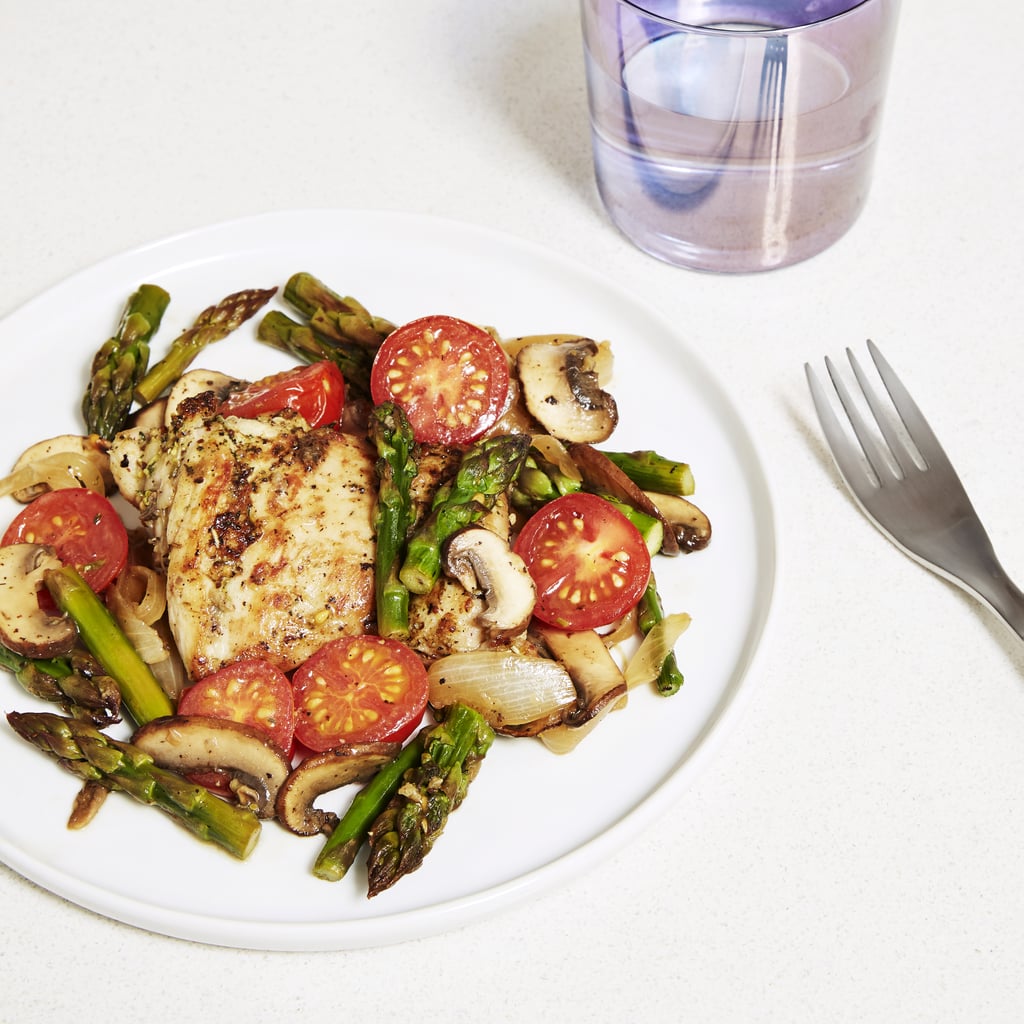 Image Source: POPSUGAR Photography / Diggy Lloyd
Part of what makes a Pampered Chef party so fun is that you get to eat everything you make! I also ended the evening with some serious culinary know-how and more than a few tips and tricks. As it so happens, using Pampered Chef quality kitchen tools makes cooking easier and faster and dishes more flavorful. This is probably the realization many consultants have when they decide to start a business and share that with others.
But Stacy's most meaningful lesson didn't concern the best way to infuse flavor into the chicken or the secret to acing my prep skills. Instead, it was all about making the cooking experience enjoyable and accessible to everyone. Once the basics are mastered, it's infinitely easier to get to work on the truly important part: enjoying meals with those you love. If I can do it, so can you!
Image Source: POPSUGAR Photography / Diggy Lloyd
We learn cooking skills worth sharing from each other, plain and simple. Pampered Chef consultants show the power that comes from knowing how to cook — sharing with others that time-saving trick that becomes a life skill, that recipe that brings your family to the table. We know that while you may cook out of necessity, you also do so out of a desire to be healthier, out of tradition, out of love. We make a career out of sharing that love.

Check out five reasons you'd love being a Pampered Chef consultant or learn how to host a Pampered Chef party of your own!
Shop with your consultant or on the Pampered Chef website:
Credits: Photography: Diggy Lloyd; Art Direction: Diggy Lloyd; Food Styling: Julia Choi; Production: Sasha Bar-Tur; Styling: Andi Nash; Talent: Stacy Itzel, Tyler Atwood, Aimee Simeon, Zareen Siddiqui