We're taking three great tailgating standbys — corn dogs, cheese dip, and Chex Mix — to the next level with unexpected twists. Whip them up and score some major flavor touchdowns! So go ahead and get snacking.
This Episode of Eat the Trend is brought to you by Smirnoff Ice®.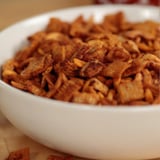 Ingredients
3 cups Rice Chex cereal
3 cups Corn Chex cereal
1/2 cup roasted peanuts
1/2 cup roasted unsalted cashews
1/2 cup toasted almonds
1/4 cup butter, melted
2 tablespoons soy sauce
2/3 cup sriracha
1 teaspoon sesame oil
2 1/2 teaspoons garlic, crushed
2 tablespoons ginger, grated
Directions
Preheat the oven to 250ºF.
Into a large bowl, combine the cereals with peanuts, cashews, and almonds.
In another mixing bowl, combine butter, soy sauce, sriracha, sesame oil, garlic, and ginger to make a sauce.
Pour sauce over the cereal and nut mixture and toss until incorporated.
Transfer the mixture to a parchment paper lined baking sheet and bake for an hour, being sure to stir the mixture every 15 minutes.
Information
Category

Appetizers, Finger Foods

Cuisine

North American

Yield

6 Servings

Total Time

1 hour, 14 minutes, 59 seconds
Mexican Corn Dip
From POPSUGAR Food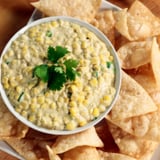 Ingredients
5 ears corn, shucked and rinsed
1 jalapeño, seeded and diced
16 ounces cottage cheese, small curd
3 tablespoons mayonnaise
2 teaspoons worcestershire sauce
2 tablespoons cilantro, chopped
1 teaspoon crushed garlic
Juice of 1 lime
Optional ingredient:
3/4 packet onion soup mix
Directions
In a bowl, mix together the corn kernels and jalapeño.
In a food processor, mix the cottage cheese, mayonnaise, worcestershire sauce, cilantro, crushed garlic, and lime juice until smooth. For even more flavor you can add in 3/4 packet of onion soup mix to the cheese sauce. Add cheese mixture to corn, and refrigerate for at least 30 minutes. Serve with tortilla chips.
Information
Category

Condiments/Sauces, Salsa

Cuisine

North American

Yield

6-8 servings

Total Time

29 minutes, 59 seconds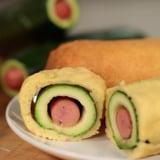 Ingredients
4 zucchinis
4 hot dogs
1 1/4 cup flour
3/4 cup cornmeal
4 tablespoons granulated sugar
1 teaspoon salt
1 teaspoon baking powder
2 eggs
3/4 cup whole milk
Oil for frying
Special supplies:
Bamboo skewers or chopsticks
Directions
Cut off one end of the zucchini. Using an apple corer or paring knife, carefully core the center of a zucchini, removing the pulp but leaving 1/4 inch of white flesh around the center, and about 1/2 an inch of flesh at the un-cut end. Fill with a hot dog. Repeat with each zucchini and hot dog. Then insert 2 to 3 bamboo skewers or a chopstick through the base of the zucchini into the hot dog.
Heat oil in a heavy-bottomed dutch oven or electric deep fryer to 350ºF.
In a bowl, mix together flour, cornmeal, sugar, salt, and baking powder. Add in the eggs and milk, and whisk until smooth. Dip the hot-dog-stuffed zucchinis in the batter to coat.
Fry each zucchini weenie one at a time for 12 to 15 minutes, or until the coating is a light golden brown. Drain on a paper-towel-lined plate, and cool slightly before serving.
Information
Category

Main Dishes, Pork

Cuisine

North American

Yield

4 servings

Total Time

59 minutes, 59 seconds