Kale, Fennel, and Sun-Dried Tomato Sauce Recipe
Rustic Kale, Fennel, and Sun-Dried Tomato Sauce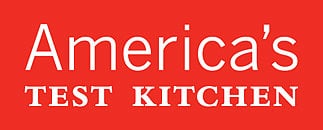 We're thrilled to bring you kitchen wisdom from our friends at America's Test Kitchen. This week, they're sharing a tried-and-true slow cooker recipe for a kale, fennel, and sun-dried tomato sauce that pairs well with pasta.



Pasta and braised kale is a popular pairing for a reason—the earthy, meaty notes of the tender greens add depth and flavor to the mild-tasting pasta for a simple yet incredibly satisfying dish. To prepare our kale for the slow cooker, we sliced it into thin strips, then tossed it in with chopped onion, minced garlic, and red pepper flakes. This combination tasted good, but swapping the onion for fennel promised a more filling and more flavorful dish. We used chicken broth, rather than water, for the cooking liquid; it imparted salty, savory notes to our sauce. To add some much-needed brightness, we included chopped sun-dried tomatoes. A big drizzle of extra-virgin olive oil, plus some grated Parmesan, enriched this fairly lean sauce, and toasted pine nuts offered a welcome crunch. So their flavors wouldn't become dulled in the slow cooker, we added them just before serving.
More stories from America's Test Kitchen:
More Slow Cooker Recipes
The Story Behind Our Shrimp Fra Diavolo
How Texture Adds Interest and Pleasure to the Wine We Drink
Meet the Quinoa Salad of Your Dreams
The Interview: Dana Goodyear, Author of Anything That Moves
Slow-Cooker Rustic Kale, Fennel, and Sun-Dried Tomato Sauce
Notes
Be sure to use high-quality extra-virgin olive oil here; the test kitchen's favorite brand is Columela. Pine nuts need to be stored with care to prevent rancidity. They are best transferred to an airtight container as soon as their original packaging is opened. They will keep in the refrigerator for up to three months or in the freezer for up to nine months.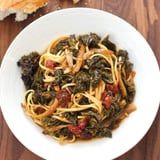 Ingredients
1 pound kale, stemmed and sliced into 1-inch-wide strips
2 fennel bulbs, cored and sliced 1/4 inch thick
2 cups chicken broth
1 cup oil-packed sun-dried tomatoes, rinsed, patted dry, and chopped coarse
2 tablespoons minced garlic
1/4 teaspoon red pepper flakes
Salt and pepper
1/2 cup grated parmesan cheese
1/2 cup extra-virgin olive oil
1/4 cup pine nuts, toasted
Directions
Combine kale, fennel, broth, tomatoes, garlic, pepper flakes, 1 teaspoon salt, and 1/2 teaspoon pepper in slow cooker. Cover and cook until kale is tender, 5 to 6 hours on low or 3 to 4 hours on high.
Before serving, stir in parmesan, oil, and pine nuts and season with salt and pepper to taste.
Information
Category

Pasta, Main Dishes

Cuisine

Italian

Yield

4 cups, enough for 1 pound of pasta