Kale With Shiitakes and Poached Egg
Prepare to Become Obsessed With This Kale Recipe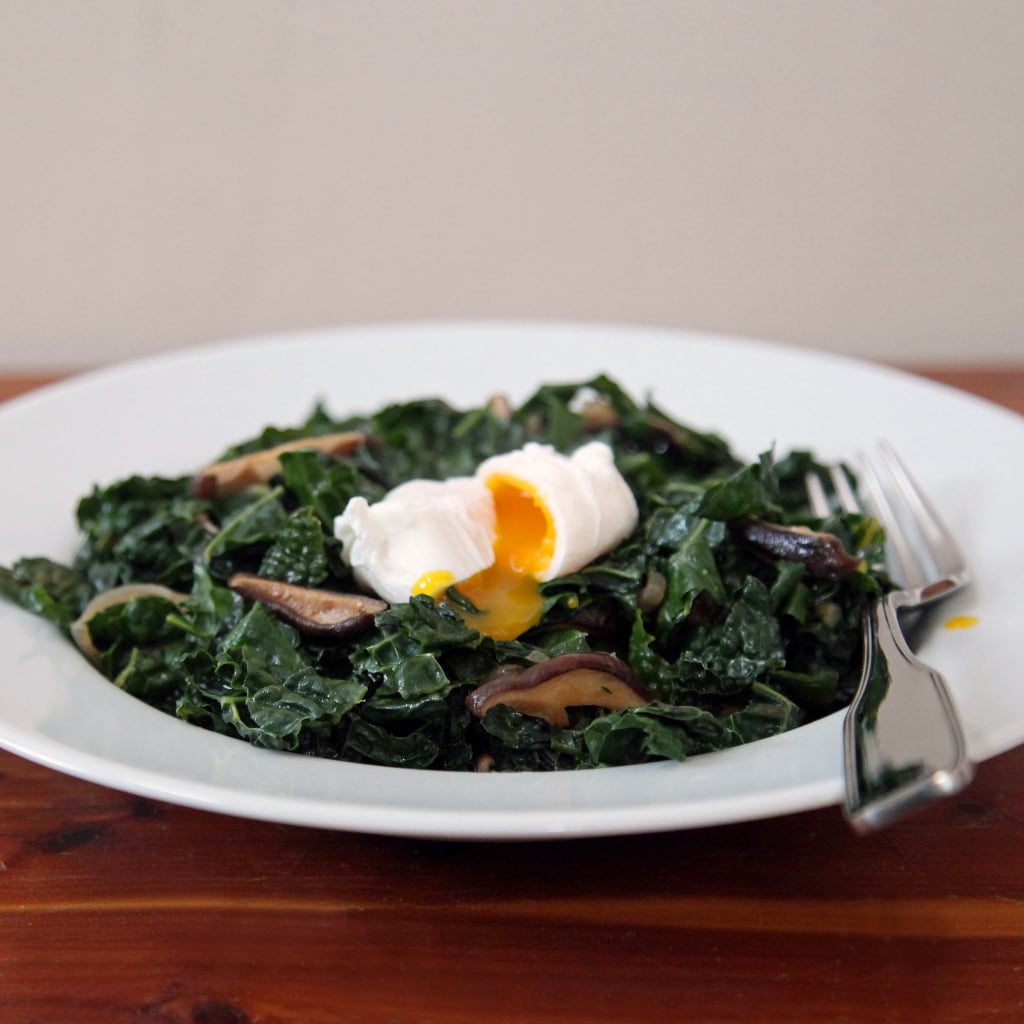 I'm not going to lie and say that this weeknight-friendly (as in, slightly less indulgent) take on one of my all-time-favorite recipes — chef Trent Pierce's lush, butter-loaded miso-creamed kale — is quite as delicious as the original, but it comes pretty darn close. While Pierce's creamy kale is my go-to when I want to channel steakhouse dining, this elegantly restrained spin from Laura Russell's Brassicas is apt to end up on my table much more often. (I've already made it thrice in the span of a few weeks.) Her original recipe treats it as a side, but I double up on the portion, top it with a poached egg (or two), and dig in when I'm craving a big plate of greens that doesn't skimp on flavor.
Notes
To serve as a side dish, omit the egg and double all other ingredients. (In this iteration it'll serve four as a side dish.) To make gluten-free, use wheat-free tamari or soy sauce.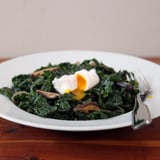 Ingredients
1 1/2 tablespoons canola oil or other neutral oil, divided
2 ounces shiitake mushrooms, stems removed, caps thinly sliced (about 1 cup)
1/2 tablespoon soy sauce or tamari
1 tablespoon rice wine vinegar
1/2 large shallot, thinly sliced
1 medium bunch kale (about 10 ounces), center ribs and tough stems removed, leaves cut crosswise into 1/2 inch-wide ribbons
1 tablespoon sake or dry vermouth
1 tablespoon water
1 tablespoon white or yellow miso
1-2 large eggs
Directions
In a large skillet, heat 1/2 tablespoon of the oil over medium heat. Add the shiitakes and cook, stirring occasionally, for about 5 minutes, until softened and browned. Add the soy sauce and stir to coat the mushrooms. Transfer the mushrooms to a bowl, and wipe out the pan.
Bring a saucepan of water to a simmer. Add the rice wine vinegar to the water.
Meanwhile, in the same pan, heat the remaining tablespoon oil over medium-low heat. Add the shallot and cook, stirring occasionally, for about three minutes, until starting to soften. Add the kale — a little at a time until all of it fits in the pan — and turn it with tongs to coat it with the oil. Continue to cook, stirring occasionally, for about 3 minutes, until wilted. Increase the heat to medium. Add the sake and cook for about one minute, until it evaporates. In a small bowl, whisk together the water and the miso until smooth. Add it to the pan and cook and stir for about two minutes more, until the sauce clings to the kale.
Return the mushrooms to the pan, and stir to combine. Taste and adjust the seasoning with a little soy sauce if needed. Or, if the miso has made the mixture a bit too salty, stir in a splash of water.
Meanwhile, poach the egg(s).
Serve the kale topped with the poached egg(s).
Information
Category

Main Dishes

Cuisine

North American

Yield

Serves 1