Make-Ahead Turkey Gravy Recipe
Trust America's Test Kitchen to Give You the Best Make-Ahead Gravy
We all know how hectic holiday time can get, especially if you're the one planning a meal for the entirety of your extended family, but this make-ahead gravy hack can take one thing off your (very full) plate for Thanksgiving and beyond. From the Complete Make-Ahead Cookbook ($18) by the editors of America's Test Kitchen, this gravy is delicious and better yet, if it stays frozen, can be made up to a month in advance. How's that for prep work?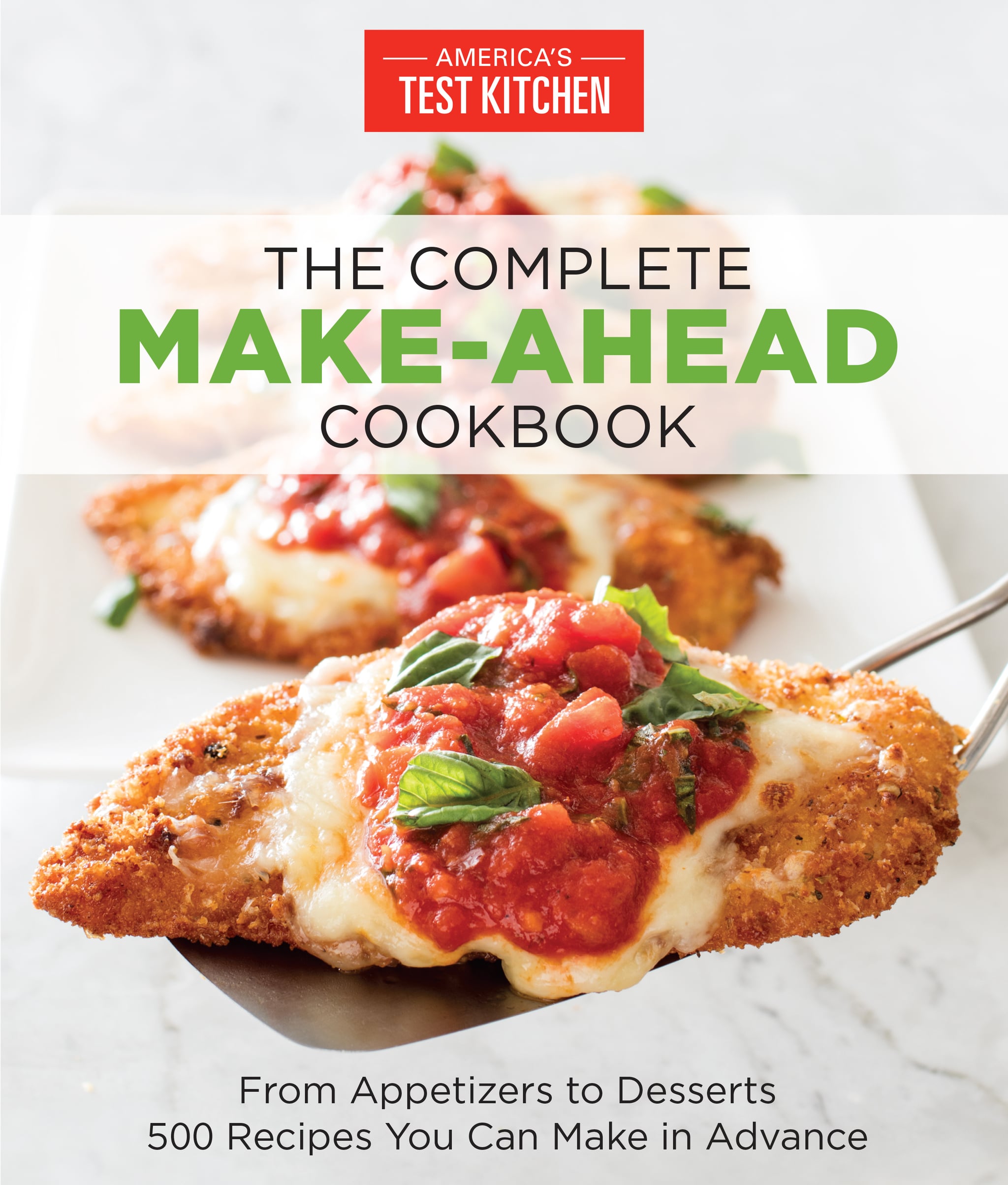 Notes
The beauty of this recipe is that it can be made weeks in advance and frozen long before you've brought home your holiday bird. You can substitute nine turkey wings, separated at the joints, for the turkey thighs in this recipe. Other things to note:
Broth, prepared through step 2, can be refrigerated for up to 2 days or frozen for up to 1 month; if frozen, thaw completely in refrigerator before continuing with step 3.
Alternatively, gravy can be refrigerated for up to 2 days; to reheat, bring to gentle simmer, adjusting consistency with hot water as needed.

Cook time is 30 active minutes, but total time is four hours.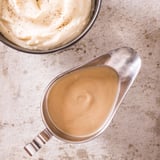 Ingredients
6 turkey thighs, trimmed
2 carrots, chopped
2 celery ribs, chopped
2 onions, chopped
1 garlic head, outer papery skins removed and top third of head cut off and discarded
2 tablespoons vegetable oil
10 cups chicken broth, plus extra as needed
2 cups dry white wine
12 sprigs fresh thyme
Unsalted butter, as needed
1 cup all-purpose flour
Salt and pepper
Directions
Adjust oven rack to middle position and heat oven to 450°F. Toss turkey, carrots, celery, onions, garlic, and oil together in large roasting pan. Roast, stirring occasionally, until well browned, 1 1/2 to 1 3/4 hours.
Transfer roasted turkey mixture to Dutch oven. Add broth, wine, and thyme sprigs and bring to boil over medium-high heat, skimming as needed. Reduce heat to medium-low and simmer gently until reduced to 8 cups, about 1 1/2 hours. Strain broth through fine-mesh strainer into large container, pressing on solids to extract as much liquid as possible; discard solids.
Let strained broth settle for 5 minutes, then use large spoon to skim off fat (reserving 1/2 cup, and adding butter as needed to reach 1/2 cup). Heat fat in now-empty Dutch oven over medium-high heat until simmering. Whisk in flour and cook, whisking constantly, until well browned, 3 to 7 minutes.
Slowly whisk in reserved broth and bring to boil. Reduce heat to medium-low and simmer until gravy is very thick, 10 to 15 minutes. Season with salt and pepper to taste.
Reprinted from The Complete Make-Ahead Cookbook: From Appetizers to Desserts 500 Recipes You Can Make in Advance. Copyright © 2017 by America's Test Kitchen. Published by Penguin Random House Publisher Services.
Information
Category

Condiments/Sauces

Cuisine

North American

Yield

2 quarts

Total Time

29 minutes, 59 seconds
Image Source: America's Test Kitchen