Mermaid Cupcake Ice Cream Cone Recipe
Mermaid Cupcakes Stuffed in Ice Cream Cones?! This Dessert Is Almost Too Cute to Eat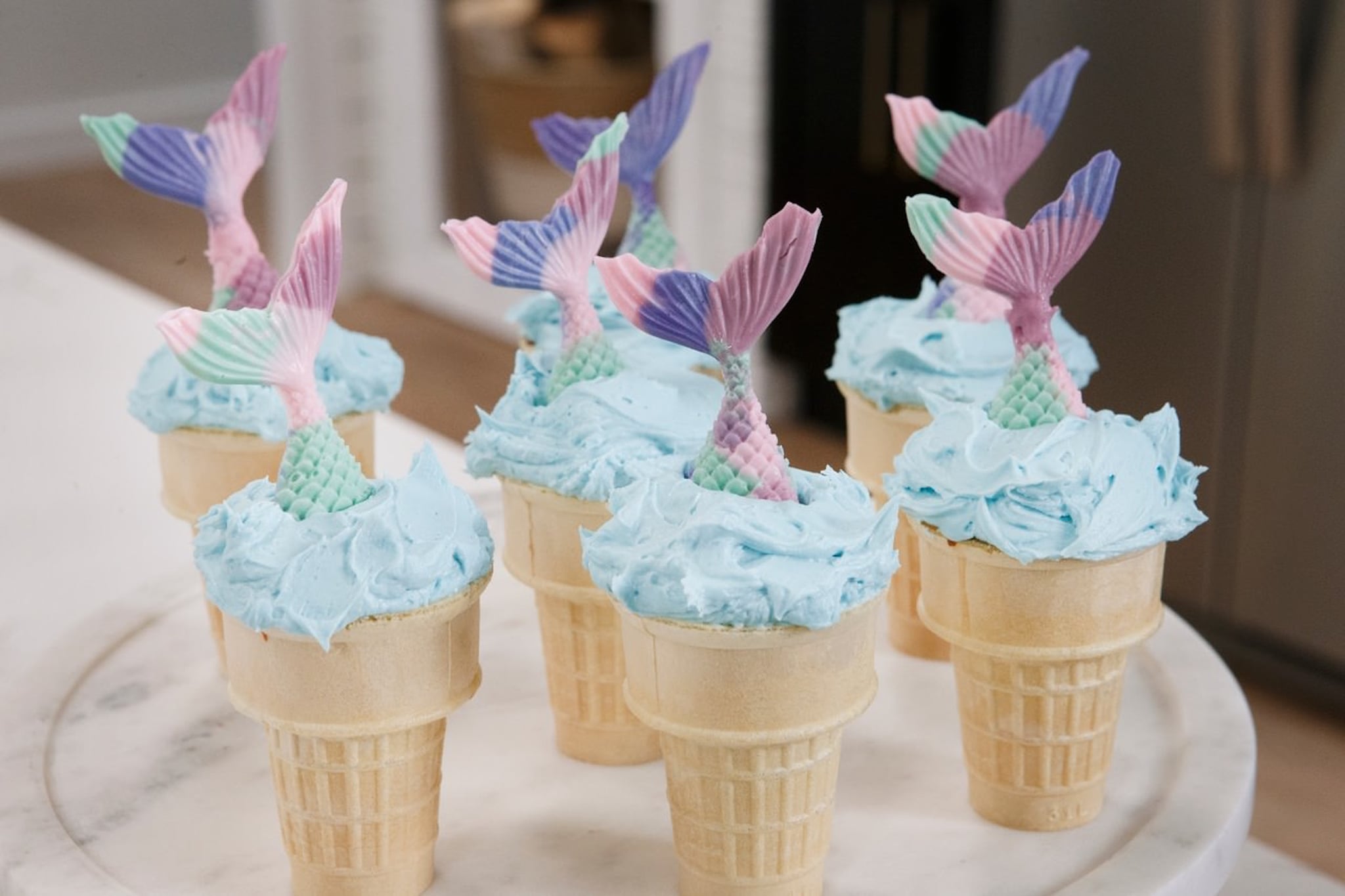 Forget unicorn horns — if we could have any magical appendage, we'd choose a mermaid tail any day. I mean, how awesome would it be to flip your fins and explore the ocean just like Ariel from The Little Mermaid?! To help fuel our mermaid obsession, we caught up with Brandi Milloy, the former host of POPSUGAR's Eat the Trend and Get the Dish shows, for a little inspiration on how to incorporate the mythical creature into our favorite meal of the day: dessert, obviously.
Brandi provided us with a recipe for the ultimate pastel-colored treat: mermaid cupcake-stuffed ice cream cones, which are just one of the nearly 30 original dishes she'll be preparing on her new Food Network show, Let's Eat. During the first season of the series, Brandi and her two pals Stuart O'Keeffe and Jamika Pessoa will share cooking tips and tricks, as well as recipes that range from playful (think: chocolate mousse in cookie bowls) to downright delectable (like chicken pot pie with a tater tot crust). Sounds like a dream show, right?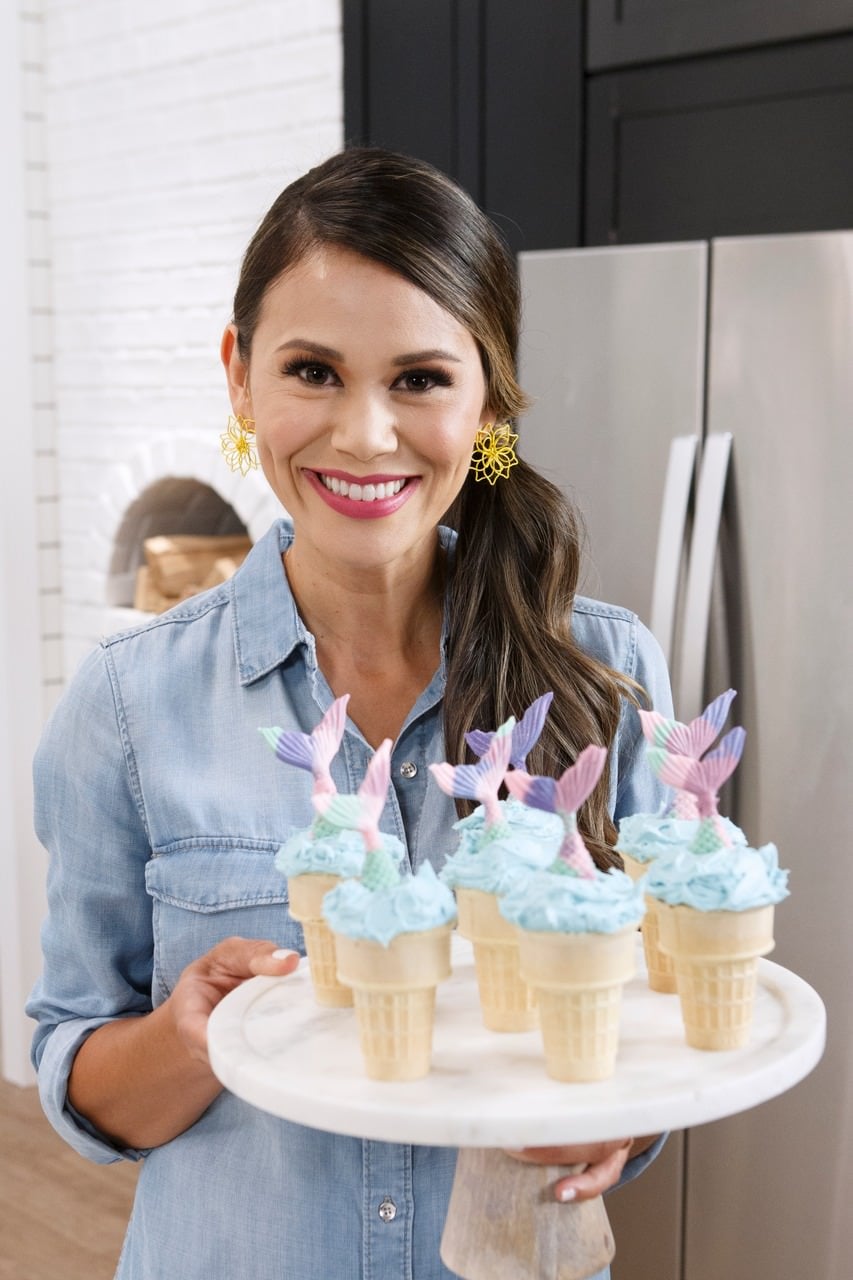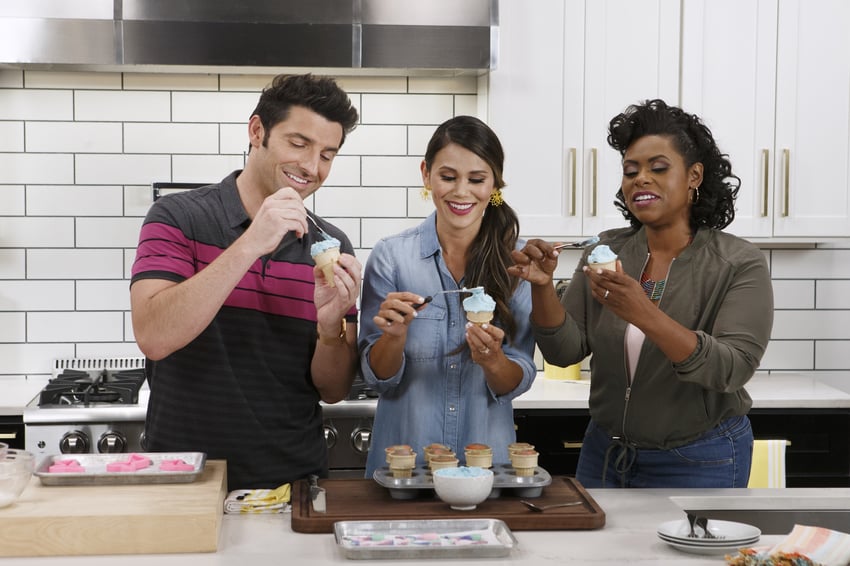 Brandi's mermaid cupcake-stuffed ice cream cones may look complex, but they're actually pretty simple for any Ariel wannabe to make from scratch. Ahead, get her full recipe for the adorable desserts, and be sure to tune into Food Network's Let's Eat starting on Aug. 12 for even more trendy treats and nifty food hacks.
Mermaid Cupcake-Stuffed Ice Cream Cones
Brandi Milloy
Notes
Special equipment: a skewer and 2- to 3-inch mermaid tail silicone molds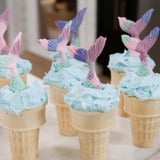 Ingredients
16 to 18 flat-bottomed ice cream cones
3 large eggs
1/3 cup oil
1 15.25-ounce box white cake mix
Gel food coloring in pink, purple, and green, as needed
Melting candy wafers in pink, purple, blue, and green, as needed
2 cups buttercream frosting, tinted pale blue
1 teaspoon vanilla extract
Directions
Preheat the oven to 350°F. Stand your ice cream cones upright in the cups of two 12-cup muffin tins (or bake them in batches if you only have one tin).
In a bowl, whisk together the oil and eggs. Add the cake mix, vanilla extract, and 1 cup of water and mix until no lumps remain. Divide the cake batter into three separate bowls. Tint each batter with a different color of gel food coloring (either pink, purple, or green), adding as much as you need until the desired shade is reached.
Fill the cones with batter, alternating between the three colors, until they're halfway full (because the batter will expand as it bakes). Using a skewer in an up-and-down motion, marble the batter in each cone two to three times. Bake until a toothpick inserted in the center of a cupcake comes out clean, or about 14 to 16 minutes. Let them cool completely.
While the cupcakes bake, microwave the pink, purple, blue, and green melting candy wafers in four separate microwave-safe bowls (one color in each bowl) for 30 seconds, then stir. Continue heating for five to 10 seconds at a time, stirring until they're completely melted and smooth.
Pour the melted candy wafers into mermaid tail silicone molds, alternating between colors to create a marbled effect. Place them in the freezer for six to eight minutes to set. Continue the process until you have enough mermaid tails.
Spread blue frosting on top of the cooled cupcakes, and press a mermaid tail into the center of each one, about 1/4 inch into the frosting.
Information
Category

Desserts, Cupcakes

Cuisine

North American

Yield

Yields 16-18 cones