Mini Funfetti Cookie Cakes
Celebrate Every Birthday With This Insanely Cute Mini Funfetti Cake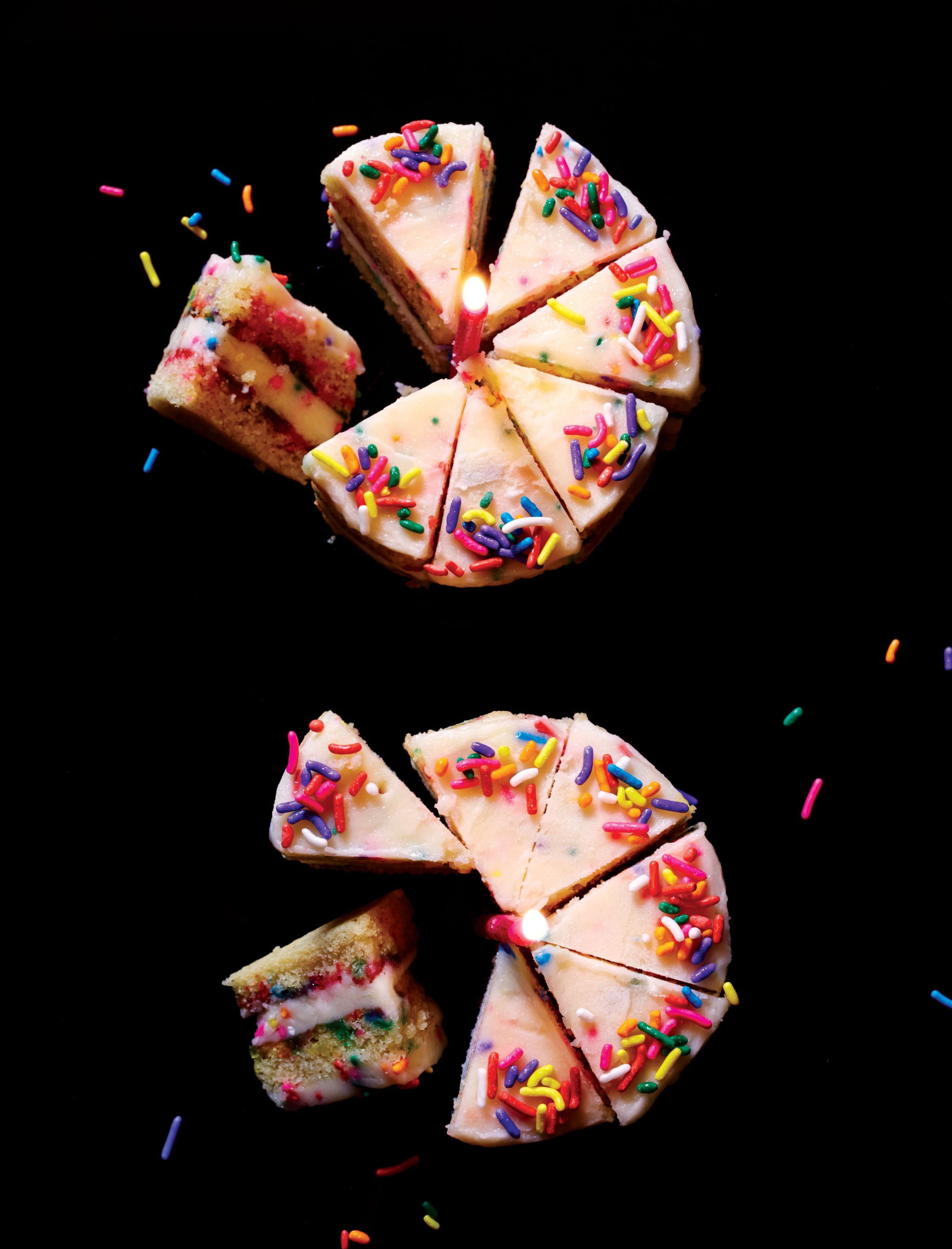 Chances are, you've had a birthday party and have been too stuffed to have more than a tiny slice of cake. This buttercream-frosted Funfetti dessert takes care of that problem with its insanely cute bite-size wedges, big enough to offer a sweet indulgence but small enough not to make you feel sick on sugar. Get the recipe for it — along with other party-ready treats — with Party Food ($35) by Peter Callahan.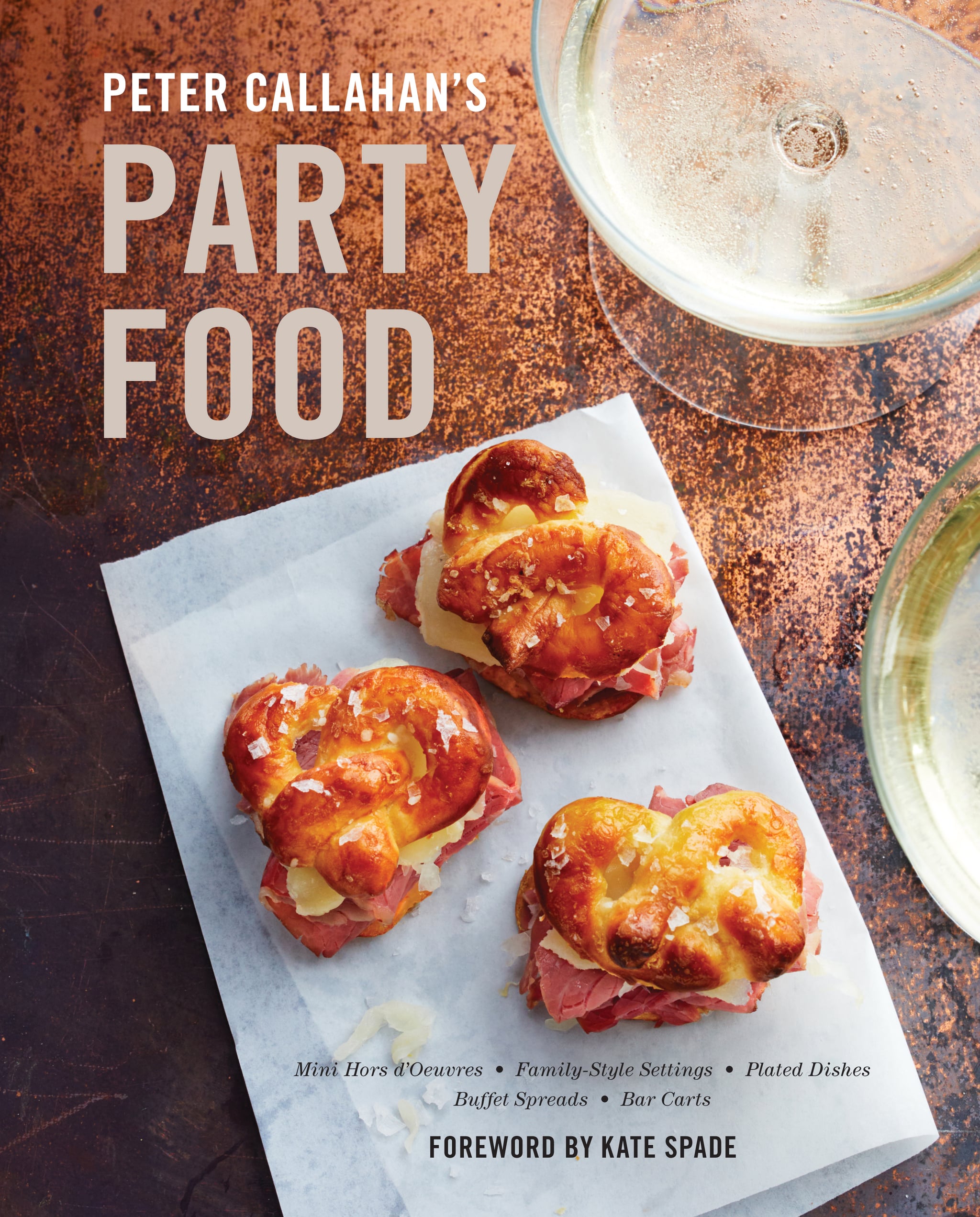 Mini Funfetti Cake With Funfetti Frosting
From Party Food by Peter Callahan
Notes
Many of my clients are very wealthy people who can have anything they want, but guess what they love for dessert? They want cake like Mom made out of a Duncan Hines box! So when we make cakes, people say, "Oh my god, I haven't tasted a cake like this in years!" That's because it's just like the ones my mother used to make.
That was the inspiration for this hors d'oeuvre. For years I had talked about wanting to do this kind of cake, and over and over, we tried to do a mini round cake, but it looked too abstract, not like a cake at all. Finally one day I realized it needed to be a wedge. So now we make a midsize layer cake and cut it into bite-size wedges, and it's perfect. Everyone loves cake, but now you have room to try lots of other small desserts. If it's someone's birthday, we'll put little candles on that person's piece or mini sparklers on a few pieces. This dessert can also be made using a favorite cake such as red velvet with cream cheese frosting or yellow cake with vanilla frosting.
Note: Place the assembled cakes in the freezer for at least 20 minutes to facilitate cutting.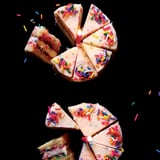 Ingredients
For the Funfetti cake:
1 pound (4 sticks) unsalted butter, softened, plus more for the pan
3 1/3 cups sugar
3 tablespoons pure vanilla extract
1 1/2 teaspoons coarse salt
4 1/3 cups cake flour
2 teaspoons baking powder
12 large egg whites
1 1/2 cups milk, at room temperature
3 cups rainbow sprinkles
For the Funfetti buttercream frosting:
1 pound (4 sticks) unsalted butter, softened
3 cups confectioners' sugar
2 teaspoons coarse salt
1 tablespoon pure vanilla extract
2 cups rainbow sprinkles
Directions
To make the cake: Preheat the oven to 350°F. Lightly grease an 18×13-inch baking sheet and line it with parchment.
In a stand mixer fitted with the paddle attachment, cream the butter, sugar, vanilla, and salt on medium speed until fluffy, 6 to 7 minutes. Gradually add the flour and baking powder and mix on medium speed until smooth, about 4 minutes. Add the egg whites and mix on medium speed until well combined, about 4 minutes. Scrape down the sides of the bowl and add the milk, mixing on medium speed until combined, about 2 minutes. Remove the bowl from the mixer and fold in the sprinkles.
Pour the batter into the prepared baking sheet. Bake until the cake is golden brown and starts to pull away from the sides of the pan, about 25 minutes. Let the cake cool in the pan for 10 minutes, then carefully invert the cake over a cooling rack and let cool completely. Peel off the parchment.
To frost the cake: In the clean bowl of a stand mixer fitted with the paddle attachment, cream the butter and sugar at low speed until fluffy, 6 to 7 minutes. Increase the mixer speed to medium and add the salt and vanilla extract. Mix until combined, about 2 minutes.
Cut 4-inch circles of cake from the sheet. (You should have 12.) Spread 6 circles with buttercream. Top with the remaining 6 circles and frost the tops (but leave the sides bare). Sprinkle the tops with the rainbow sprinkles. When ready to serve, cut each circle into 8 wedges.
Reprinted from Peter Callahan's Party Food. Copyright © 2017 by Peter Callahan. Photography copyright © 2017 by Con Poulos. Published by Clarkson Potter/Publishers, an imprint of Penguin Random House, LLC.
Information
Category

Desserts

Cuisine

North American

Yield

Makes about 48
Image Source: Con Poulos