Apple pie might be the quintessential American dessert, but peach pie also deserves a shot at the title. What's not to like about fragrant, tender peach pie filling nestled inside a flaky crust? Though it's tough to improve a classic, this recipe adds a new dimension by turning the usual pie into handheld pops. You've gotta love a portable dessert!
We've partnered with Gold Peak to help you host the ultimate party for your friends and family.
Miniature Peach Pie Pops
Original Recipe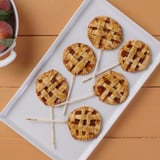 Ingredients
Peach Pie Filling:
2 cups finely chopped peaches
1 tbsp. unsalted butter
1 tbsp. ground cinnamon
⅛ tsp. salt
¼ cup sugar
1 tbsp. arrowroot powder
3 tbsp. lemon juice
Crust
2 sheets pre-made pie crust, defrosted
Egg wash
Brown sugar
Directions
Preheat the oven to 450 degrees. Line one baking sheet with parchment paper.
Add peaches, butter, cinnamon, salt, and sugar to a nonstick skillet over medium heat. Cook, stirring occasionally, until peaches are tender. Add arrowroot powder and lemon juice, and cook until the mixture has thickened. Remove from heat and allow to cool.
While the peach filling cools, roll out the pie crust. Using a three-inch round cookie cutter, cut out six circles and transfer to the baking sheets. Press the cookie sticks halfway into each circle. Scoop a heaping tablespoon of pie filling onto each circle. Brush the outside edge with egg wash.
Cut the other sheet of pie crust into 36 ½-inch-wide strips. Arrange six strips on top of each pie pop in a lattice design. Press the edges firmly into the bottom crust with your fingers, then score the edges with a fork.
Brush the top of the lattice with egg wash and sprinkle with brown sugar. Bake for 20 minutes until the crust is golden brown. Allow the pops to cool completely before removing from the baking sheet.
Information
Category

Desserts