Source: POPSUGAR Photography / Tom Medvedich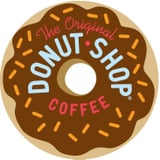 We've partnered with The Original Donut Shop® Coffee to help you #havemorefun with your coffee break by adding a rich, sweet slice of mocha red velvet cake that will pair perfectly with your java.
A traditional Southern recipe, red velvet cake owes its rich, satisfying taste to a hint of cocoa. In order to kick this classic cake up a notch, we added a splash of delicious The Original Donut Shop® Coffee Regular to create a complex mocha flavor that will appeal to foodies and coffee-lovers alike.
Mocha Velvet Cake
Original Recipe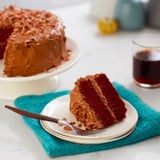 Ingredients
1 can nonstick cooking spray
1 roll parchment paper
1/3 cup plus 1 teaspoon The Original Donut Shop® Coffee Regular, room temperature
1 cup coconut oil
1 cup coconut sugar
1/4 cup honey
2 teaspoons vanilla
2 eggs
1 teaspoon salt
3/4 teaspoon baking soda
3 tablespoons unsweetened cocoa powder
3/4 teaspoon baking powder
2 cups cake flour
3/4 cup coconut milk
1 teaspoon apple cider vinegar
1 bottle red food dye
Frosting:
6 ounces cream cheese
1/2 cup softened ghee
1 3/4 cups powdered sugar
Directions
Make The Original Donut Shop® Coffee, and set in the refrigerator until room temperature.
Preheat oven to 350 degrees. Coat 2 8-inch cake pans with a fine layer of cooking spray, and line with parchment paper. Set aside.
Blend coconut oil, coconut sugar, honey, and vanilla. Add eggs one at a time until fully blended. Set aside in a bowl.
In a separate bowl, mix salt, baking soda, cocoa, and baking powder. Add flour gradually until all dry ingredients have been blended. Add the dry ingredient mixture to the wet ingredient mixture, blending until fully combined. Add coconut milk, apple cider vinegar, and coffee. Finally, add in drops of red food coloring until the desired shade of red is reached. Split batter evenly between the 2 pans.
Bake for 25-30 minutes, or until a fork comes out clean.
Remove both cake tins from the oven, and set aside to cool. Once the cakes have cooled, remove from pans. If the cake you have selected for your first layer has an uneven surface, use a sharp knife to carefully and gently cut a thin layer from the top until you are left with an even, level surface.
With a handheld mixer or stand mixer, blend together all frosting ingredients on low speed until fluffy.
Ice the top of the cake with your frosting, and subsequently add the second layer before frosting it as well. Frost the sides and top of the cake to your desired density of icing.
Enjoy a slice of your mocha velvet cake alongside a steaming cup of coffee!
Information
Category

Desserts

Cuisine

North American
Image Source: POPSUGAR Photography / Tom Medvedich