Oatmeal Apple Cookies
A Fall Twist on the Basic Oatmeal Cookie
You'll never want a boring oatmeal raisin cookie again after you try these festive, Fall caramelized apple oatmeal cookies from Liv for Cake.
An apple crisp in cookie form! These caramelized apple oatmeal cookies are packed with apple cinnamon flavor.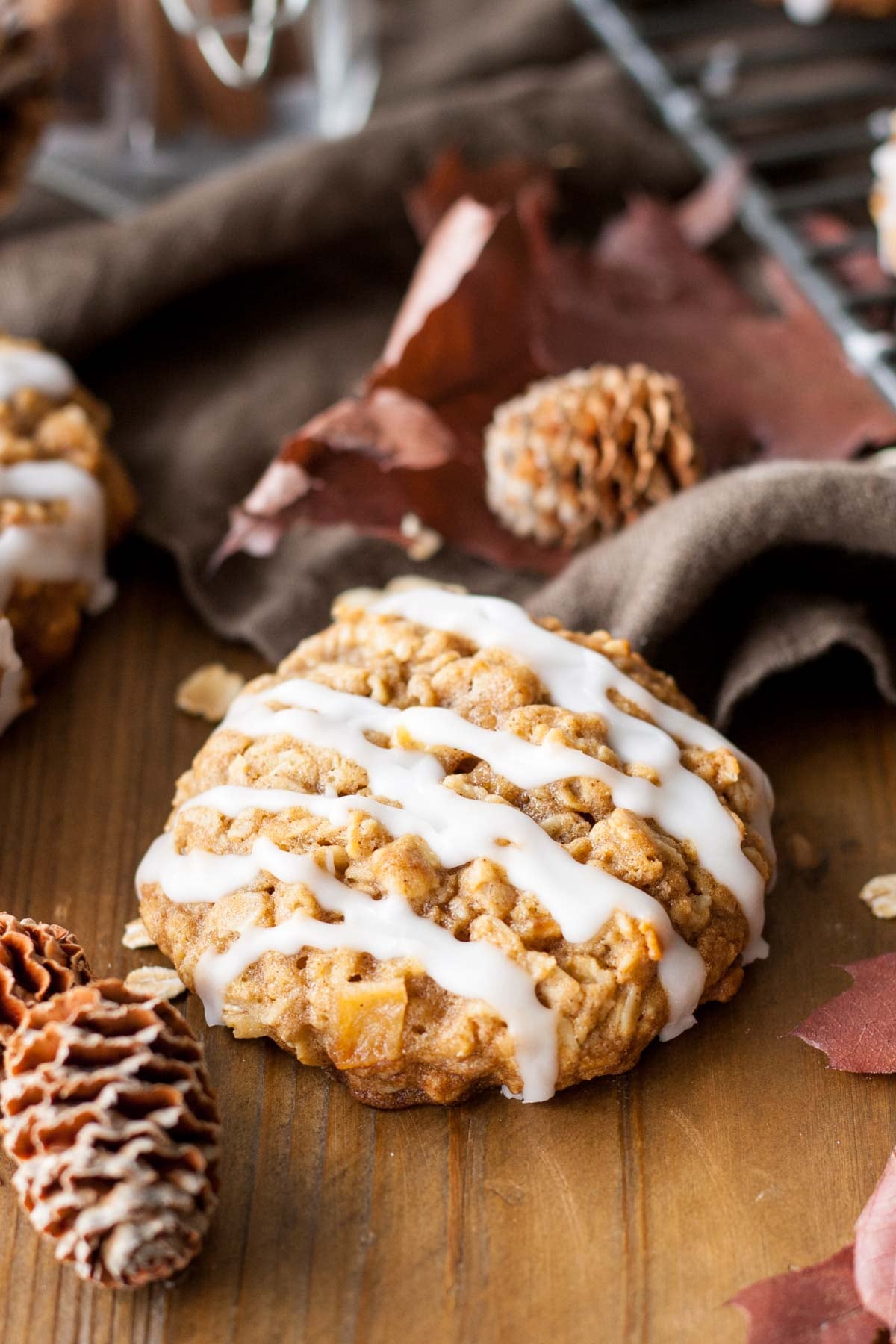 Fall is in full swing and I am loving every minute of it. As I type this, it's dark and rainy outside, the trees are changing color, and there are pumpkins everywhere. Love it! Ryan thinks I'm crazy, of course, loving the gloomy weather, but to me it is the ultimate in coziness. All I need is a blanket, a book, some hot tea in my favourite pumpkin mug, and the fire going. Except that we have an electric fireplace, which kinda sucks, and I don't actually have time to read. Nevertheless, I still love it. And I love Fall baking!!
This week's Fall-themed recipe is these caramelized apple oatmeal cookies that are basically like an apple crisp in cookie form.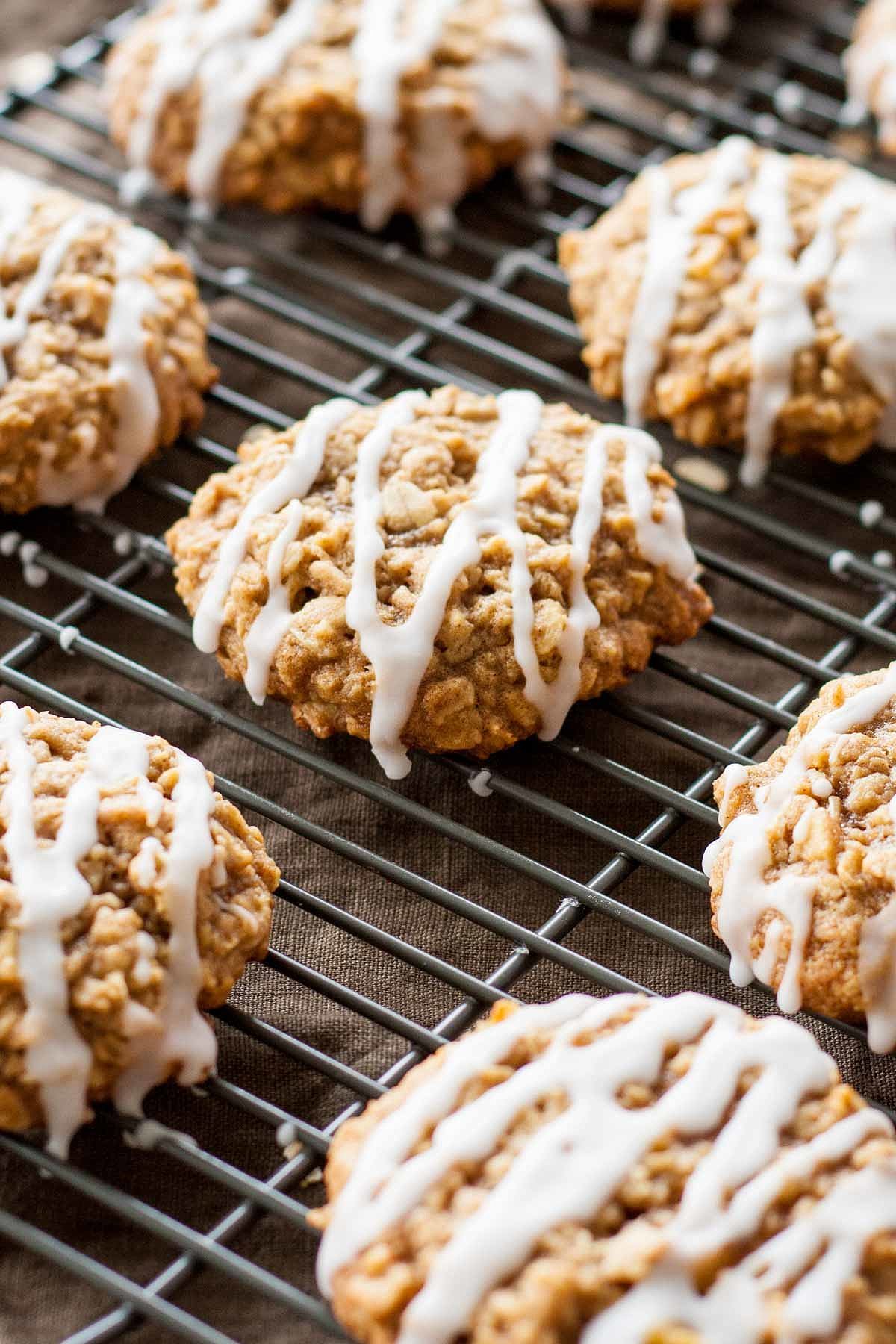 These were a bit of an experiment to be honest. Instead of just using applesauce or dried apples for flavor, I wanted to include chunks of fresh apple. Mostly because I already had some sitting on the counter waiting to be used. Apples release a lot of moisture when cooked, and I was worried they would ruin the cookies when baked, so I decided to cook out some of that moisture before putting them into the batter.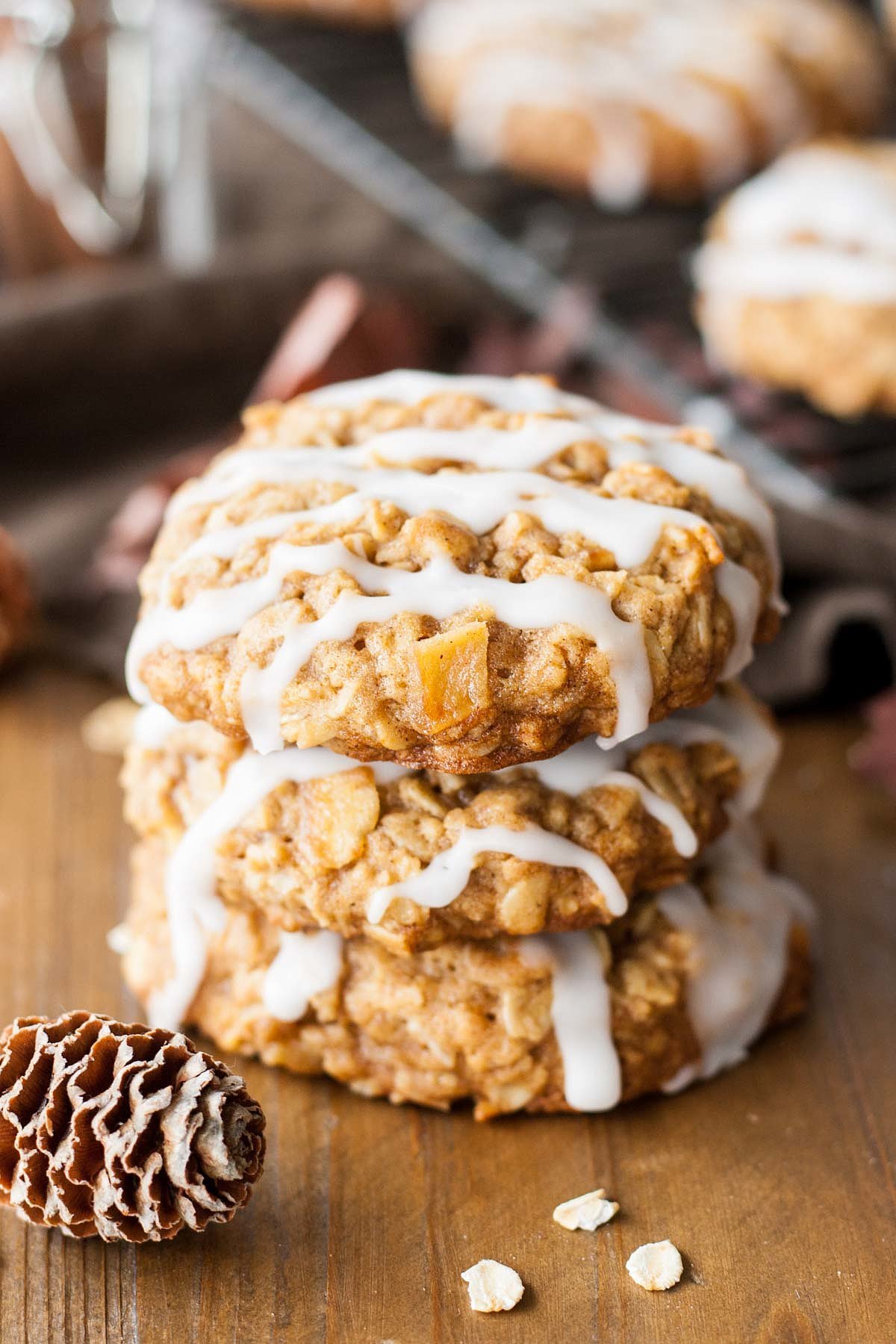 I diced up 2 medium Granny Smith apples (but any good baking apples will do) and caramelized them with some butter and sugar. This helped get some of the moisture out, and the caramelization added a ton more flavor too! I used my oatmeal chocolate chip cookie recipe and basically just swapped the chocolate chips for apple chunks. I am grateful that they turned out perfect.
The chunks of fresh apple in these cookies really add great texture and flavor, but you could use dried apples instead and skip the whole caramelization part.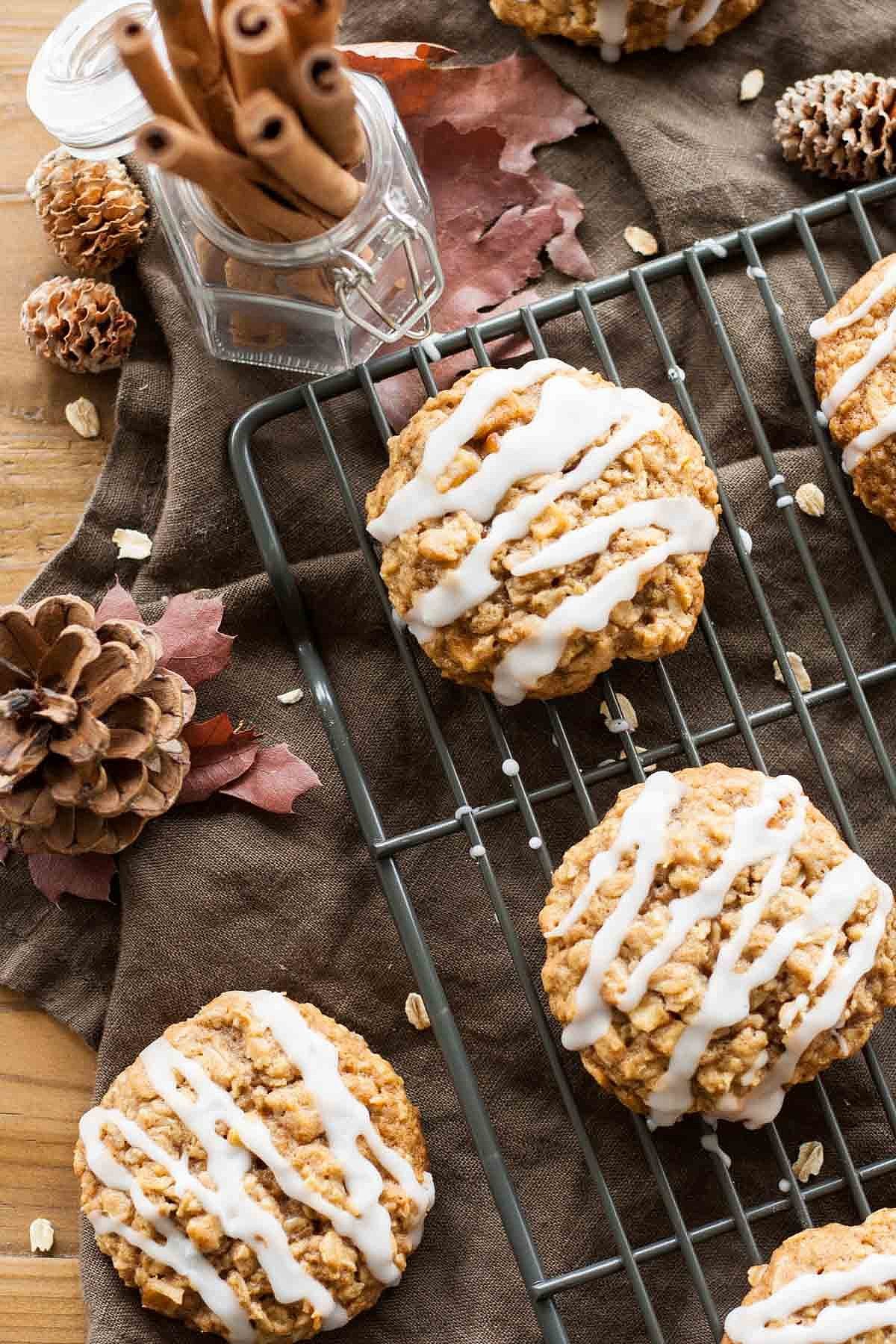 A simple sugar glaze finishes off these pretty apple oatmeal cookies. If you love apple crisp — and who doesn't? — you will love these cookies!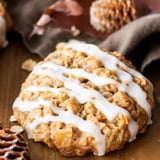 Ingredients
Caramelized Apples
2 teaspoons butter
4 teaspoons light brown sugar
2 cups granny smith apples (approx. 2 medium) peeled and diced
Cookie Dough
1 1/2 cups all-purpose flour
1 teaspoon cinnamon
1 teaspoon baking soda
1/2 teaspoon salt
1 cup butter (room temperature)
1 cup light brown sugar (packed)
1/4 cup granulated sugar
2 large eggs (room temperature)
2 teaspoons vanilla
3 cups rolled oats
Glaze
1 cup powdered sugar
1 tablespoon water
Directions
For the apples: Place butter, sugar, and diced apples into a medium frying pan. Cook over med-high heat, stirring occasionally, until tender and golden. Spread out on a paper towel to cool.
For the cookie dough: In a medium bowl, whisk flour, cinnamon, baking soda, and salt. Set aside.
In the bowl of an electric mixer, beat butter and sugars on med-high until pale and fluffy (approx. 3 minutes).
Add eggs one at a time, fully incorporating after each addition, and beat on high for 1 minute. Add vanilla.
Turn mixer to low and add flour mixture, mix until combined. Add oats.
Fold in caramelized apples and mix until just combined.
Chill dough in the fridge for at least an hour.
Preheat oven to 350°F and line a baking sheet with parchment or a Silpat.
Using a medium cookie scoop, place cookies on baking sheet 2" apart. I did 6 cookies per sheet.
Bake for 12-15 mins or until edges are browned but center is still soft and unset.
Cool for 5 minutes on baking sheet, then transfer to cooling rack to cool completely.
For the glaze: Combine sugar and water in a bowl or measuring cup. Drizzle over cooled cookies with a spoon.
Information
Category

Desserts, Cookies

Cuisine

North American

Yield

24 cookies

Total Time

14 minutes, 59 seconds