Peanut Butter & Jelly Cupcake Recipe
Simple and Sweet Peanut Butter and Jelly Mini Cupcakes
School lunches never tasted as sweet as these creamy PB&J-swirled cupcakes. We've combined two of our favorite nostalgic flavors into a cupcake, complete with a swirly top.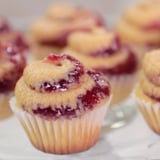 Ingredients
For the cupcakes:
1 box yellow cake mix, like Betty Crocker Super Moist
1 1/4 cups water
3/4 cup creamy peanut butter
1/4 cup vegetable oil
3 eggs
For the frosting:
1/2 cup heavy cream
6 ounces cream cheese
1/3 cup confectioners' sugar
1/2 teaspoon salt
1 cup creamy peanut butter
1/2 teaspoon vanilla extract
For the filling:
1 cup grape or strawberry jam
Directions
To make cupcakes: Preheat the oven to 350ºF and place mini baking liners in

mini muffin

tins.
In a large bowl, beat together cake mix, water, peanut butter, vegetable oil, and eggs until combined. Divide batter into mini cupcake wells, filling each well about 2/3 full. Bake for 12 to 15 minutes, or until a toothpick inserted comes out clean. Transfer cupcakes to a wire rack to cool.
To make frosting: Meanwhile, in the bowl of a stand mixer fitted with the whisk attachment, or using a hand mixer, whisk heavy cream until soft

peaks

form.
In another large bowl, beat together cream cheese, confectioners' sugar, salt, peanut butter, and vanilla on medium speed, until combined. Then carefully fold the whipped cream into the peanut butter icing until smooth and fluffy.
To assemble cupcakes: Fit a piping bag with a star tip, then fill the bag with jam. Inject the tip into the center of each cupcake and squeeze to fill the center of the cupcake with jam, just until it swells but does not overflow.
Into a second piping bag, fill grape jam on one side and peanut butter frosting on the other side. Pipe frosting into a swirl on each cupcake. Let cupcakes set in the fridge for about 15 minutes before serving.
Information
Category

Desserts, Cupcakes

Cuisine

North American

Yield

24 mini cupcakes