Portobello Mushroom Veggie Burger Recipe
Portobello Mushroom Veggie Burgers That Even Meat-Eaters Will Love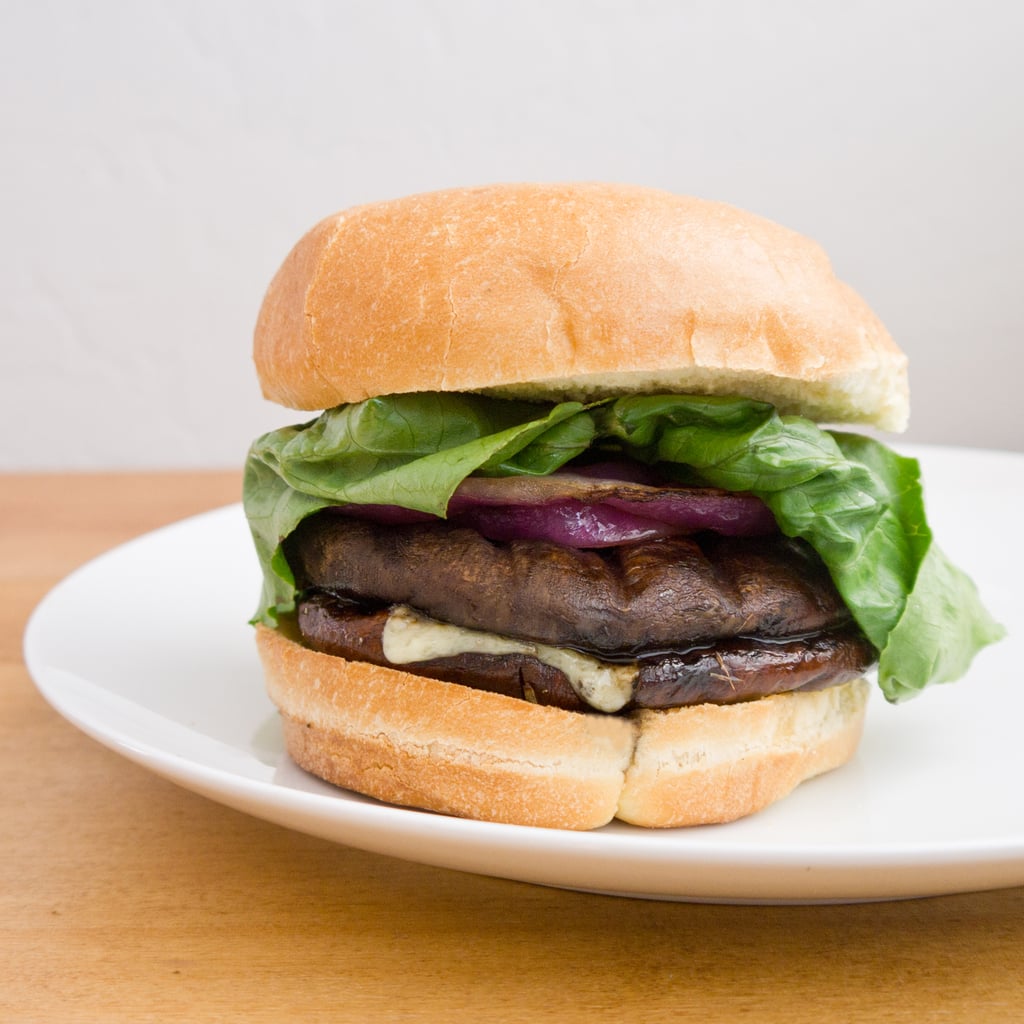 You can never have too many burger recipes, and this one is perfect for those wanting a lighter version. And it's also a mouthwatering option for vegetarian guests at your next barbecue. The combination of balsamic, earthy mushroom, grilled red onion, and bubbling gruyère is so decadent and satisfying — you might find your meat-eating friends noshing on these instead!
These burgers are delicious charred over a charcoal grill with a cold beer during the Summer, but also taste fabulous during cooler months when cooked on an indoor grill pan. The caramelized flavors are so rich paired with a brioche bun.
Balsamic Portobello Burgers
From Sarah Lipoff, POPSUGAR Food
Notes
Serve alongside your favorite salad or a handful of chips for a dinner in less than 20 minutes.
Ingredients
1/4 cup olive oil
1/4 cup balsamic vinegar
1/4 teaspoon oregano
Coarse salt and ground pepper
4 slices red onion
8 portobello mushrooms (about 1 pound total), stems removed
4 brioche hamburger buns
4 slices gruyère cheese
4 lettuce leaves
Directions
In a bowl, whisk together the oil, vinegar, oregano, and a dash of salt and pepper. Toss the mushrooms several times in the marinade to fully coat. Marinate at room temperature for 30 minutes or up to 2 hours.
Lightly oil grates, and heat your grill to medium. If using charcoal, you can toss the portobello burgers over nice, hot coals. Or, if using a grill pan, preheat on high for 2 minutes. Grill mushrooms, covered, 3 to 4 minutes per side, or until lightly charred and tender. If using a grill pan, cook for 5 minutes per side, then flip.
Slice 4 rounds from the red onion and dip in the remaining portobello marinade while holding the rings together. Place each round flat on the grill and cook alongside the portobellos for 3 to 4 minutes on each side.
Top 4 of the 8 portobellos with a slice of gruyère and cover until cheese is melted. If using a grill pan, cover with tinfoil to help the cheese get gooey.
Assemble the burgers in this order: bottom bun, lettuce leaf, a slice of grilled red onion, gruyère-topped portobello mushroom (cheese side up), another portobello (cap side up), top bun.
Information
Category

Other, Main Dishes, Sandwiches

Cuisine

North American

Yield

4 burgers