Source: POPSUGAR Photography / Sarah Lipoff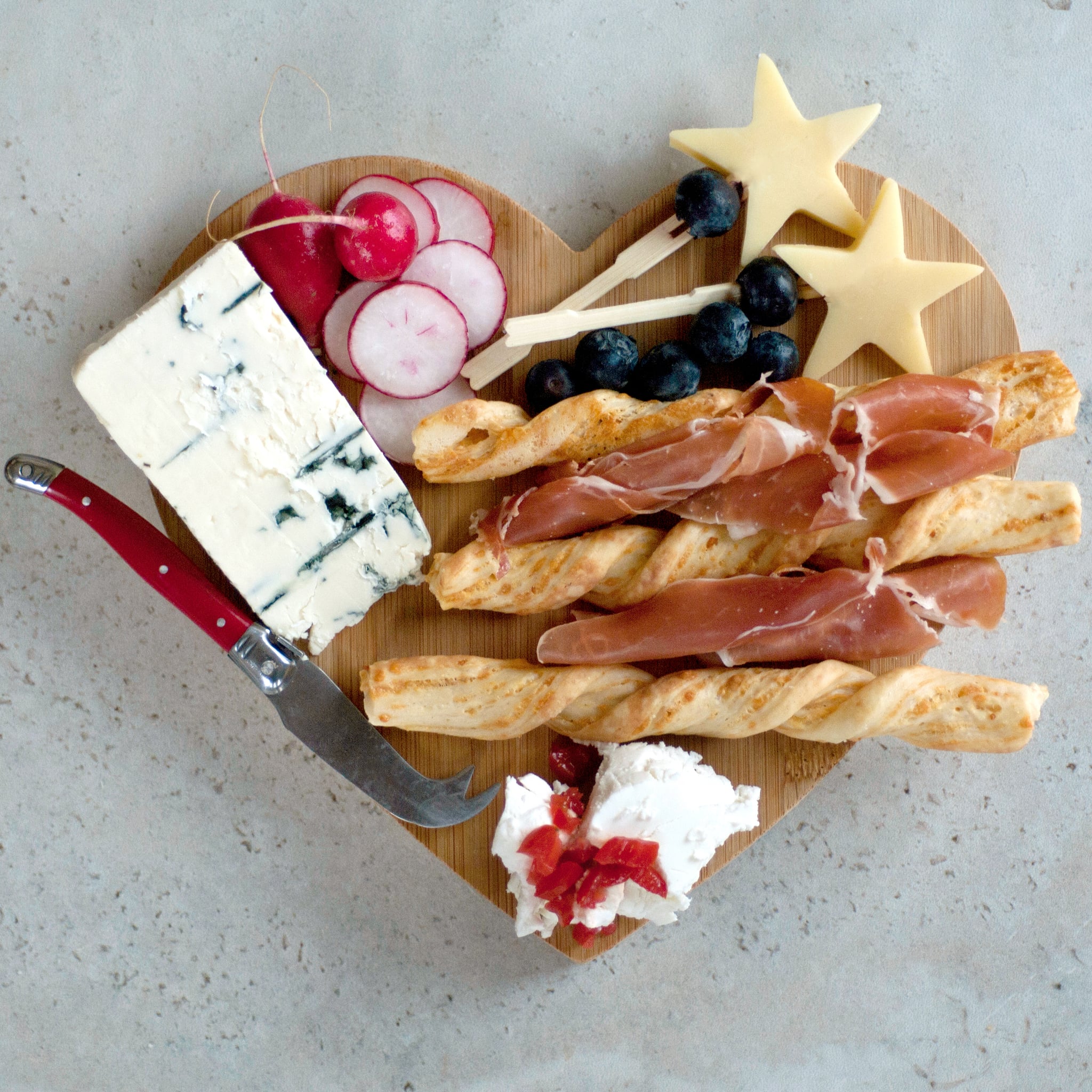 A cheese plate is a stunning way to create an appetizer, which is why we partnered with POPSUGAR Must Have for this post. Sign up for POPSUGAR Must Have now for a monthly treat to surprise and delight you.
I love a good cheese plate. It's a flavorful combination of meats, cheeses, and other small bites that blend together into a cohesive tray of creamy goodness. A cheese platter is also a great way to create a really stunning appetizer for your next party. Get creative with cookie cutters and play around with color combinations for an inviting plate. And I had the perfect base for the platter — a heart-shaped Acme cutting board.
Party Cheese Plate
From Sarah Lipoff, POPSUGAR Food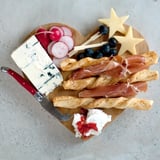 Ingredients
1 box of cheese sticks
1/4 pound prosciutto
1 6-ounce brick of gruyère cheese
1/4 cup blueberries
6 radishes
1 4-ounce log goat cheese
1/4 cup cherry tomatoes, chopped
1 6-ounce wedge Stilton blue cheese
Directions
Start by cutting thick slices of gruyère cheese, and then create stars with a metal cookie cutter until the cheese is gone. Set aside.
Position 3 or 4 of the cheese sticks horizontally on 1 side of the heart cutting board, and then roll a piece of prosciutto and place alongside each of the cheese sticks.
Place the wedge of blue cheese at the other side, with the blue veins making more lines on the platter.
At the base of the cheese platter, place the log of goat cheese and top with a sprinkling of the cherry tomatoes.
Slice the radishes and tuck next to the blue cheese, or leave small radishes whole for snacking. Sprinkle with salt.
Using toothpicks, add to the stars of cheese by threading 1 or 2 blueberries on a toothpick and then finish with a gruyère star.
Make extra stars, rolls of prosciutto, and slices of radishes so you can replenish the cheese plate during party.
Information
Category

Other, Appetizers

Cuisine

North American

Yield

1 cheese plate

Total Time

9 minutes, 59 seconds
More from POPSUGAR Must Have
Unwrap fabulous surprises from food, fitness, beauty, fashion, home, and more every month with your own POPSUGAR Must Have subscription!

Image Source: POPSUGAR Photography / Sarah Lipoff