Pumpkin Spice Snowball Recipe
These Pumpkin Spice Snowballs Will Be Your New Favorite Holiday Cookie
This festive Fall cookie recipe from Crazy for Crust is about to make your Halloween extra sweet.
Pumpkin spice snowballs are going to be this season's BEST cookie recipe, I promise you that!
Snowballs, Russian teacakes, wedding cookies, whatever you call them, I love them. These are my mom's favorite cookie; she makes them over and over all year long. I make them over and over again too, but with new flavor variations. cake batter, chocolate, stuffed, chocolate chip, you name it, I've made it. (And I have sooooo many more flavor ideas!)
I decided to do my own tinkering with pumpkin spice. I've added pumpkin spices to cookies and hot chocolate before, but now I'm adding them to snowballs.
That's a good decision, don't you think?

This recipe could not be easier. It's one bowl, no chill time, just mix it all up. My mom uses a hand mixer, I use a stand mixer. Use what you have! Simply adding some pumpkin spice warms the flavor of the cookies so much.
So, what is pumpkin spice? It's a combination of cinnamon, ginger, allspice, and nutmeg. And it's so good! I like to use the individual spices, but if you have pumpkin pie spice, you can use that too (about 1 teaspoon) instead.
Simply mix up the easy cookie dough recipe and scoop little balls of snowball cookie. Once they're baked you roll them in powdered sugar mixed with cinnamon for even more warm fall flavor.
You've read the recipe right — there is no actual pumpkin in these cookies, just pumpkin spice. But they taste just like a pumpkin cookie would — after all, pumpkin really has no flavor. Why else do we add pumpkin spice to every pumpkin recipe?
Notes
Please use REAL butter. I use unsalted and add 1/2 teaspoon of salt. If you're using salted butter, use 1/4 teaspoon of salt. Do not substitute margarine or butter spread.
Do not overmeasure the flour! Use a spoon to fill the measuring cup, do not pack it.
If you only have pumpkin pie spice, omit the cinnamon, ginger, allspice, and nutmeg in the recipe and use 1 teaspoon pumpkin pie spice. Still use the cinnamon in the rolling mixture.
The dough shouldn't have to be chilled, but if it's too wet to scoop, chill it for 30 minutes. It just depends on how soft your butter is when you start.
I roll the warm cookies in the powdered sugar mixture and then once they're cool, before serving, I reroll them. That's optional but makes for an extrapowdery cookie!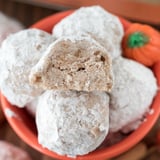 Ingredients
1 cup unsalted butter, softened
1 1/2 cups powdered sugar, divided
1 teaspoon vanilla extract
2 1/4 cups all purpose flour
1/2 teaspoon salt
2 teaspoons cinnamon, divided
1/2 teaspoon nutmeg
1/4 teaspoon ginger
1/4 teaspoon allspice
3/4 cup chopped nuts (pecans or walnuts work best)
Directions
Preaheat oven to 375ºF. Line two cookie sheets with parchment paper.
Mix butter, 1/2 cup powdered sugar, and vanilla with an electric mixer until fluffy. Add flour, salt, 1 teaspoon cinnamon, ginger, and allspice, and mix until the dough comes together. Stir in the nuts. If dough is too soft, chill it until you can work it easily with your hands.
Scoop 1-tablespoon balls of dough and place on prepared cookie sheet.
Bake cookies for 7-8 minutes until bottoms are just slightly brown. Remove from oven and cool for just a few minutes, until you can handle them.
Fill a small bowl with the remaining 1 cup powdered sugar and 1 teaspoon cinnamon and roll each cookie in the sugar until coated. Place on a rack to cool. (Once cookies are cooled, you may want to reroll them in more powdered sugar.) The added cinnamon in the rolling mixture is optional, but it amps up the fall flavor!
Store in an airtight container for up to 4 days or freeze for up to one month. (If you freeze them you'll need to reroll them in powdered sugar after defrosting.)
Information
Category

Desserts, Cookies

Cuisine

North American

Yield

48 cookies