Red Lobster's New Tasting Plates and Entrees
I Tried Red Lobster's New Menu and OMG, Here's What I'm Obsessed With

When it comes to seafood, the world really can be your oyster. We've partnered with
Red Lobster
to broaden your flavor horizons.
Seafood fans already know that Red Lobster is the obvious choice for craveable seafood favorites, mark-your-calendar events like Lobsterfest, Crabfest, and Endless Shrimp, and celebratory occasions. Also, can we talk about those Cheddar Bay Biscuits?
What you might not know, however, is that Red Lobster just dropped even more reasons to visit with the launch of a new menu that includes Tasting Plates and Globally-Inspired Entrees. It's a tough job, but somebody has to go eat all the delicious seafood for a living, so I volunteered to go sample some highlights and report my findings ahead. The number of Cheddar Bay Biscuits I brought home in my bag is frankly none of your concern.
As the saying (almost) goes, delicious things come in small packages — like Red Lobster's new Tasting Plates, which are conveniently priced in the "let's go nuts" range, from $2.99 to $6.99. These dishes pack big flavor onto small plates and can be enjoyed as additions to entrees or tapas style for lighter meals and group sharing. While you can't go wrong ordering the Shrimp Potstickers or the Dragon Broccoli, the following three dishes are the ones I'll be coming back for.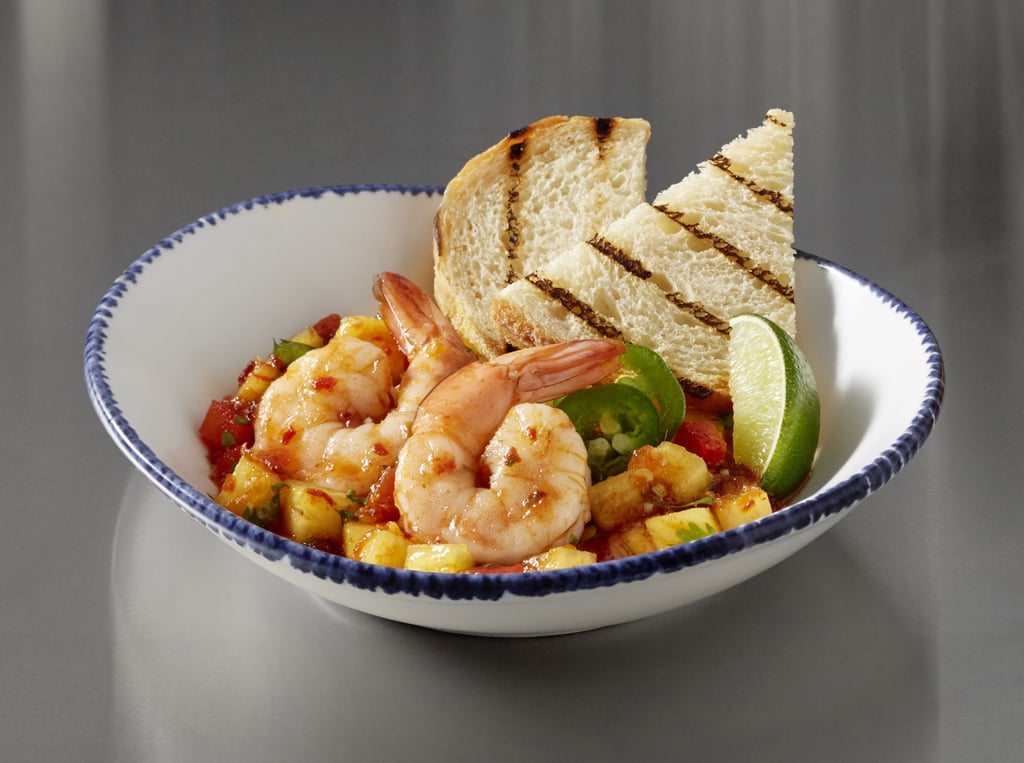 Yucatan Shrimp
Description: Two jumbo shrimp roasted in chili-lime butter with caramelized pineapple and topped with fresh jalapeños. Served with grilled artisan bread.
The Yucatan Peninsula separates the Caribbean Sea from the Gulf of Mexico, so think sunny, colorful, and spicy cuisine. Though habit dictated that I eat the lobster roll first (more on that later), this dish was my favorite and delivered on all points. It was spicy but balanced and arrived with plenty of sauce to sop up with biscuits or the accompanying artisanal bread. The only potential issue? You will not want to share, so your friend had better order their own.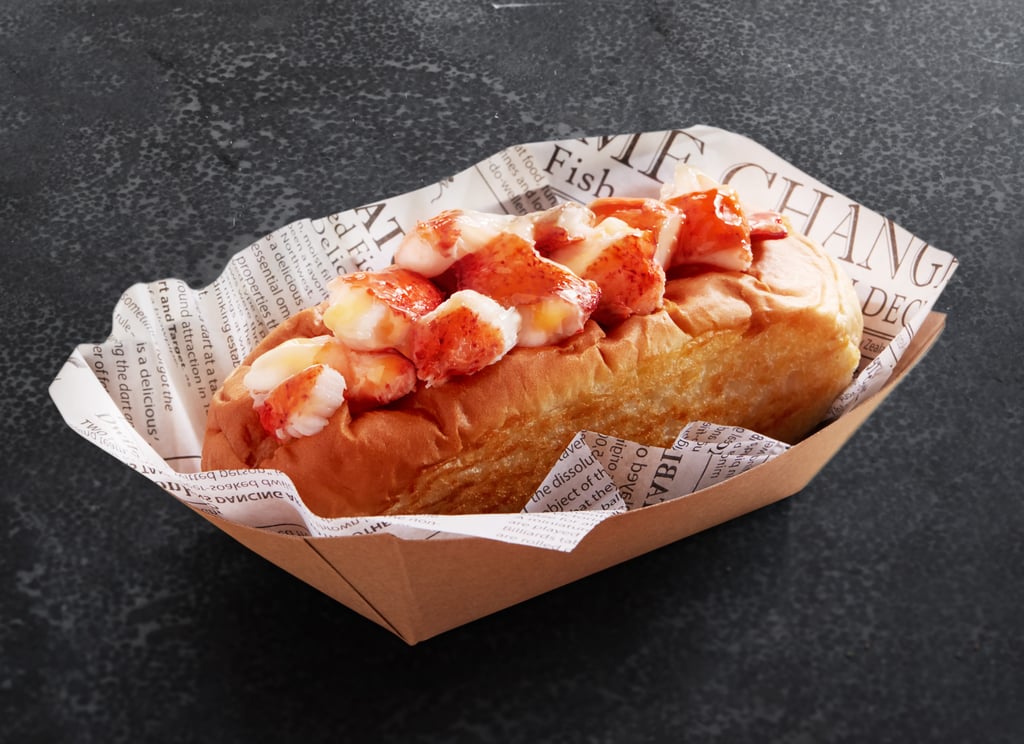 Petite Red Lobster Roll
Description: Warm, sweet Maine lobster meat served in a toasted roll and brushed with butter.
Red Lobster knows what we came here for, but committing to one dish when there are so many tempting menu options is tricky. Thankfully, this perfectly formed mini lobster roll lets you eat probably the best iteration of the sandwich ever and keep ordering. In case it wasn't already clear, I dream of lobster rolls. This buttery yet crisp and stuffed-to-perfection version will be entering the rotation.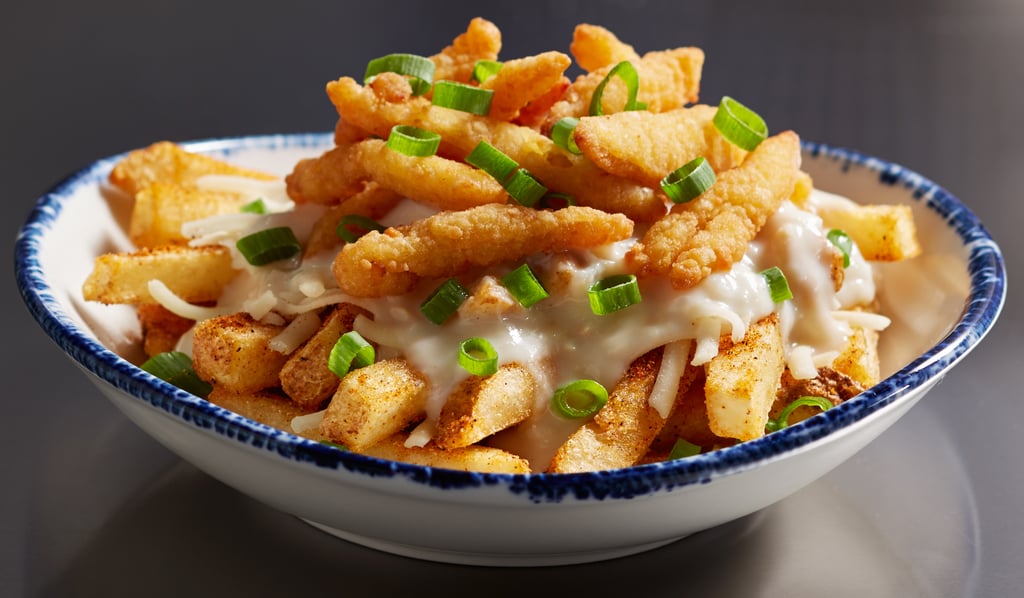 Loaded Seaside Fries
Description: Seasoned fries loaded with jack cheese, clam strips, and creamy clam chowder topped with green onions.
Oh, you think you've had loaded fries before? Prepare to laugh at that phrase forever after these. They're so packed that it's hard to know where to start — or stop, for that matter. Wherever you grab, you'll come away with some combination of fries that can hold their own (meaning zero sogginess) among all those seafoody extras. Win.
Globally-Inspired Entrees
Trade "What am I going to have?" for "Where would I like to go?" with entrees that feature flavors and preparations inspired by cuisines around the world. Yucatan Tilapia and Shrimp, Salmon New Orleans, and Pub-Style Fish and Chips are all coming to a Red Lobster table near you — along with these two other dishes (ahead) that I'm already obsessed with.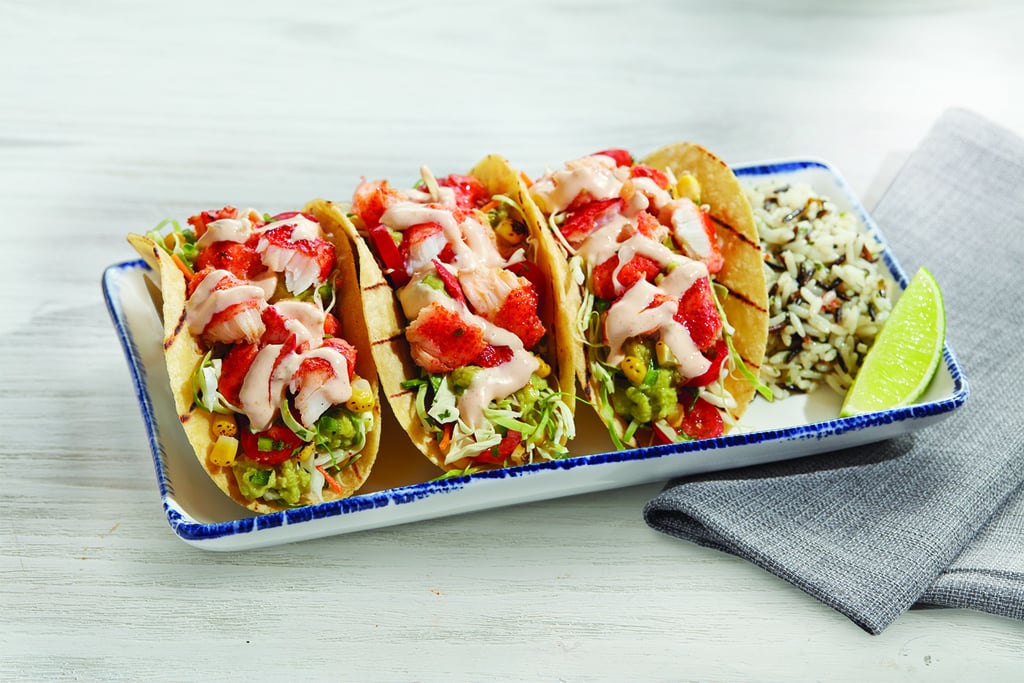 Southwest-Style Tacos
Description: Three wood-grilled golden tortillas, house-made fire-roasted corn and avocado salsa, and jalapeño ranch. Served with grilled shrimp, fresh tilapia, grilled chicken, or lobster meat.

After sampling so many dishes that I couldn't leave alone, I was beyond stuffed. But "one bite" of this taco trio quickly turned into "Um, where did that taco go?" I went with lobster, which was perfectly complemented by the creamy and mild but far from boring salsa. If you love avocados — which you absolutely should — adjust your Cheddar-Bay-Biscuits-to-other-menu-items ratio to save room for these.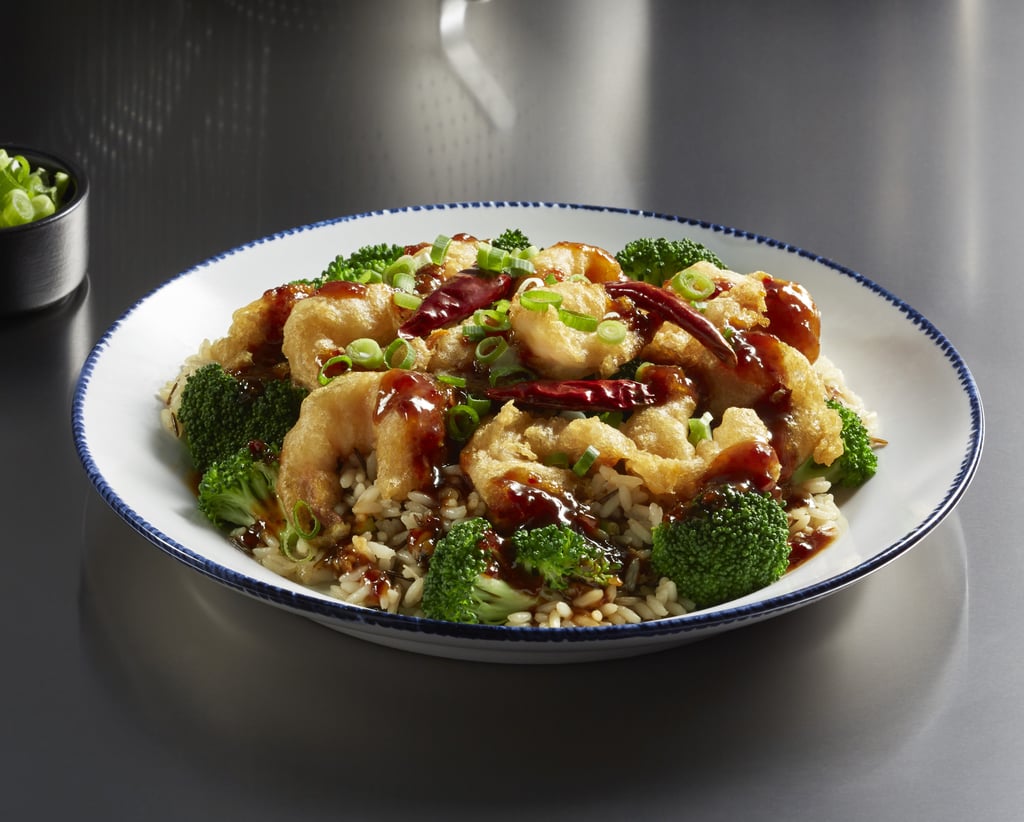 Dragon Shrimp
Description: Crispy shrimp tossed in spicy dragon sauce with fresh broccoli, served over rice. Topped with fried chili peppers and green onions.
This dish has a lot going on, and all of it is good. It's hearty without feeling overwhelming, and you can determine the spice level by how many of the dish's whole chilies you are willing to eat. If, like me, you sometimes find shrimp hard to "Winter-ize," this dish has the depth you crave on chilly days. Best of all, that healthy helping of broccoli is the perfect excuse to get dessert. Balance!
If you're looking for a flavorful seafood adventure, Red Lobster's new menu does not disappoint. Whether you're heading out for a celebration, casual night out with friends or date night, Red Lobster has you covered. Oh, and don't worry, the classic dishes that everyone knows and loves haven't gone anywhere!