S'mores Brownies
S'mores Brownies Are as Outrageously Decadent as They Sound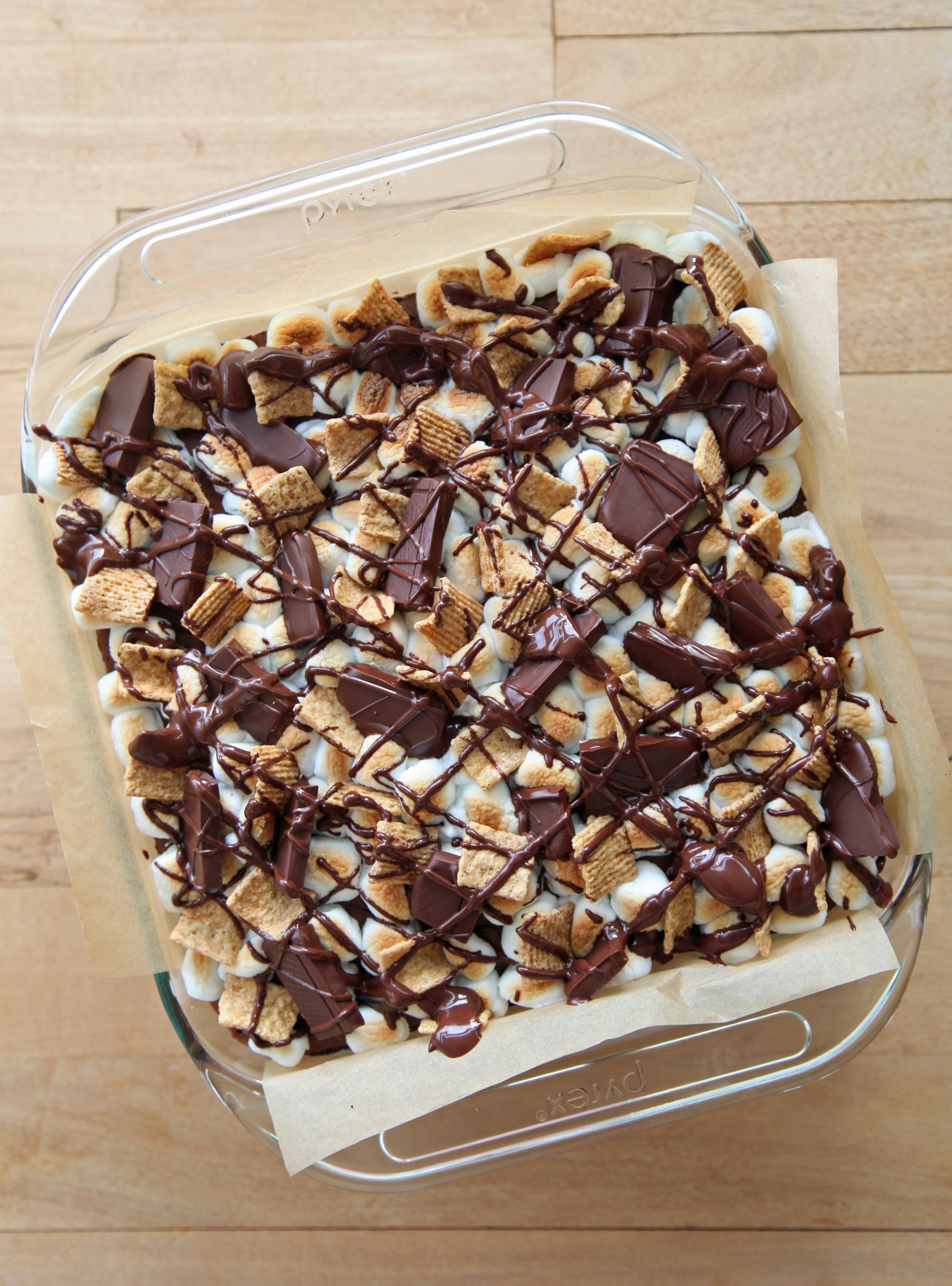 Is there a tastier dessert trio than toasted marshmallows, graham crackers, and milk chocolate? We think not! Combine these s'mores components with America's other dessert triumph, the brownie, and you have an undisputed home run.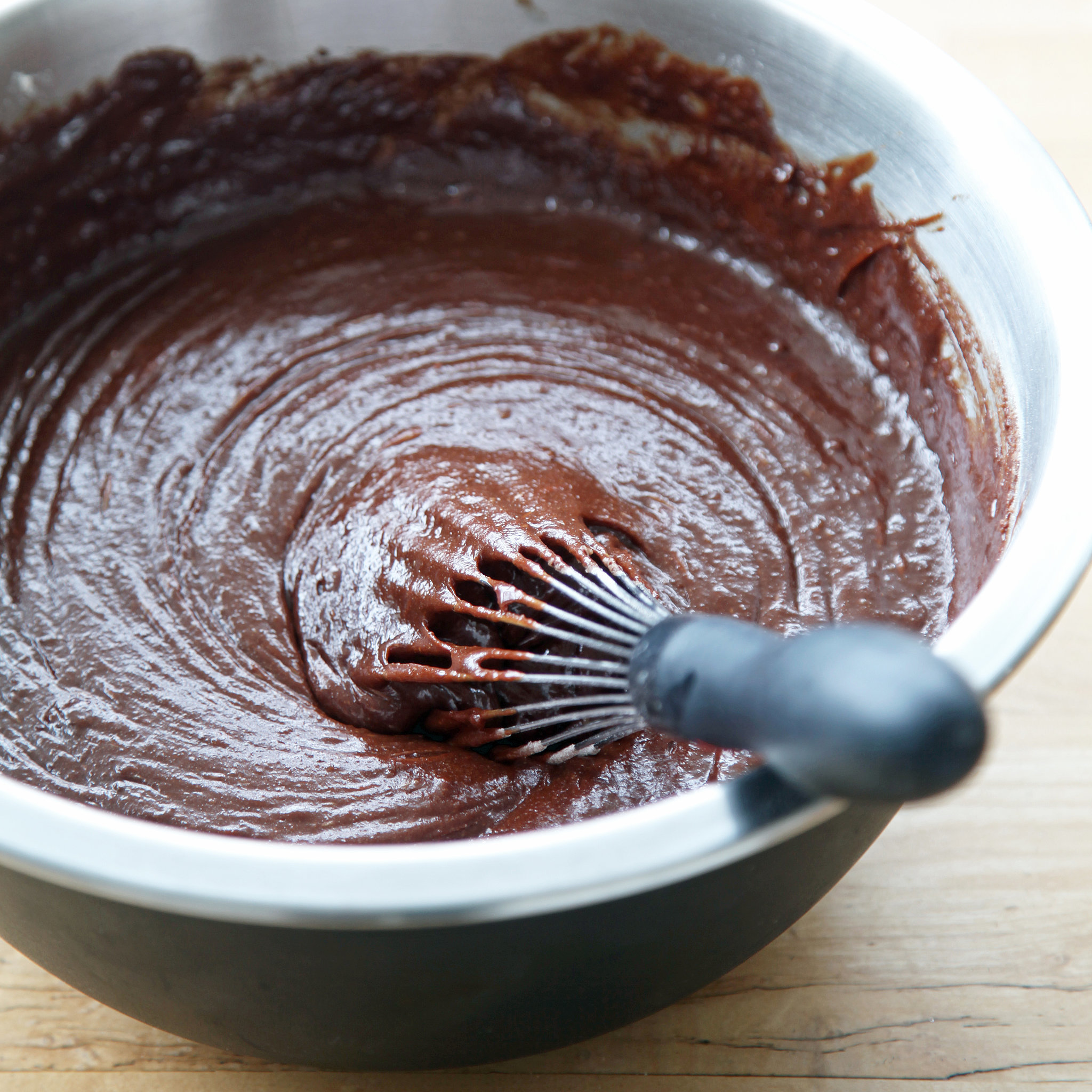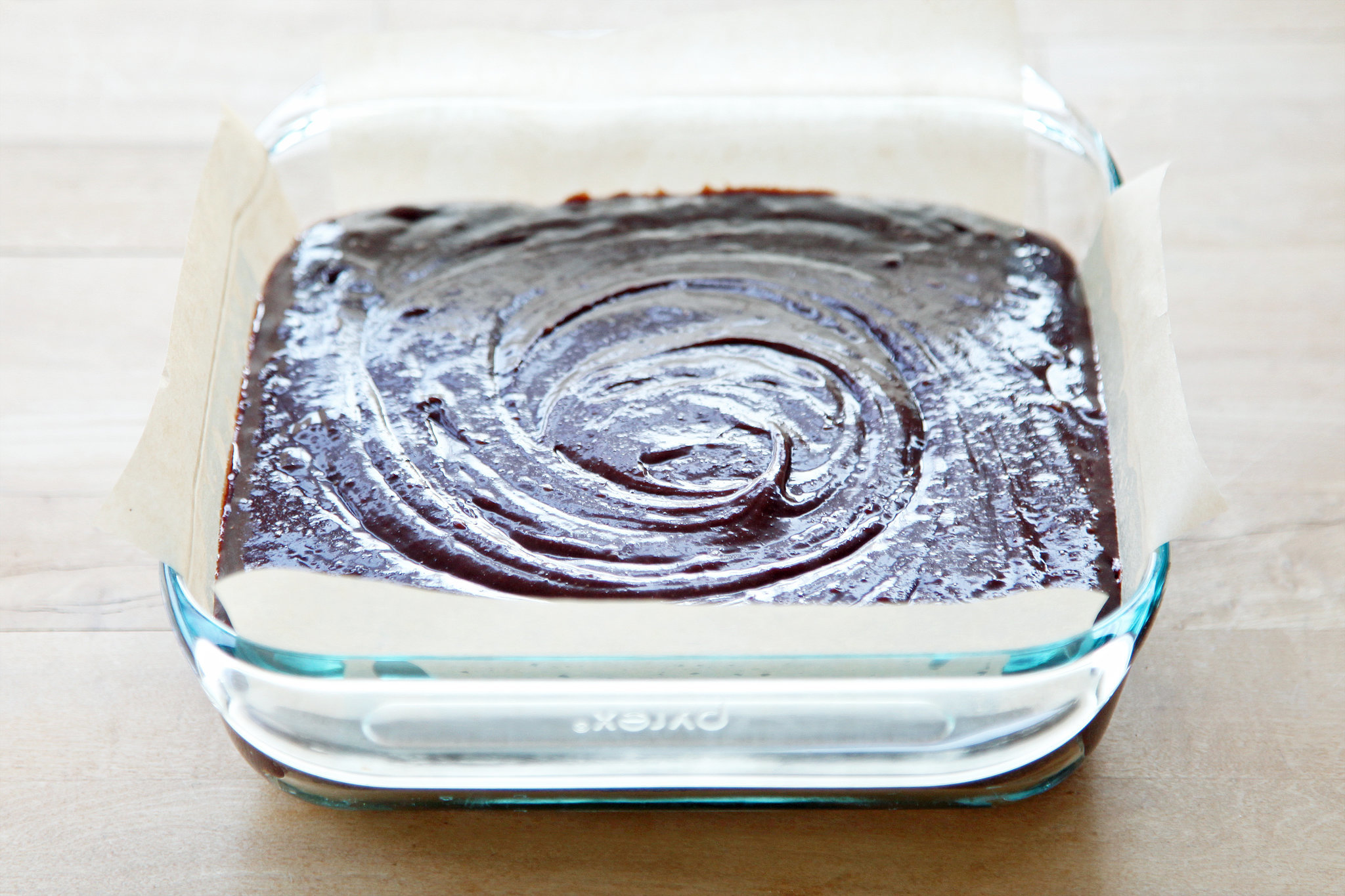 These treats skew heavily toward chocolate, thanks to their rich, fudgy brownie base (if you need a go-to brownie recipe, make these without the graham cracker base and toppings). The toppings add a fabulously fun textural element and a subtle s'mores nod.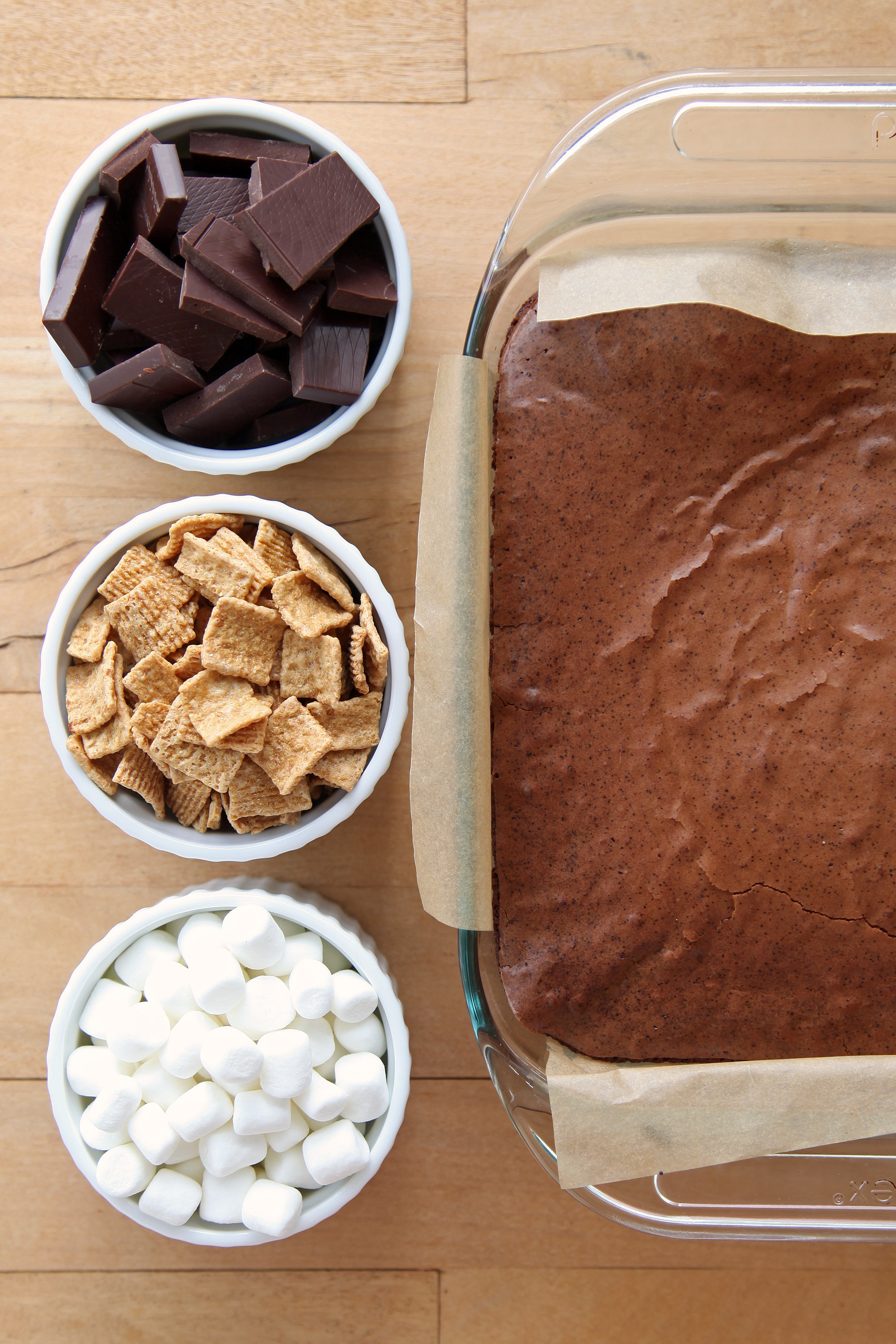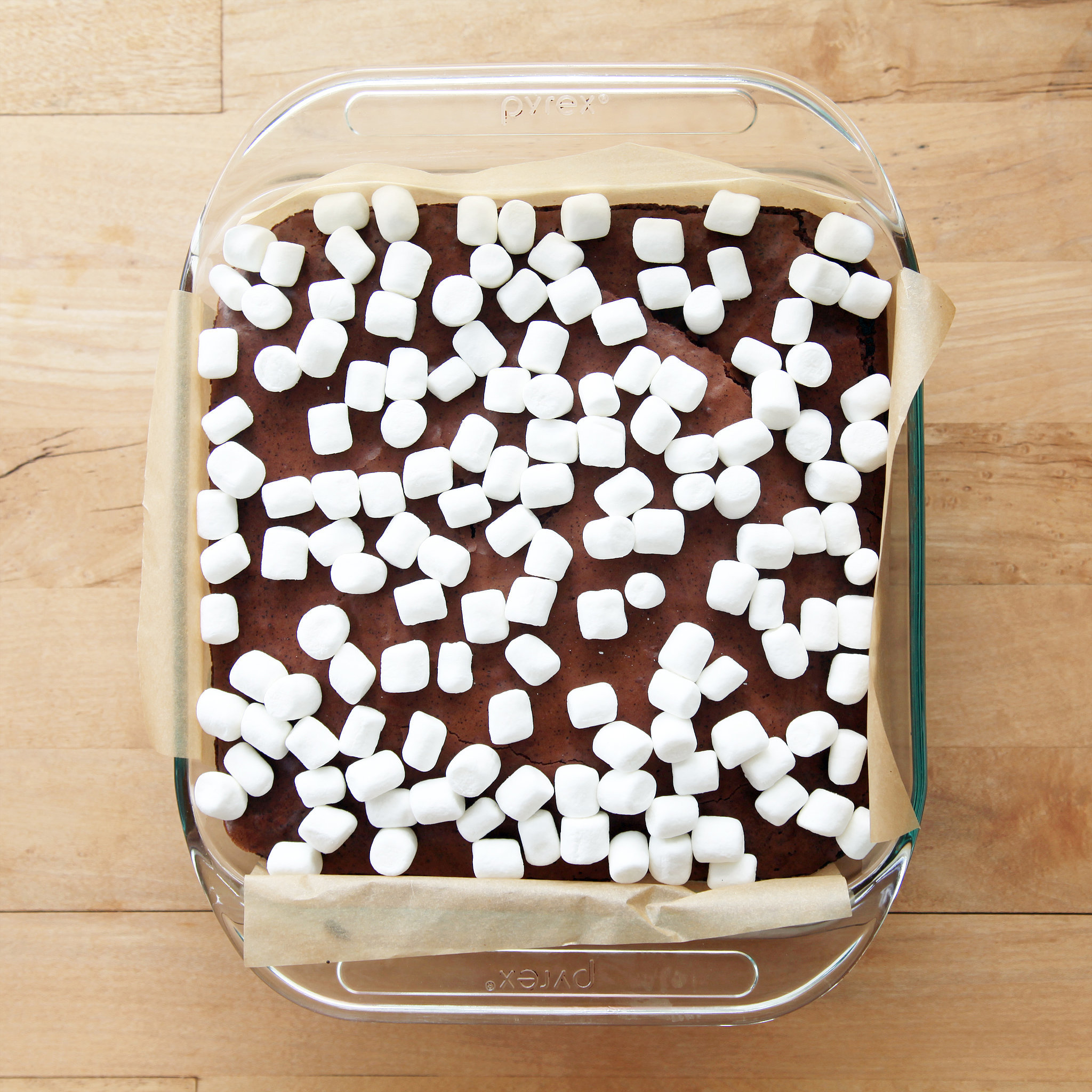 Do note that they're best within about 24 hours of baking as the Golden Grahams topper softens with time. That said, they're still pretty epic after that window has passed. And really, we suspect they won't last that long anyways, unless you possess epic willpower.
Notes
The brownie batter will taste salty before baking; the saltiness mellows from baking and is also necessary to balance the sweet marshmallow topping. We used Tcho's 53 percent dark milk chocolate, as the high cacao content keeps the brownies from edging into too-sweet territory.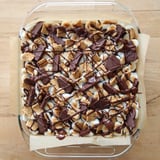 Ingredients
About 5 sheets of graham crackers
2 sticks (1 cup) unsalted butter
8 ounces bittersweet (60 percent cacao) chocolate, coarsely chopped, such as Ghirardelli or Callebaut
1 1/4 cups (6 1/2 ounces) all-purpose flour
1 teaspoon baking powder
1 1/2 tablespoons cocoa powder
1 teaspoon kosher salt
2 cups (14 ounces) granulated sugar
4 large eggs, at room temperature
2 teaspoons vanilla extract
2 1/2 ounces minimarshmallows (about 1 1/4 cups)
4 ounces milk chocolate, broken into pieces, divided
About 3/4 cup Golden Grahams cereal
Directions
Put oven rack in middle position, and preheat oven to 350°F. Grease an 8-inch square baking pan with butter; line pan with parchment paper, leaving a 2-inch overhang on 2 sides. Arrange graham crackers in 1 even layer in the pan (some pieces will need to be broken or cut down to fit).
Melt butter and chocolate in a medium heatproof mixing bowl set over a saucepan of simmering water, stirring occasionally, until smooth.
Whisk together flour, baking powder, cocoa powder, and salt in a small mixing bowl.
Whisk together sugar, eggs, and vanilla in a large bowl, then pour in chocolate mixture, whisking until combined well. Whisk in flour mixture, and transfer batter to baking pan. Smooth out the batter with an offset spatula.
Bake until the top is shiny, the sides have begun to pull away slightly from the pan, and the center has puffed up but is still slightly jiggly (a wooden pick or skewer will not come out clean), about 45-50 minutes. Cool brownies completely in the pan on a wire rack.
Once the brownies are cool, preheat the oven to its low-broil setting. Arrange the marshmallows in 1 even layer on top of the brownies. Broil for 2-3 minutes, or until the marshmallows are golden brown, rotating the pan and checking on the brownies every 30 seconds. Evenly distribute about half of the chocolate bar pieces on top of the marshmallows; evenly distribute the cereal as well.
Melt the remaining chocolate and drizzle on top of the brownies.
Once the chocolate has set up, gently transfer the brownies from the pan to a cutting board using the parchment sling, and remove paper. Cut the brownies into 16 squares.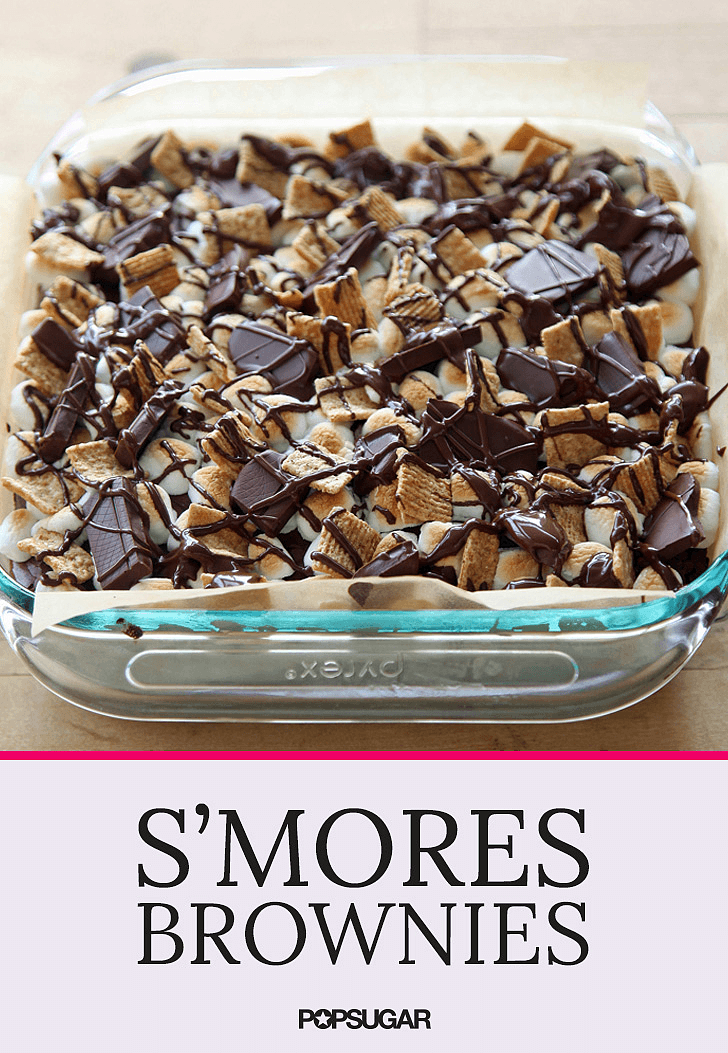 Information
Category

Desserts, Brownies

Cuisine

North American

Yield

16 brownies
Image Source: POPSUGAR Photography / Nicole Perry