S'mores With Mochi
Don't Like Marshmallows? Then Try This S'mores Variation!
Our partner Foodbeast shares breaking food news, trendsetting recipes, and more with us. Today, Charisma Madarang shows us a whole new way of eating s'mores.
With all the bacon-wrapped, deep-fried hurrah these days, it's easy to pass up on the simple, brilliant ideas. Cue in the s'mochi — an invention by Foodbeast reader Ryan Horikoshi. The clever take on the standard campfire s'more swaps the traditional marshmallow with mochi — a small Japanese rice cake — instead.
We decided to try out the recipe at the Foodbeast Kitchen, opting for vanilla and green tea-flavored mochi ice cream. Using a blowtorch, we were able to quickly toast the sticky rice cake layer on the outside before topping it off with a pad of butter and cinnamon sugar, then sandwiching it between chocolate and graham crackers.
The end result: a phenomenal bite of crunchy, sweet graham and chocolate, then soft, chewy mochi rice cake, and finally a cold burst of sweet ice cream. Lesson learned: it's the simple things in life that make your tastebuds explode.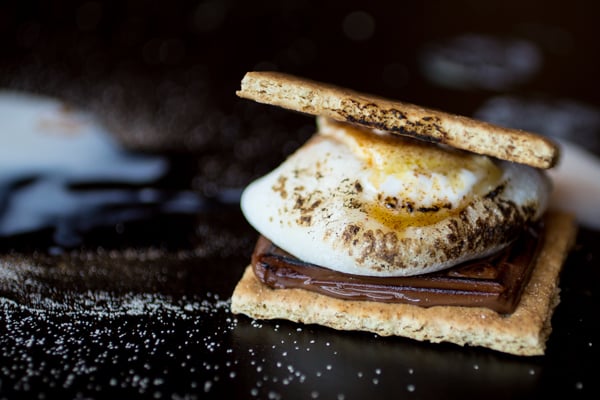 How to Make S'mochi
What You'll Need
Ice cream-filled mochi, choose your favorite flavor
Butter
Graham Crackers
Milk chocolate Bar
How to Make It
Roast mochi over a campfire (or a blowtorch) until it starts to brown ever so slightly.
Place it on top of a graham cracker and piece of chocolate. Top mochi with a pad of butter and sprinkle on cinnamon sugar. Sandwich with another graham cracker.
Eat!
More stories from Foodbeast: