Spatchcock Chicken Recipe
Chicken With Wine-Braised Asparagus — Say No More, We're In
The following recipe was originally published on Nosh with Tash. You can follow Nosh with Tash host and private chef Natasha Feldman on Instagram here.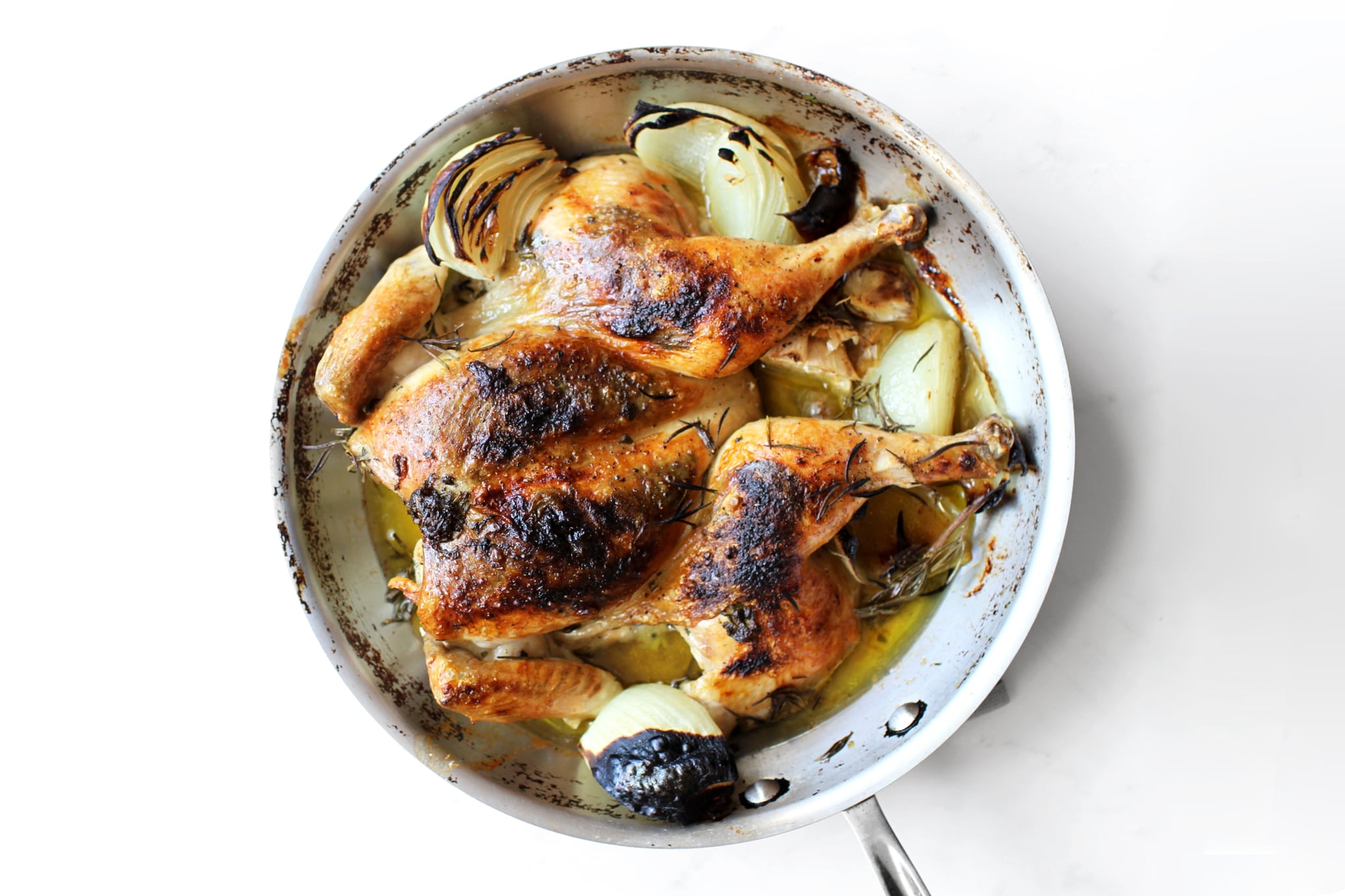 If you're squeamish, you can purchase your chicken spatchcocked; if you're a freak like me, you'll want to do it yourself!!! First, you're going to want to make sure you have a good pair of kitchen shears. If you don't have these, then the task at hand isn't going to be very pretty. Place the chicken breast side down on a clean plastic cutting board, then using the shears you're going to want to cut out the backbone. Cut from the tail to the neck as close to the backbone as possible on one side, and then repeat on the other side. Once the spine is out, twirl it around like a lasso and then keep it for chicken stock. There is only one step left, and it's the yucky one . . . press down on each of the wings at the same time pretty firmly to crack the breastbone, allowing the bird to lie flat. You did it! Now, on to the recipe . . .
Spatchcock Chicken With Wine Braised Asparagus
Nosh with Tash
Ingredients
For the Chicken:
1 chicken (spatchcocked by your friendly butcher, or yourself if you're brave)
2 tablespoons room-temperature butter (grass-fed please)
1 tablespoon chives (chopped)
1 tablespoon parsley (chopped)
1 clove of garlic (chopped)
1 teaspoon lemon zest (optional)
A big pinch salt
A few grinds pepper
For the Asparagus:
2 tablespoons safflower oil
1 shallot (chopped)
2 tablespoons white wine (something crisp and not too sweet)
1 lemon
2 bunches of asparagus (with the ends snapped off)
2 tablespoons Parmesan cheese (optional)
Directions
For the Chicken:
Preheat oven to 425 degrees.
In a small dish, combine the butter, chives, parsley, garlic, lemon zest, and a big pinch of salt and pepper.
Place the chicken in a large roasting pan and pat it dry with a few paper towels.
Gently slide your hand below the surface of the skin to loosen the area between the skin and the meat, THIS is where you want that delicious butter to live.
Evenly distribute the butter and then sprinkle the bird with a bit more salt and pepper.
Roast for about 40 minutes until your meat thermometer registers 160 degrees.
Rest for 20 minutes before cutting.
For the Asparagus:
Heat a large sauté pan with oil over medium heat.
Add shallot, salt, and pepper
Sweat shallot until translucent and let wine flow in.
Reduce for 5 minutes over a simmer.
Add fresh lemon juice, start with 1/2 the lemon, add more to taste.
Remove from pan and put aside. Add a touch of olive oil to the pan and add asparagus.
Cook for two minutes then add the shallot mixture back in.
Let asparagus finish cooking in the sauce until al dente.
Add a small pat of butter or a touch of Parmesan, if you like.
Information
Cuisine

North American

Yield

Serves 4 to 6 (depending on the size of your bird)