Spicy Beef and Bean Chili
You'll Fall in Love With This Rich Spicy Chili
Nothing's more romantic than a recipe made by the one you love, and this chili recipe is no exception. The Kitchy Kitchen shares her fiancé's intense chili recipe that is near and dear to her heart. Plus it's crazy tasty, so enjoy!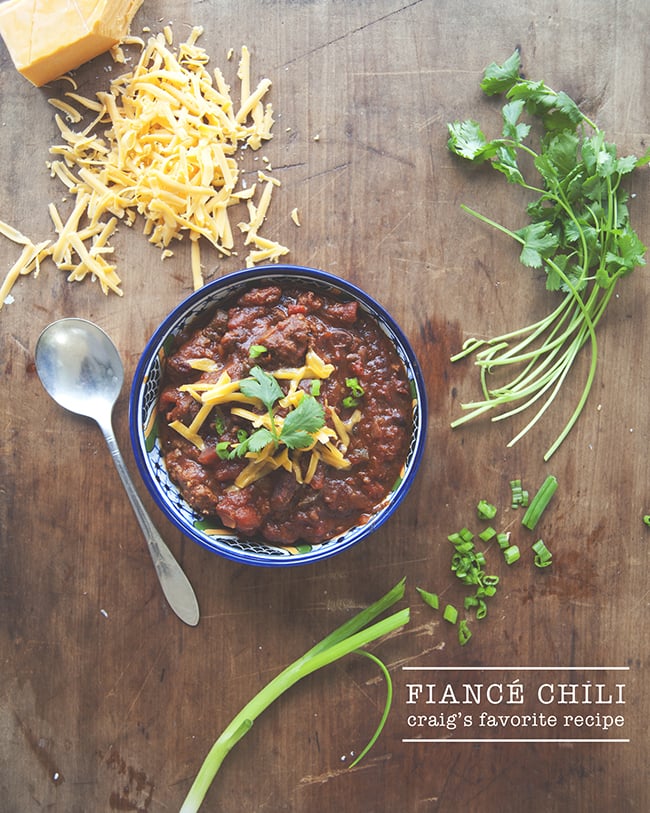 Craig, my fiancé, is obsessed with his chili. He's almost as obsessed with "the back video" (a youtube video featuring a variety of stretches to help strengthen your lower back), and I'm pretty sure I'm number three on that list. Fourth is whiskey and indie rock – tied. Fifth is arguing with his brother, Eric, over "Top Five" lists. But hey, he REALLY loves his chili and back video you guys, so I've made my peace with this arrangement.
Here's the deal: Craig and his friends concocted the perfect chili recipe in business school. They slow roasted and ground up the chilis themselves, let it simmer for a million years, served it with homemade cornbread, and when the Business School Chili Cook Off was over, they were the obvious audience favorite. But then . . . the judge went with the team that paired their chili with a whiskey (foiled, by his fourth favorite love!). LAME. WAKE UP JUDGE. WAKE UP AND SMELL THE CHILI. Sorry, I take Craig's chili very seriously.
For good reason too: it's intense, rich, and definitely spicy. Like – very very spicy. Hence I edited the recipe to say "up to 4 jalapeños" instead of Craig's overly confident "4 jalapeños." It's also very easy to make, and perfect for a crowd – or one very hungry Craig. I love this chili, I love my man, I hope you love it too! Just the chili though, Craig's all mine. No take-backs.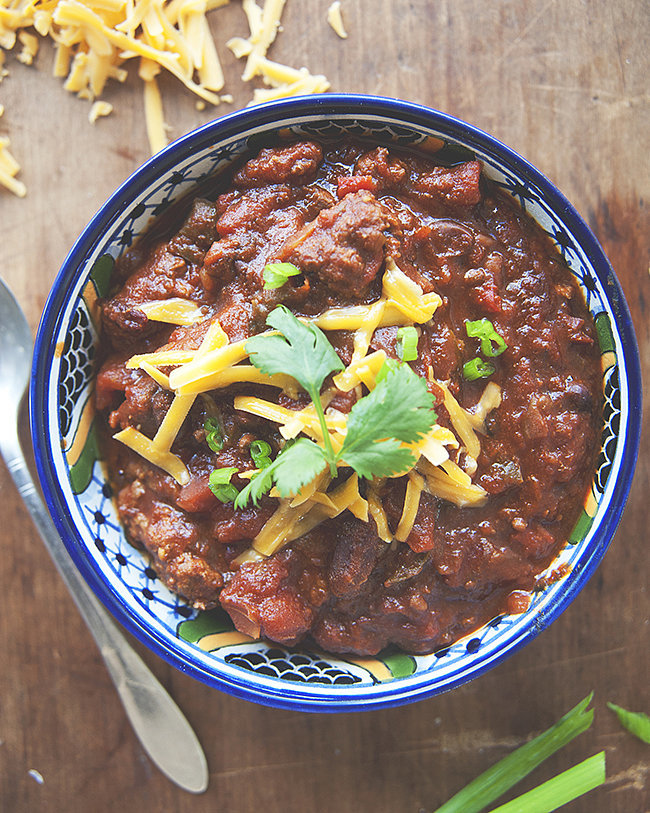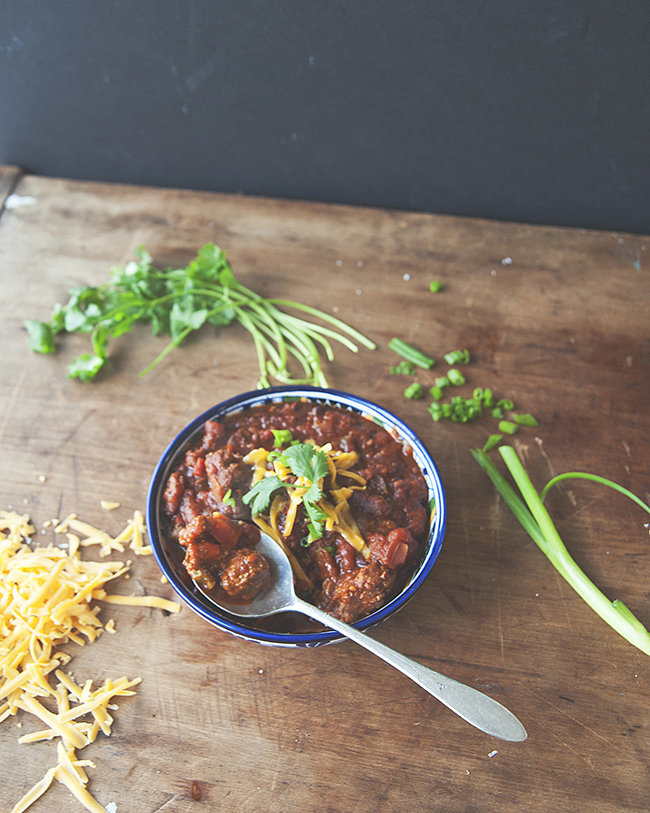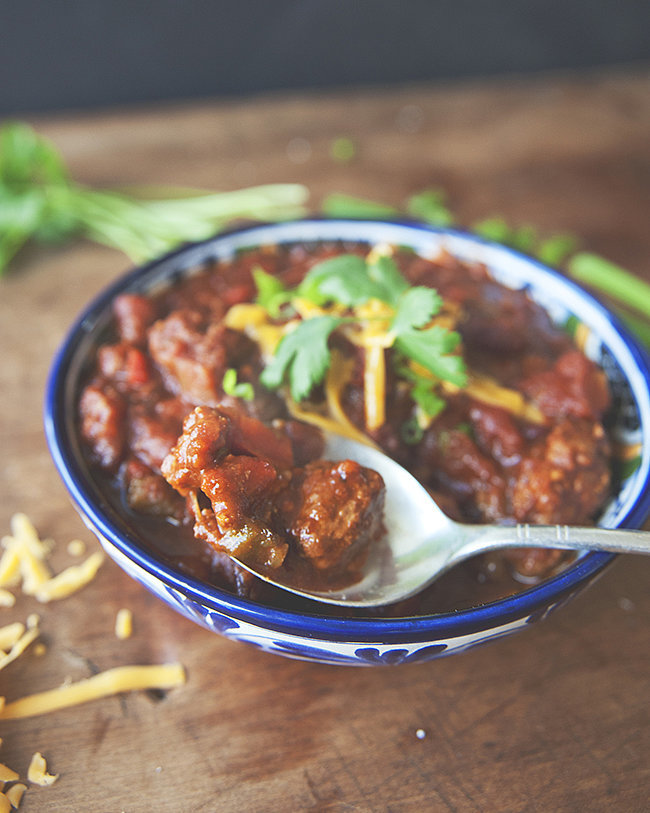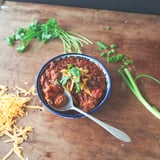 Ingredients
2 cups chopped yellow onion
2 tablespoons olive oil (or bacon grease)
2 cloves minced garlic
2 pounds ground beef or bison
1/4 cup chili powder
1 tablespoon dried oregano
2 teaspoons ground cumin
2 teaspoons hot sauce (I used Tapatío)
1 teaspoon basil
1 tablespoon kosher salt
1 tablespoon ground black pepper
2 green bell peppers, seeded and chopped
2 red bell peppers, seeded and chopped
Up to 4 jalapeño peppers, chopped (with seeds)
10-12 ounces sliced white mushrooms
2 (15-ounce) cans kidney beans
1 (15-ounce) can black beans
2 (28-ounce) cans diced, roasted tomatoes
1 (6-ounce) can tomato paste
1 tablespoon worcestershire sauce
4 cubes beef bouillon
1 cup beer
Garnishes
Grated cheddar
Bacon
Green onions
Cilantro
Sour cream
Directions
In a large pot or slow-cooker, sauté the onions in 2 tablespoons olive oil or bacon grease (use crispy bacon later to sprinkle on top) over medium high heat, adding in garlic when translucent. Then add in ground meat and cook until evenly browned (you may have to do this in batches so you don't overcrowd the meat). Add the spices, stirring to combine. Once the mixture smells fragrant, turn down the heat to medium, and add the peppers and mushrooms, cooking for about 5 minutes, or until softened.
Add the beans, tomatoes, tomato paste, and other remaining ingredients. Stir to combine, then cover, turn down to low, and simmer over low heat for as long as possible, stirring occasionally.
After 2 hours, taste, and adjust spicing if necessary. Simmer for as long as possible.
Information
Category

Chili, Main Dishes

Cuisine

North American

Yield

Serves 6-8