Spinach and Artichoke Dip
Notes
Before you cube the Brie, trim away its rind for a smoother dip. Any ceramic or Pyrex dish with a roughly 2-quart capacity can be used.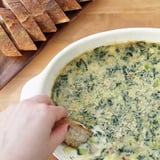 Ingredients
4 tablespoons unsalted butter, plus more for the pan
2 (10-ounce) packages fresh spinach, well rinsed and stems trimmed
1 cup chopped yellow onions or leeks
1 tablespoon minced garlic
2 teaspoons kosher salt
1/2 teaspoon freshly ground black pepper
1/4 teaspoon cayenne
1/4 cup all-purpose flour
1 cup milk
1 cup heavy cream
2 teaspoons freshly squeezed lemon juice
1 cup 1/2-inch cubes of Brie
1 cup grated Monterey Jack
1 (6 1/2-ounce) jar marinated artichoke hearts, drained and chopped
4 strips bacon, cooked until crisp, drained, and chopped
1/4 cup grated Parmesan
Assorted chips (pita chips, tortilla chips, bagel chips) or sliced baguette, for dipping
Directions
Preheat the oven to 350°F. Grease a 9-inch square Pyrex dish with butter.
Bring a large pot of water to a boil. Add the spinach in batches and cook until wilted, 2 to 3 minutes. Remove and refresh under cold running water. Squeeze to remove all excess water and chop.
In a medium pot, melt the butter over medium-high heat. Add the onions or leeks and cook, stirring, for 3 minutes. Add the garlic, salt, pepper, and cayenne, and cook, stirring, for 1 minute.
Add the flour and cook, stirring constantly, to make a light

roux

, about 2 minutes. Add the milk and cream in a steady stream, and cook, stirring constantly, until thick and creamy, 2 to 3 minutes.
Add the cooked spinach and lemon juice, and stir to incorporate. Add the Brie, Monterey Jack, artichoke hearts, and bacon, and stir well.
Remove from the heat and pour into the prepared dish. Top with the Parmesan and bake until bubbly, about 10 minutes. Remove from the oven and serve hot with chips or baguette slices.
Information
Category

Dips, Appetizers

Cuisine

North American

Yield

Serves 6-8