Vegan Mushroom Soup With Cashew Cream
You Won't Believe This Lush, Creamy Mushroom Soup Is Vegan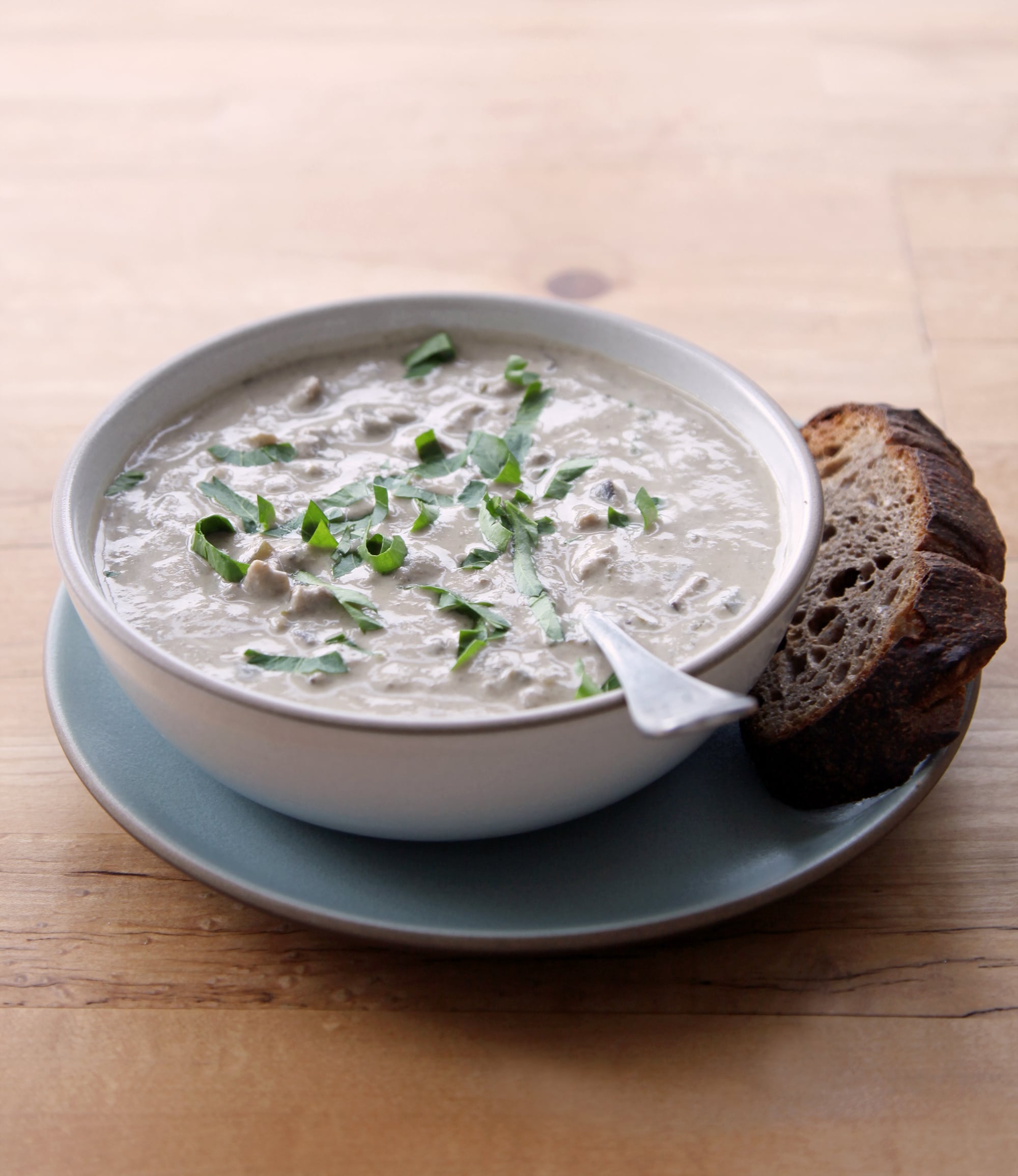 Beige and lumpy, this soup might be one of the least attractive recipes I've made, but what it lacks in looks, it makes up for in flavor. Earthy, rich, and creamy, it's just the thing for mid-Winter dinners as it's both comforting and cozy but also not something you'll feel guilty tucking into after a season of holiday excess. The secret: there's not a drop of cream (or dairy) in it — not that you'd know from its lush texture — instead, it's thickened with pureed mushrooms and cashew cream.
Notes
The original recipe makes about 8 quarts of soup; we halved the recipe as most kitchens aren't equipped with a large enough stockpot to make that volume of soup. If you do have a large enough pot, the soup is wonderful as leftovers and is great for sharing with friends. Don't have 8 (or more) hours to soak the cashews? Pour over boiling (instead of tepid) water, tightly cover the bowl in plastic wrap to trap in steam, and they'll be ready to blend into cashew cream in about half the time.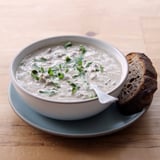 Ingredients
3 cups raw cashews (about 1 pound)
1 ounce dried porcini mushrooms
2 cups boiling water
2 tablespoons olive oil
1 sweet onion (such as Vidalia), quartered and thinly sliced
1 1/2 celery stalks, thinly sliced
1 big bunch flat-leaf parsley, divided
2 tablespoons kosher salt, plus more to taste
1/2 teaspoon freshly ground black pepper, plus more to taste
1 pound cremini or button mushrooms, cleaned and roughly chopped
2 pounds assorted mushrooms such as shiitakes, portobellos, oysters, maitakes, chanterelles, or morels, cleaned and roughly chopped
3-4 teaspoons golden balsamic or sherry vinegar
Loaf of crusty whole-wheat bread, for serving
Directions
Add the cashews to a large bowl, and pour water over to cover by 2 inches. Set aside to soak at room temperature for 8 to 12 hours.
When you are ready to make the soup, put the porcini mushrooms in a small heat-proof bowl, and cover with the boiling water. Soak for 20 to 30 minutes.
Meanwhile, heat the oil in the stockpot over medium-high heat. Once the oil is hot, add the onions and celery, and sauté until soft, about 7 minutes. Finely chop the leaves and top stems from 1/2 a bunch of parsley, and add them to the pot after the onion and celery have softened. Stir in the salt and pepper.
While the vegetables are sautéing, add the cremini mushrooms and 2 1/2 cups water to a blender, and pulse until roughly puréed. Add the mushroom purée to the stockpot, and cook uncovered over medium-low heat for 10 to 15 minutes. The mushrooms will release a lot of liquid. Allow the liquid to reduce by about half. Rinse out the blender, and set it aside (you will be using it again shortly).
Rub the porcinis to loosen any grit, and use a slotted spoon to remove them from the hot water they have been soaking in; they will have doubled in size. Finely chop the porcinis, and strain the porcini soaking liquid through a square of cheesecloth or coffee filter and reserve.
Add all of the mushrooms to the stockpot. Pour in the strained porcini soaking liquid plus 2 cups cold water. Bring the soup to a boil, reduce the heat, and let it simmer for 15 to 20 minutes, until the mushrooms are cooked through and tender.
Meanwhile, drain the water from the cashews and replace it with 3 cups cold, fresh water. Blend the cashews and water in the upright blender, in batches as needed, to achieve a very finely blended cream.
Add the cashew cream to the soup, and mix in. Season the soup to taste with additional salt (as needed) and vinegar, starting with 1 teaspoon vinegar, and tasting as you go.
Serve hot with additional minced parsley (from the second half of the bunch) and slices of bread.
Information
Category

Soups/Stews, Cream

Cuisine

North American

Yield

4 quarts of soup
Image Source: POPSUGAR Photography / Nicole Perry