POPSUGAR
/ paid content for /
Riondo
White Chocolate Prosecco Truffles
Prosecco Is the Perfect Addition to These White Chocolate Truffles
We've added sparkling Riondo Prosecco to sweet white chocolate and raspberry for the ultimate holiday truffle. With creamy raspberry filling covered in white chocolate, drizzled with sanding sugar, and sprinkled with a little golden glitter, this dessert will have your guests reaching for seconds. What more could you want for your next holiday get-together?

Riondo White Chocolate Prosecco Truffles
From Nicole Iizuka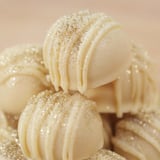 Ingredients
1 cup fresh raspberries
2 tablespoons sugar
1/2 cup Riondo Prosecco Spago Nero
1 drop red food coloring
4 cups white chocolate chips, divided
White sanding sugar
Edible glitter
Directions
To make truffle filling: in a saucepan over medium heat, add raspberries and sugar and cook for 3 to 4 minutes, stirring frequently until the raspberries have released their juice. Reduce heat slightly and add Prosecco. Let simmer for 2 minutes, being careful to stir when the mixture starts to foam.
Strain mixture through a cheesecloth or mesh sieve to remove pulp and seeds and return the remaining liquid back to the pan. Add 1 drop of red food coloring and cook for an additional 8 to 10 minutes, until about 1/2 cup of liquid is remaining.
Take 2 cups of chocolate chips and place in a heat-safe bowl. Pour the warm liquid on top of the chocolate chips and let sit for 2 minutes. Stir to combine. Freeze truffle filling for 1 to 2 hours.
Remove filling from freezer and, using a small scoop, create 1-tablespoon balls of the truffle filling. You can use a little powdered sugar to keep them from sticking to your hands. Place onto a wax paper-lined baking sheet or platter and keep going until you have all of the truffle fillings. Return these back to the freezer for an additional hour to set.
To make truffles: In a microwave safe bowl, melt the remaining cup of chocolate chips in 30-second intervals. Insert a toothpick into the truffle and use it to dip the truffle into the white chocolate. Place back on the wax paper, with the toothpick sticking straight up. Repeat with the remaining truffles.
Once the chocolate has set, gently twist the toothpick to remove it from the chocolate. Reheat the remaining chocolate and pour it into a plastic bag. Snip the end to make a piping bag and drizzle the top of the truffles with chocolate, making sure to cover the hole. Garnish with sanding sugar and edible glitter.
Information
Category

Desserts

Yield

16 truffles

Total Time

3 hours, 59 minutes, 59 seconds

Image Source: POPSUGAR Photography / Tatsuya Kawauchi